Which Cheness Sword?
by Sjaak
(The Netherlands)
Hi, as a beginner in Kata practising I want to buy my first sword. I really like Cheness and wonder which sword will be the best to start kata practising with, the Cheness Kaze, Tenchi or Shura. Can anyone please advise? Thank you very much.




ANSWER:Hi Sjaak,

Personally - I would select the Tenchi with bo-hi for form work. The bo-hi gives good feedback by the sound it makes as it cuts through the air and is also an excellent cutter. The Shura is very similar, but about to be discontinued.

The Kaze is a great all round sword, but if it is mostly for practicing Kata, go the Tenchi with bo-hi.

Hope this helps.

- Paul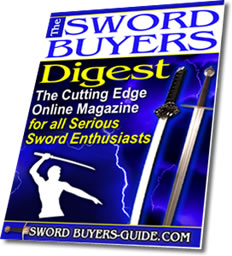 Sword Buyers Digest Newsletter!

Sword Buyers Digest Newsletter

Sign Up to Our FREE Monthly E-zine for all the latest sword news, info and much, much more! Click here for more info.