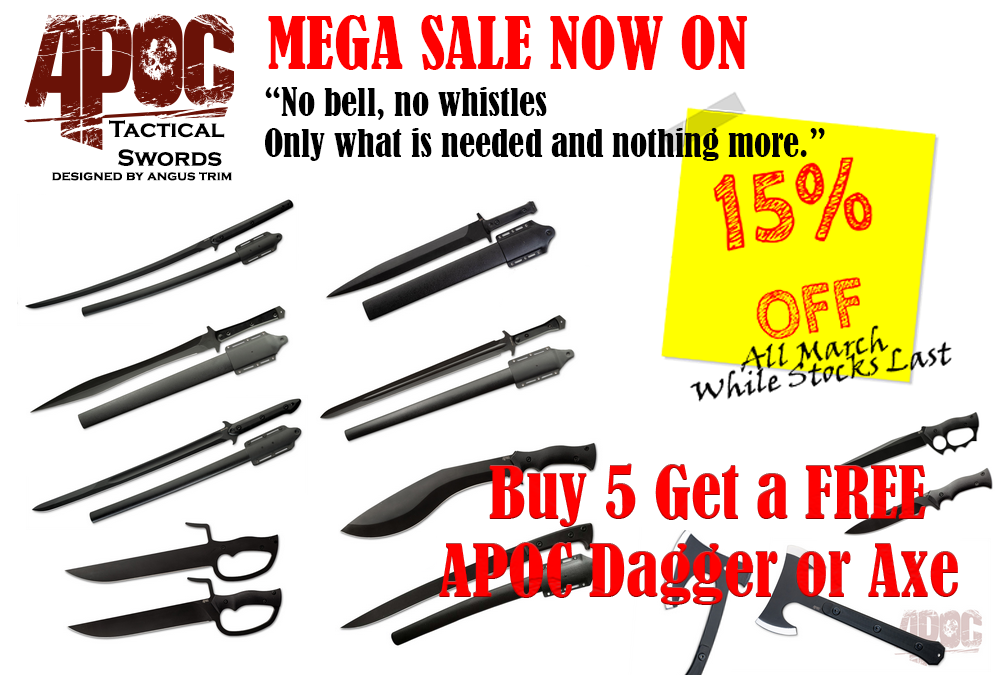 APOC Mega Sale Now On in the Official SBG Sword Store
which "Exclusive" sword?
QUESTION: I have read your site in full and what a great help it's been!!

I could do with some guidance on what will be my first and only sword! It will be used for display only (even though that is a sacrilege with these blades!.I have always wanted a PROPER forged and folded sword and now i've hit my 40's and a mid-life crisis ensues, I can get one! But it has to be right!)

I have narrowed my choice to either the Tiger or Momo No Saru Katana limited, both by Hanwei/Paul chen.

I prefer the look of the Tiger, but even though it costs more money, it isn't an exclusive or limited edition like the Peach Monkey Momo No Saru Katana!!

So,which to go for? In years to come, will the Tiger be common and the Monkey revered or vice versa!! Help please!!

Jasper

ANSWER: Hi Jasper,

Hanwei will likely release many more limited edition blades over the years and, as far as collectibility is concerned, I don't think that the Momo No Saru will truly appreciate in value.

The Tiger is a better blade and sword overall, and it sounds to me that your gut feeling is saying it is the one to get. As you say, you are only looking for 'the one' - so in that case, if I were you I'd go with that feeling and get the one that really appeals to YOU more than anything else.

Hope this helps. :-)

Kind Regards,

- Paul
Join in and write your own page! It's easy to do. How? Simply click here to return to Ask Questions About Japanese Swords.

Buying Swords Online Can Be

DANGEROUS!



Find the Best Swords in the:
Popular & Recommended ARTICLES

---
---