Wind Dragon Pic
by Elijah Ronin Cory
(Madera, CA, USA)
Wind Dragon "China" stamp
Left another comment with photo but wanted to add this close-up photo of the blade base and brass fitting that has "China" stamped. As I said before, mine looks exactly like the Wind Dragon described in Paul's review, except it DOESN'T have "Musashi" etched on the blade, but DOES have "China" stamped on the brass fitting. Wonder if this means anything to anyone out there? Thanks.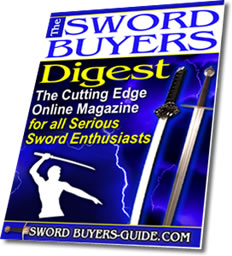 Sword Buyers Digest Newsletter!

Sword Buyers Digest Newsletter

Sign Up to Our FREE Monthly E-zine for all the latest sword news, info and much, much more! Click here for more info.