Yeshuas Sword Review

The Yeshuas Sword Review is a little different than other reviews, but then again Yeshuas Sword themselves are a little different, so it makes sense..
Rather than making production runs of historical European swords, Yeshuas Sword specialize in making unique, one of a kind, high quality custom swords for a very reasonable price (typically between $1400 to $3000), often taking production blades from various makers and custom making all the parts and scabbards to your exact specifications..

Because of this, straight off the mark, probably the biggest issue is they are too popular for their own good and lead times are typically 1 year or more. But is it worth the time and money?
Our composite Yeshuas Sword review lets you take a closer look and decide for yourself.

Yeshuas Sword Review
Composite Review by SBG members SwordLord, Shadowhowler & Antenni88

---
Yeshuas Sword Review #1
Antenni88 - The Photographer

I posted a while ago that I was looking for a swordmaker for my custom sword project, and a lot of recommendations came forward of what I am very grateful for! Of those I picked Yeshua's Sword.
The sword turned out excellent, perfect, beyond words and a lot better than what I had originally sketched. He helped me improve the design and make adjustments, both aesthetic and functional. The sword was inspired by the poster art of the sword carried by Lady Aribeth de Tylmarande for the original Neverwinter Nights, that I am a huge fan of.

The blade is of high carbon steel, the guard and pommel are of brass, and the hilt is wood and wrapped in leather. The scabbard is of same materials and holds the sword tight enough that it neither rattles inside or just fall out, but is still effortless to draw out. Total length of sword is around 117 cm ( 46" ). The sword weights around 2 kg (4.4 lbs) and scabbard 1,3 kg (2.8 lbs). The sword is well balanced and comfortable to use.

And these are some of the photos of the finished sword: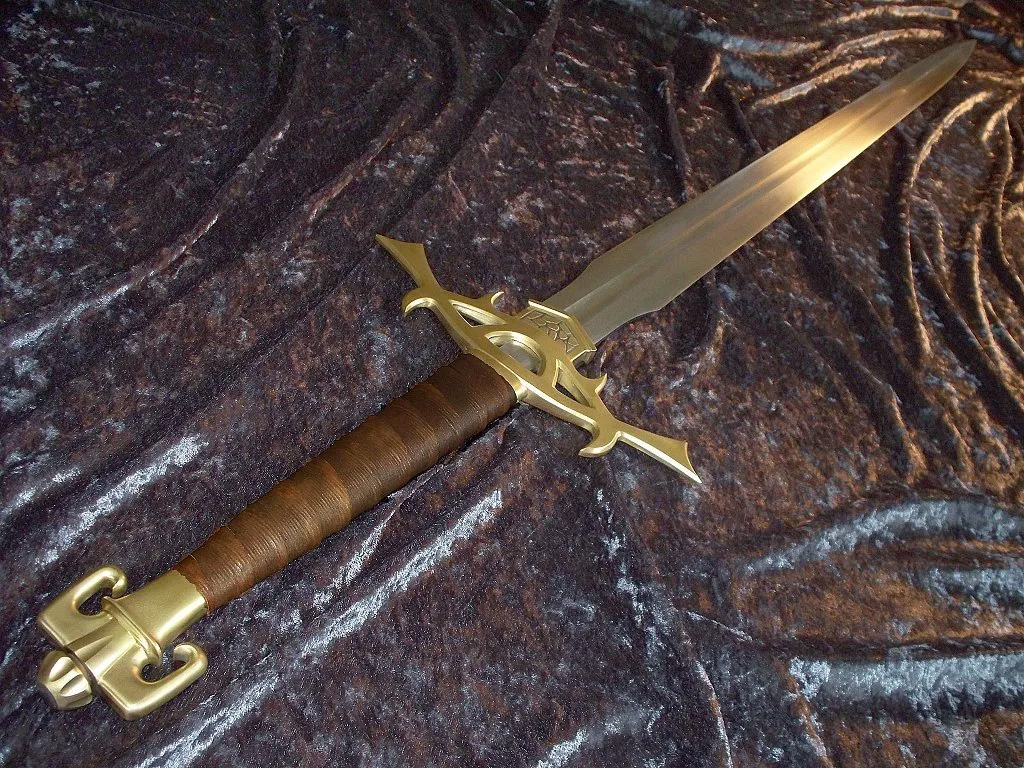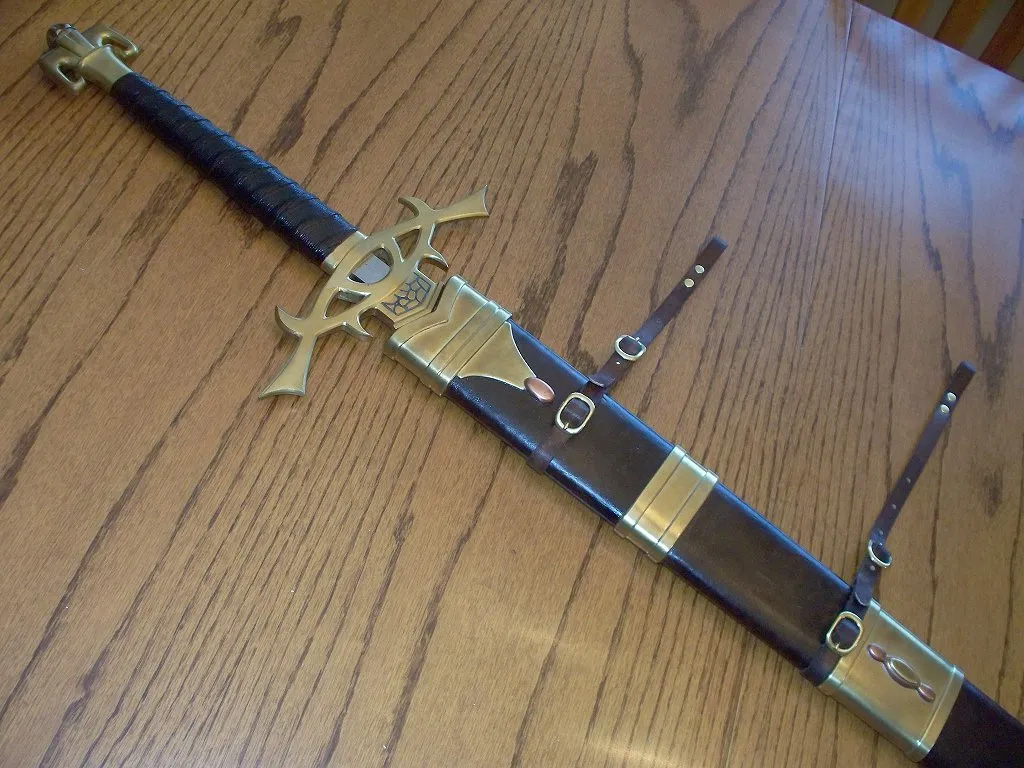 I highly recommend his services. ( In case I came across as "not clear enough" on the subject ;D )
Yeshua's Sword Review # 2
SwordLord, the backyard cutter

Sword build - Hanwei Tinker Pearce Type X bare blade
Composite review: Upon receiving the sword it was well packaged. Care was taken to be sure the sword arrived in excellent condition. As soon as I had made my way through the packaging and the sword was revealed, a big smile drew across my face. It was exactly as I had wanted...
... When I picked up the sword for the first time, the fit in my hand was perfect for me and the guard and pommel style along with the grip length lent comfort to both the hammer and hand shake grip. The balance was just right. Not too tip heavy but enough blade presence to let you know you could do some serious damage with this piece..
Test Cutting
... The sword arrived paper cutting sharp. Again, the regrind option lends to a nice finish and the sword is razor sharp without a secondary bevel.
Please forgive my poor form. I am more of a collector than I am an actual practitioner of any sword art. Obviously I enjoy using my swords, but I just don't do it enough to become very proficient. Don't let my lack of skill deter from this swords capabilities...
I only made up two targets with 3 beach mat rolls and a couple of bottles. It was cold and I only had limited time to do this.

Yes, I edited out my bad cuts. Full mat cuts including flubs below.
Yeshuas Sword Review #3
Shadowhowler, the detailed reviewer

Sword Build: Albion Munich Bare Blade (moat sale)

Every now and then, Albion Swords has what they call a 'moat sale'. This is where they sell of some unfinished blades, fittings, sometimes whole swords to the public. These items are parts and whatnot that just accumulate in their shop over time, and from time to time they need to get them out and make space. The sword in this review began its life as a moat sale blade for the Albion Munich.
I had owned the Albion Munich before... and I had loved ALMOST everything about the sword... everything except the grip. The Grip was very long (which I like) but VERY thin (which i did not like). I have large hands, and gripping the very thin grip on the Albion Munich just felt off. I sold the sword... but always missed it because aside from the grip it was an amazing sword.

Ernie (Yeshua sword) had gotten a hold of an Albion Munich blade from one of their moat sales. I have had a couple scabbards done by Ernie... and I decided that if he was going to build a sword from the Albion Munich blade, I wanted it. A second chance to own that sword but this time with a thicker grip... and the amazing natural wood that he is known for... how could I pass that up?
Initial Impressions
What can I say?

I had owned the Munich, so I knew what to expect from the blade... and I had a couple examples of Ernie's amazing work and had seen pictures of the finished sword before he sent it... but none of that prepared me for the effect this sword had on me when I pulled it out of the box. I was BLOWN away. It was simple, clean, elegant, BEAUTIFUL... but most of all... it felt AMAZING. The grip was VERY long... which I like... and it was much thicker and more comfortable in hand then the Munich. It had an interesting swell to it... where it got thicker in the middle and tapered again at the pommel. The wood was gorgeous... the dark blue metal was perfect.

Its the single most amazing large longsword I've ever had. I loved it right out of the box.

Components
The Blade

Long, slender, well polished... a clean sharp (but not super sharp) Appleseed edge... and VERY stiff. Tho capable of cuts this sword is certainly optimized for the thrust, and it thrusts VERY well and tracks perfectly.

The Handle

LONG... and rich with dark glossy brown natural wood. I love how the design in the scabbard continues onto the grip... it creates such symmetry and class on the sword as a whole. The grip feel is perfect for my larger hands... thick enough to get a sure grip on but not so thick as to be awkward of bulky.

The Guard

Everything is fit together PERFECTLY. There are no gaps, no rattles... seamless. The guard sweeps up slightly and is so elegant looking. The bluing is among the best I've ever seen... even and clean all over. Just amazing.

The Pommel

This is my favorite style of pommel... a beautifully done Gothic looking fishtail pommel. The peen is smooth and well finished... and again, no looseness at ALL. The bluing even goes over the peen and matches perfectly with the rest of the pommel.

The Scabbard 

Before getting this sword I knew, if nothing else, the scabbard would be a work of art. That is because I had 2 examples of Ernie's scabbard work at that point... both of which just blew my mind at how good they were. This was no exception. It is so well put together and solid, but AMAZINGLY light... it can't be more then a few ounces. Compliments the sword perfectly.

Handling Characteristics

Because of the profile and distal taper... this sword handles very well and is surprisingly quick for such a long blade. The huge handle allows for a lot of leverage as well... which is something I strongly favor in longswords. The point of the sword tracks VERY well... despite its size this sword is surprisingly easy to control. Its a joy to handle.

Test Cutting
I shot this video some time back before the new camera. Sorry.

As you can see on the upwards cut I flubbed it and swatted the bottle. The sword does cut well for its type... I often have trouble with the one stand and its height... only very sharp cutting-optimized swords tend to work well for me on that upwards cut. For stabbing, this sword is hard to beat... and its cutting performance is good enough for fleshy, unarmored targets.

Conclusions

Working with Ernie is always a pleasure. He is in VERY high demand... and for good reason. He does amazing work for very reasonable prices. So... that is the only drawback, he has quite a back-log because people have figured out what great work he does.

...and he keeps getting better!

This sword was an amazing value... much less then a new Munich would cost but every bit as good and, for me, actually better. If your willing to wait a little bit the value for your dollar and the quality of work Ernie does can not be beat. Not with a stick. A REALLY big stick.

Bellow I'm going to address Ernie's work in general, not just specific to this sword.

PROS

AMAZINGLY good craftsmanship.
Custom options hard to find in the production world.
Value is unheard of in custom cutlery work.

CONS


Backlog creates some wait time. No one likes waiting.
There are no other cons with Yeshua sword. I'm serous.


The Bottom Line

I would, and will, deal with Ernie of Yeshua sword again. Many times I hope. Some of the swords I have seen him do since this one have been even more amazing. Working with Yeshua sword allows you to modify or create a custom sword with a quality and value that I don't know anywhere else to duplicate or match. If you have a sword you want modified or an idea for a custom sword... talk to Ernie.

You will not be disappointed.
Conclusion

All three reviewers were not just happy with their purchase, they were basically delighted with what they received. It was perfectly to specifications and exceeded expectations, craftsmanship is next level and the consensus is, as we stated at the start of the composite Yeshuas Sword review, the only drawback is the wait time..
But good things come to those who wait, so if you have the patience, the finances and the dream, Yeshuas sword can make your dreams come true.


---
I hope that the composite Yeshuas sword review has been helpful. To return to Decorative and Functional Fantasy Swords from Yeshuas Sword Review, click here


Buying Swords Online Can Be

DANGEROUS!



Find the Best Swords in the:
Popular & Recommended ARTICLES

---
---