YOUR SITE ROCKS!!!
by Christopher M. Riley
(Spokane, Washington, USA)
I forgot to tell you when i asked my last question,but, your site rocks!!! 95% of the time i am on my computer I am on this site!! keep up the awsum work!!!!!!!!
Join in and write your own page! It's easy to do. How? Simply click here to return to Ask Questions.

Looking for honest, trustworthy sword sellers? Look no further than:

FEATURED ARTICLES AND REVIEWS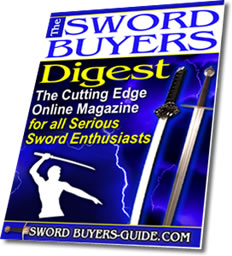 Sword Buyers Digest Newsletter!

Sword Buyers Digest Newsletter

Sign Up to Our FREE Monthly E-zine for all the latest sword news, info and much, much more! Click here for more info.