Hanwei Practical XL Katana
With a unique, much wider and lighter blade designed specifically to easily cut Tatami mats, the Hanwei Practical XL is a very affordable and almost ridiculously sharp Katana perfect for dojo applications. But as we will see in this hands on review, it is also quite at home in the Dojang (Korean sword school) too...
---
Hanwei Practical XL Katana Review
Review by S. Kang, Oklahoma, USA
---
Steel 

Weight 

Point of Balance 

Price Range


1566 Steel

2lbs 11oz

5" from tsuba

US$319-399
Sensei Mike Femal is a dojo/store operator that is quite knowledgeable and highly recommended this katana for tameshigiri. He really stressed that this katana has really got 'bang for the buck' when it comes to overall performance. During the entire process, we corresponded via email and he provided some non-biased and honest details of both the Tori and the Practical line of katana.
I would expect that the Swedish powdered steel blades is something that can be worked up to, so I decided to go with the Practical XL instead. I do martial arts fulltime in Tulsa, Oklahoma and use the sword regularly. I also like to indulge in some backyard cutting with my little brother. I also have a Hanwei Forge Zatoichi and it is quite powerful. The spirit of Hanwei Steel is something that has always caught my eye. I always loved the look and when I got the cane sword, it was confirmed. These guys are for real. Even though it is a mass production item, the two I own from CAS/Hanwei are, to me, anyway, masterpieces.
"When I hold this katana in my hands it is understood that the spirit of the katana is meant for one thing..."
Well, it finally came. Actually, it came to my place of business on Friday, and I didn't even know it! I had to wait all weekend with it just sitting there, not doing anything at the post office! Anyway, I woke up bright and early, and got ready for the day, As I pulled up to the post office, I got some pretty funky chills. I felt like a little kid, who just couldn't wait to open his presents on Christmas!
Anyways, opening it up, was quite fun. I didn't rip into it as I normally do. I took my time...
Katana specs:
Blade length: 28 ½"
Handle length: 11"
Overall length: 40 ½
Weight: 2lb 11oz
Point of Balance: 5"

Width at Guard: 1.43"
Width at Tip: 1.08"
Thickness at Guard: .26"
Thickness at Tip: .15"
Sori: 3/4"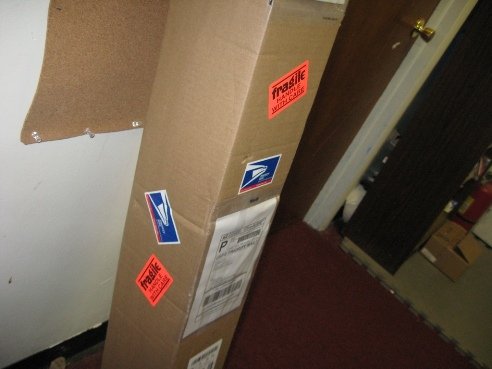 The glorious, and uniquely shaped sword box.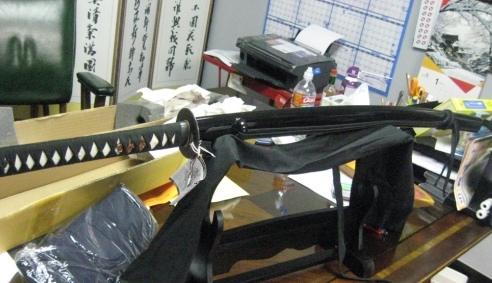 The "on the rack" view in all it's glory.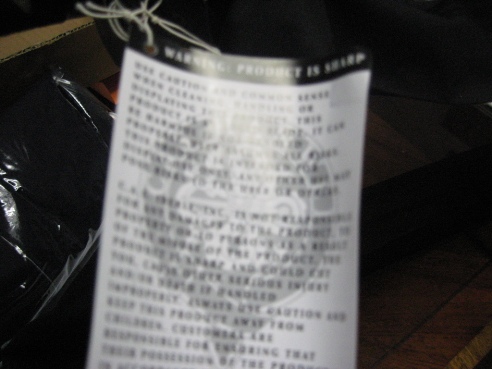 Probably can't read it really clearly, but it is a warning that it is extremely sharp, (and oh how right they are!) We're talking stupid, crazy sharp folks.
The 'down the blade' view from left slice, showing off it's acid enhanced hamon.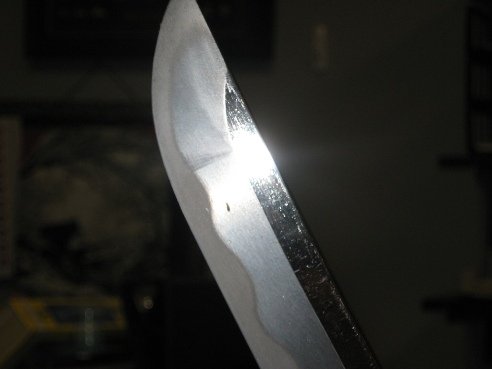 The kissaki is well done, and standard looking shape.
The tsuka, is firm, the ito is tight, there is no play between the tsuba. The saya fits a little snug, but not after a week of practice. The sageo is tied down the saya, ready for a quick tie-up, something that is common to martial arts practitioners.
The great thing about this katana is the new large geometry blade profile. It has a profile that is larger than most blades which allows for the inexperienced cutter to cut successfully.
I think this sword is really tough to beat for the money. The overall feel and balance of the katana is perfect.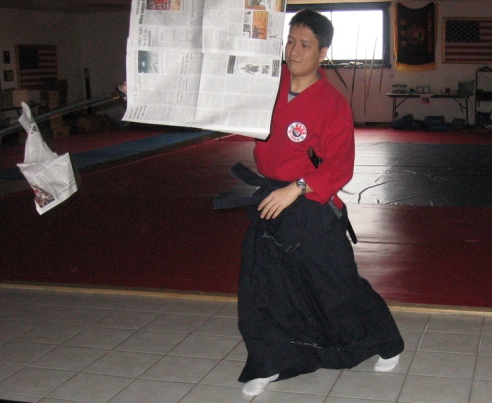 It takes very little effort to slice through light targets like newspaper. All you need it enough speed executed with proper balance, and correct technique.
This is going to rank at the top of my collection up to this point.
At Mikes site there is a page dedicated to Practicals: here
With all of the Hanwei Practical Katanas, it can become quite confusing as to which one does what and what they're made for.
The Nihonzashi website is full of informational goodies that will keep you busy for a week. I thoroughly enjoyed my experience with the transaction and the 'hunting' of the katana. I learned so much and hope that I will be able to find more beauties like this one.
PROS
Great geometry designed specifically to make short work of light targets and tatami mats
Extremely (extremely) sharp blade
Well assembled and quality iron fittings
CONS
Not very versatile - blade is a little on the fragile side and works best if used in a dojo setting
Synthetic rayskin with synthetic suede ito that is aesthetically not very eye pleasing

WHERE TO BUY

Pricewise, the best place to pick up the Practical XL would have to be HERE at Kult of Athena where it is available for just $319.20 (the MSRP is $399)..

---
I hope this review of the Hanwei Practical XL Katana has been helpful. To return to A Beginners Guide to Authentic Japanese Swords from Hanwei Practical XL Katana Review, click here

Buying Swords Online Can Be

DANGEROUS!



Find the Best Swords in the:
Popular & Recommended ARTICLES

---
---