Albion Squire Line Review

The Albion Squire Line was this esteemed companies first foray into 'affordable swords for the beginner and re-enactor' - that is to say mid range ($450 to $600) rather than their usual high end production swords.
In this hands on impartial review, we look at what to expect from Albion at this new price point. Because clearly like all mid-range swords, to meet the demands of a lower price point, some corners need to be cut. But can the Albion Squire Line still maintain Albion's reputation for quality and perfection, or does their offering not really stand out from other similarly priced swords? Have a read and decide for yourself how successful, or not, they really were.

---
Albion Squire Line Review

Review by SBG Forumite, The Mu

---
So I wanted to try an European sword for a change. I've handled a few Windlasses briefly and that's it. I've owned only katanas so this is my first European sword. I've been pondering for a couple of years to get this particular sword, and now that I had some extra money, I finally purchased it. Yay. There is something archetypal in Albion 13th C Knightly and I wanted something as basic as can be. Of course I know there is no such thing as "basic" type. I also wanted something with authentic handling and high quality, so Albion was my choice. I think this is also a great piece for some customizing.

Historical overview
This is Oakeshott type XII blade. It is still mainly a cutting sword, but it has also effective thrusting capabilities. Thrusting capability was needed because of improvements in armors of the time. XII has greater profile taper than it's predecessors and fuller is shorter. This blade type was in use from the 12th to the 14th centuries. I keep this part of the review short, because I'm not an expert on the subject and I don't want to just hastily copy and paste things from here and there. From internet there can be easily found a few older but great reviews and info of this sword.


Oakeshott Type XII
So this is the third and the last part of my Albion saga. I ordered a sharp SL 13th C Knightly from Albion Europe in the beginning of October. First they accidentally sent me an unsharpened version of the sword and after I informed them of the error they sent me a replacement sword asap. The replacement sword arrived quickly, but it was faulty (loose pommel, gap between guard and handle etc.) so I had to ask them to send me one more sword. They agreed to do so after their holidays. This time they inspected the sword carefully and sent me pictures of it with e-mail. Third sword was sent to me in 23th October so a 2-3 day delivery time prolonged to a month, but I know they did all they could to fix their errors as well and as fast as they could.

I'm just an ordinary amateur sword hobbyist. No bias. This is my first European style sword.

Initial Impressions
Packaging is again quite horrible. Two out of three styrofoam supports are out of place and the sword can move freely in the box. One small minus again because of sloppy packaging.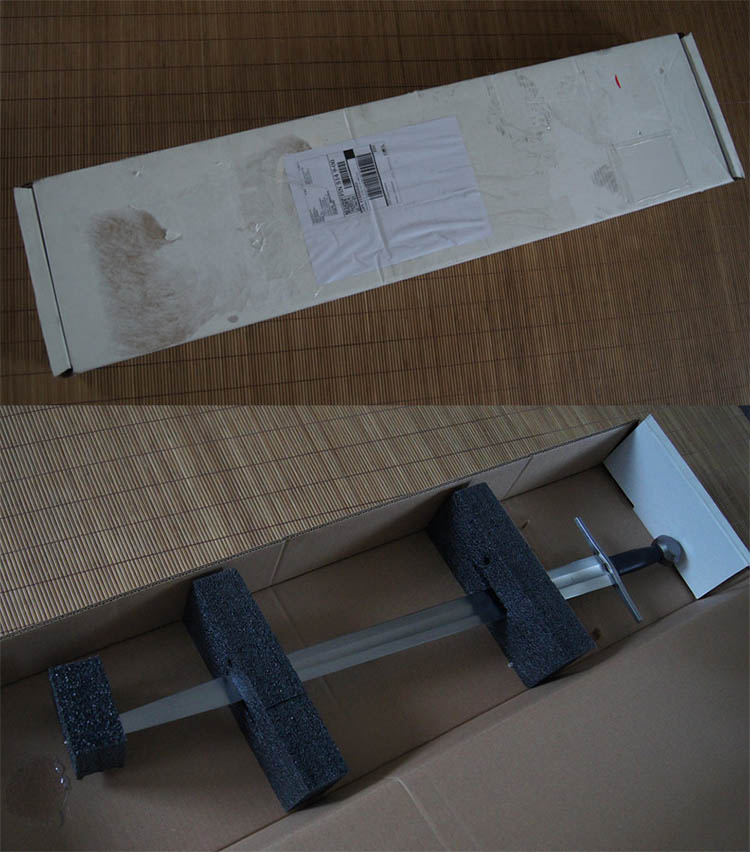 There are small cosmetic flaws around the handle. The most noticeable problem is that the pommel isn't aligned with the blade, it's quite noticeably twisted. And I hate to say this but it's also loose. Just VERY little, but still loose. If I grip the handle and pommel firmly and twist, the pommel moves just a little. Very little. Finishing of the pommel and guard is different from the two previous swords. Everything else seems OK but a big minus because of the pommel issues.

Statistics
Blade length: 80cm(31,5")
Overall length: 96cm(37,8")
Grip length: 10,5cm(4,134")
CoG: 11cm(4,5")
CoP: 53cm(21")
Weight: 1140g(2,513 lbs)

My measurements

Statistics are pretty close to what they are at albion-europe.com. But there is 50g difference in weight. I think it's noticeable but I don't think it affects handling though.

Blade length: 79,5 cm
Overall length: 95,7 cm
Grip length: 10,8 cm
CoG: 11,7 cm
CoP: 50 cm
Weight: 1174 g
guard: 18,3 cm
blade thickness at guard: 5,2 cm
fuller length: 55,5 cm

Components
The Blade
Everything with the blade is tip top. Clean geometry, sharpening is OK and even, finishing is also even and decent. Love the blade, beautiful.
Clear secondary bevel on the tip and blade..
The Handle
Handle on this particular sword is the best of the three swords. Great leather work and flawless shape. Firm and comfortable.
The Guard
Guards in all these three swords have been OK. Finishing on this one is a little bit odd. I think they have left the surface in some places looking as it would after casting (check the pics of the pommel too). Surface is grainy. It actually looks OK but I doubt that it's meant to be like this. Shape of the guard is simple, functional and nice looking.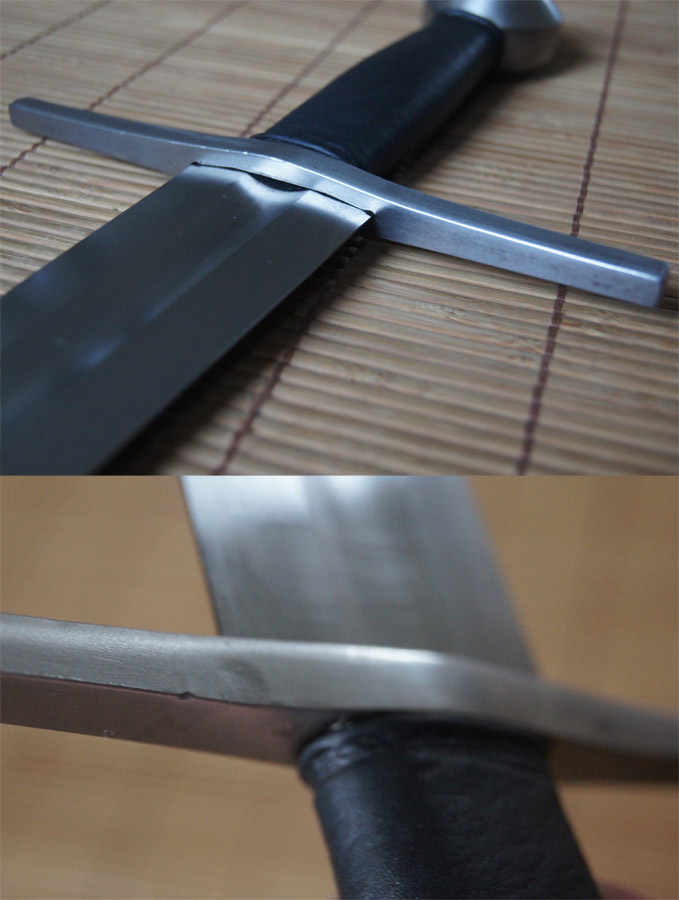 The Pommel
Again the pommel is the biggest problem. It is twisted and slightly loose. Finishing is odd the same way it is with the guard. Though cosmetic flaws don't bother me. Pommel is also a different shape than it was with the two previous swords. It tapers strongly on the sides. Actually, for my taste, it looks and feels better though it's not symmetrical.

The Scabbard
Price does not include Scabbard (Albion Scabbards are very basic, but cost almost as much as the Albion Squire Line Swords).

Handling
Handling of this sword is just beautiful. As I've mentioned previously. So effortless and vivid to swing even though it's quite a big sword for a fellow my size(166cm, 60kg). I've never handled an European style sword properly before these three swords, but right away it felt completely natural to wield it. Just amazing. Love it.

Test Cutting
This is my first time cutting with European style sword so I'm doing just basic cuts. I'm cutting soaked newspaper rolls (4-8cm thick). So, the targets are pretty average.

Here's a pic of results:

Cutting went pretty well. Only couple of failed cuts. I have lot to learn but I think the sword succeeded well. I think it could be a little bit sharper though.

Conclusion
This has been an interesting experience. I had a chance to handle three Albion SL 13th C Knightlys and see the differences between the individuals. I'm still worried about the QC issues. I wouldn't like to believe that this is how all the Squire Line swords are. Please test the pommels of your Albion SLs and tell me if you find any loose pommels. I won't return this one because they inspected it before shipping and approved it. If the slightly loose pommel starts to bother me I'll just weld it in place or something... I'm no longer disappointed, just surprised. This is an amazing sword if you get one without issues. I love this sword despite the issues.

I won't be getting friends with what I'm going to say but I'm going to be honest. I wouldn't pay this price for this particular sword again. But, I would still recommend it to anyone interested in historically accurate one-handed European sword. It is a good sword and I suppose Albion swords are usually of better quality than the previous two that I got.

PROS
Superb handling
Clean geometry
Historically accurate

CONS
Slightly loose pommel
I think the finishing should be a little bit better
Packaging
QC

WHERE TO BUY

The Albion Squire Line is exclusively available direct from the Albion-swords.com website with the single handed swords listed here and two handers listed here respectively.
Overall, it would appear that despite the esteemed name, the Albion Squire Line is a rather average addition to mid-range medieval swords (after all, it is not that realistic to expect the kind of quality Albion is famous for on a line where the swords are at least half the cost of their usual sword models)..

---
I hope this review of the Albion Squire Line Swords has been helpful. To return to Affordable Replicas of Medieval Swords from Albion Squire Line Review, click here


Buying Swords Online Can Be

DANGEROUS!



Find the Best Swords in the:
Popular & Recommended ARTICLES

---
---