Sword of Auray Review
DISCONTINUED
This sword has been discontinued, but is preserved here for informational purposes.

The now discontinued sword of Auray was one of Windlass Steelcrafts most historically accurate replicas - at least in appearance. 
Nominally the description for this sword alludes to it dating to the 100 years war, though but it is seemingly an almost exact replica of a sword currently in the Philadelphia Museum of Art that they state was made in Italy between 1490 and 1500 (original pictured below).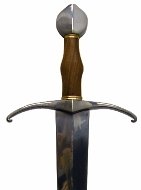 Its origins aside though, what makes the sword of Auray unique is that it is one of the ONLY hollow ground blade at this price point (hollow grinding is a technique where upon the blade curves deeply either side of the central ridge, creating a blade that is stiff and yet lightweight).
So without any further ado, let's take a quick look at this sword with SBG member Luke Bailey to see how it holds up to closer inspection.
---
Windlass Sword of Auray

Review by Luke Bailey, USA
---
Steel 

Weight 

Point of Balance 

Price Range


1065 Carbon Steel

2lbs 2oz

4.5" from guard

US$149-209 (Historic)
Well, howdy! This is my first Review, and it is of the Sword of Auray from Windlass Steelcrafts. I got it for 150 clams at KoA (Kult of Athena). Big shout out to jpfranco for pointing me in that direction.
When I first looked at the sword online, I wasn't so much drawn to the sword as the price. To me, it looked rather boring, with a wooden handle and weird, outward crossguard.

However, upon opening the box on Christmas, I was met with a different image.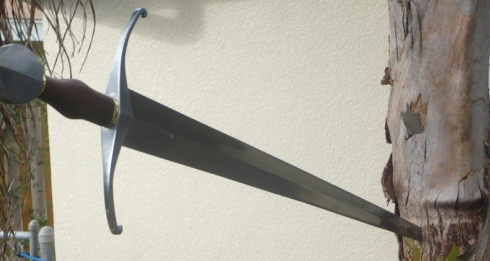 Fit and Finish

The sword looks very nice and is aesthetically pleasing. The blade was nicely polished. There was a 5 degree bend at the end of the tip, but not something easily noticed. Still, -1 fit and finish.
The Grip is wooden, I'm not sure what kind. It fits well in hand. No complaints.
The Pommel: Nice and heavy, interesting enough.
The Guard: Well, you see it in the pics. It looks real nice, if not exactly my style.
The Scabbard: Leather. Windlass. Crap.
Testing
Handling:This is, obviously, a one-handed sword. However, I did not find it overly heavy at all. It is surprisingly light in one hand, and can be swung and change direction with great ease.
Temper: One big problem with Windlass swords is whippiness. The Sword of Auray, while very flexible, is not what I would call whippy. The distal taper has been attributed to the lack of whippiness on MyArmoury, and for that I am very thankful. It does, however, have excellent temper.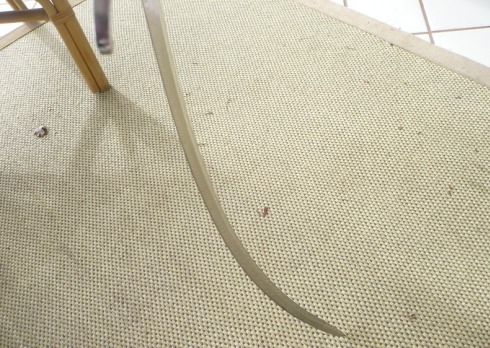 Now, on to the Cutting...
The Enemy:
"CHARGE!!!!"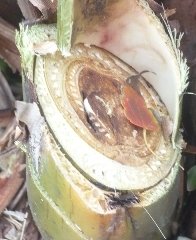 A note on more "traditional" targets, I was, even though this is a thrusting sword, able to pickle-chip a milk jug much more easily than either of my Musashi's. I was also able to slice through a mountain dew bottle.
Now, as to structural integrity.
Yesterday, it would have gotten a five, because despite rigorous use (these tests occurred a few days ago) it has held up fine.
However, recently the bottom of the handle will move ever-so-slightly if you grip it and the pommel.
The tang is peened, so I'm not worried about it coming apart, but still, it seems the handle could have been fitted a bit better.
In conclusion though, 150 bucks for a decent Euro sword?
Yes, please.

---
I hope this review of the Windlass Sword of Auray has been helpful. To return to Affordable Replicas of Medieval Swords from Sword of Auray Review, click here

Buying Swords Online Can Be

DANGEROUS!



Find the Best Swords in the:
Popular & Recommended ARTICLES

---
---