Beware of SW Blades/Red Dragon Swords/Kingdom of Swords
by M.
(New Mexico)
Their website (www.swblades.com) is now touting the name Kingdom of Swords.net. They are the same company as SW Blades, Southwest Blades, and Red Dragon Swords. They also have a new MySpace page. I ordered a Legend of Zelda replica sword on December 12, 2007, and received a confirming email. They sent no back-order or unavailable messages, and shipping was to be in 2-4 days. It is now February 12th, 2008, and my son's sword still hasn't shipped. In response to my first 3 inquiries, I received only form email responses with a link to my order status. It has said 'will ship in 4-7 days' for a month now. My last email demanded an explanation or a refund. They haven't responded to that one at all. If you call their phone, all you get is a recording, without the company name, asking you to leave a message. They have not responded to any of our messages. They have an unfavorable rating with their BBB (serving Central and South Central Texas), with 28 complaints in the last 36 months (not including the one I'm leaving), 18 of which are unresolved due to their failure to respond. All complaints, except 2, were for Delivery Issues. The sword is still listed on their website for sale with 3-5 day delivery indicated. They haven't shipped, they haven't given an explanation, and they haven't given my money back. The only thing they've done is taken my $120, and left my son without his Christmas present. I do a tremendous amount of shopping online, and this is by far the WORST experience I have ever had.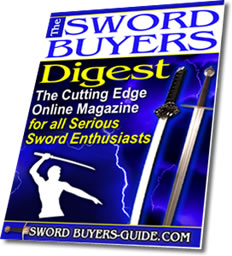 Sword Buyers Digest Newsletter!

Sword Buyers Digest Newsletter

Sign Up to Our FREE Monthly E-zine for all the latest sword news, info and much, much more! Click here for more info.