Blade Empire Corp, Weapons Universe: Avoid at all costs!
by Bryan
(Ohio, USA)
I had been following this company for several years. On discovering them initially, I researched for complaints and found no bad reviews. In December 2011 they advertised a reduced price on a battle-ready, high carbon, sword in a design that I had found interesting for some time. I did NOT recheck for complaints and ordered the sword. Their shipping policy said delivery in 3-8 business days. After 12 business days I emailed their Customer Support address to say that I hadn't gotten the sword yet and requested that they tell me the date it had shipped and with which carrier. I got no answer, so I called two days later and got a voice message saying that it was better to email. I then replied-all and also included the Sales Representative email address with the original message and asked that my request for information be fulfilled. After another week I still gotten no response, so I researched online and found numerous complaints of the same situation. I replied-all once more; but this time I was not so cordial, I said that if I was not told the shipping date and carrier of my order that I would cancel it and also complain to the BBB and other agencies. FINALLY I got a response, unfortunately it was very rude and also falsely said that I had been informed previously that my order was cancelled. You can check the Arizona Better Business Bureau to see for yourself, not a single satisfactorily resolved complaint and no accreditation by the BBB. My advice is to avoid this company and the other alternate names for this company: Blade Realms, Blade Universe, blade-x.net, BladeRealms.com, BladeUniverse.com, Eon-Flux, eon-flux.com, Midwest Ohio Knives, Xontek Corporation, XonTEK Industries, bladeempire, mindrealms.com, Zorkonus.com, www.handcuffs.bz, EonFlux Corporation, Zorkonus Corporation, Weapons Universe Corporation, Blade Empire Corporation.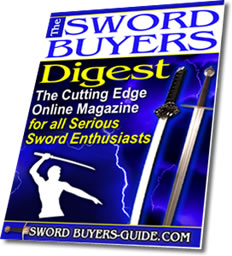 Love Swords?

If you love swords like we do, sign up to Our FREE Monthly E-zine - the only one of its kind - for all the latest sword news, info and much, much more! Click here for more info.