chinasamuraisword dragon / spring swords : china jian
Do not buy from chinasamurai.com and dragon spring swords. I ordered the "china jian" and the pommel was made of plastic painted to look like the metal guard! It was impossible to tell this from the photos on the web. Hopefully no one makes the same Mistake I made and purchase anything from this company.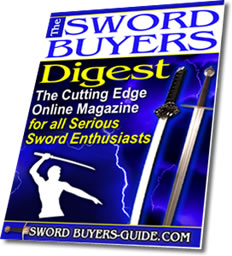 Sword Buyers Digest Newsletter!

Sword Buyers Digest Newsletter

Sign Up to Our FREE Monthly E-zine for all the latest sword news, info and much, much more! Click here for more info.