Atlanta Cutlery Civil War Swords
Considering that these replica Civil War swords typically sells online for fifty bucks plus shipping, unless they come broken in the box, it would be pretty hard to go wrong.

And being made from decent quality carbon steel (albeit unsharpened) this sword represents some excellent value for money, despite the fact that it is more historically 'flavored' than historically accurate...
So let's dive straight in and see what your $50 can get you.

---
Atlanta Cutlery 1860 Light Cavalry Saber
Review by Luke Bailey, USA

---
Steel    
Weight    
Point of Balance    
Price Range


Unspecificed Carbon Steel
2lbs 6oz
7"
US$46.99

Howdy there! This is my second review, the first being my Windlass: Sword of Auray. This is my first saber purchase, so my opinions are far from infallible.

I saw this particular sword while perusing Atlanta Cutlery's website a few weeks ago. I had been looking for a civil war sword, mostly for display, for a while, though I really didn't want to spend much. So when I saw this at 40 dollars, I decided it wouldn't be much of a risk if it turned out horrible. So I nipped it up.

Even before the sword arrived, members of the SBG Sword Forum Hotspur and Jonathan Hopkins pointed out that the sword had some glaring historical discrepancies. At 40 dollars, this was to be expected. I wasn't buying for historical perfection. My plan is to buy the lowest end of each type of sword, so later on I can appreciate quality. (That didn't really work out with my Windlass: Sword of Auray, as it was later heralded on MyArmoury as the best single hander windlass has produced, but you get the idea).

However, as this sword arrived a few days after the purchase, I must say I felt my money was well spent. It was packaged nicely, including:

A: The Sword
B: MRL Catalogue
C: Atlanta Cutlery Catalogue
D: A DVD from MRL, describing how their swords are made and showing some test cuts. They even give us a look at windlass studios in India!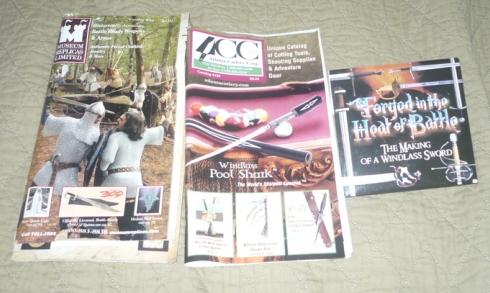 All in all, very nice presentation. At this point, even if the sword was a piece of crap, I was one happy guy. Good ol' marketing.

Well, Here's some:

Specs.

40" overall.

Blade 34" x 1 1/4" wide x 3/16".

Wt. 2 lbs. 6 oz.

POB: About 7 inches from the guard.
DESIGN, FIT AND FINISH
What is Fit? What does that mean? Anyways:
The Fit and Finish was very nice. One moot point is that the pad that protects the guard from the steel scabbard was coming off on arrival, and had to be removed. Otherwise, however, everything was spick and span.
THE BLADE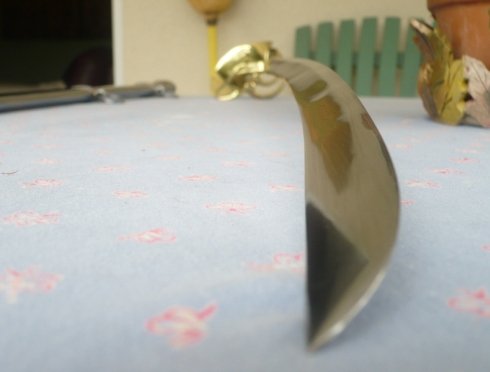 Very Nice, actually. It has a wide, shallow fuller that I didn't even see in the photos, and pleased me greatly. One the opposite side of the blade, there is thinner section for sharpening till about eight inches down from the tip. Were most Civil war swords sharpened on the opposite side as well? This just shows my saber ignorance. I can only review this sword from the standpoint of a sword enthusiast, not a saberite.

THE GRIP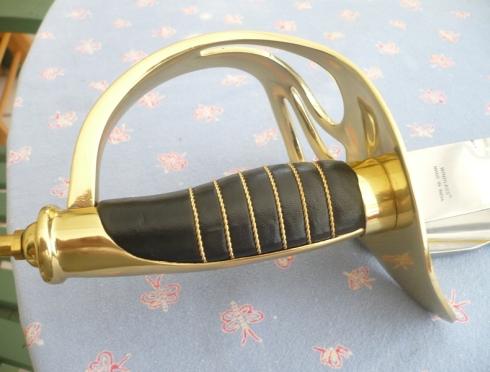 The grip is leather over (I believe, if this is constructed in the same manner as windlass's other Civil War Swords) plastic. Not a big deal to me, most people don't like plastic, but since I cant see it and its was 40 bucks, I don't mind. The wire wrapping didn't go all the way, but again, 40 bucks.

THE POMMEL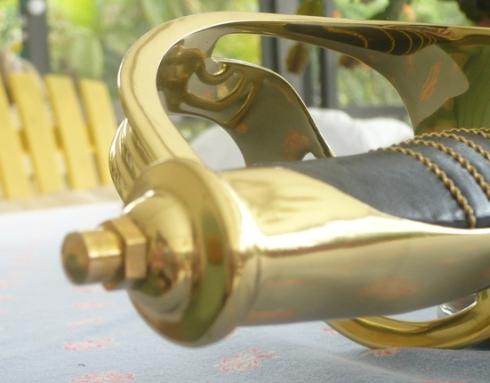 This was where they saved further money, and where historical accuracy really suffers. If Jonathan and Hotspur are to be believed (and they usually are) civil war swords pommels were peened, not threaded. Historical Accuracy rating will suffer for this.

THE GUARD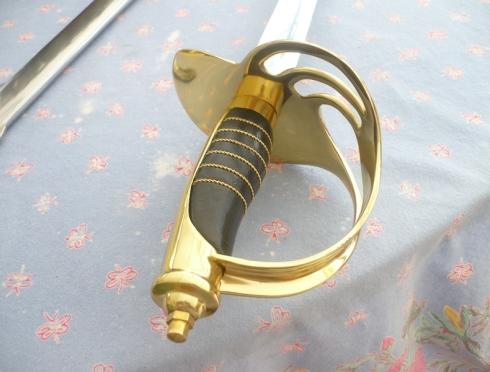 All brass, very nice and solid. Still, despite pouring over many pages of Civil War Antiques, I cannot find a hilt structure exactly like this. It's certainly possible, but still, Windlass definitely designed this sword with relative historical accuracy in mind.


THE SCABBARD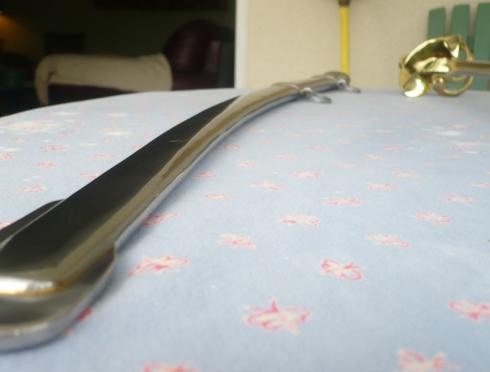 Steel construction, very nice and substantial. You could brain a yankee over the head with this thing. (Or a Reb, if that's your thing).

Ironically, it fits better than the scabbards on all my more expensive swords from Windlass and Musashi. Very little moving about, and I can turn the piece facing downwards and the sword wont fall out. Pretty Nice.

I likely won't use this sword for test cutting any time soon, as I really have stopped doing that for the most part. I don't like banging up my swords.

However, I think handling should be addressed. This Sword does not handle nearly as well as my Auray. They are, of course, completely different sword types. It really feels like a dead weight in the hand, and is very blade heavy. I don't know if this is normal for a saber, and others for more experience will have to weigh in on this. (EDITORS NOTE: Yes, most civil war swords and sabers in general are supposed to be blade heavy - designed for a powerful swing while moving forward on horseback).

CONCLUSION
Overall: 4.375 Out of Five. A nice piece for when your on a budget and exact Historical Accuracy isn't your biggest hangover, but rather you want something historically flavored.

PROS
Good Quality Brass fittings
Well assembled with tight fittings
CONS
Not very historically accurate
Unsharpened and no sharpening service available
Overall score is increased because of the value for money (for $40, it is very hard to go wrong).

WHERE TO BUY
As far as the best overall deal on this sword goes, I would have to recommend you get it HERE at Trueswords.com for $46.99.
The price itself is the lowest around (which of course, for a $50 sword isn't saying much!), but more importantly, their shipping is ultra fast, ultra cheap and they clearly display if it is in stock or not, avoiding any unpleasant backorder situations.
---
I hope this review of Atlanta Cutleries Civil War Swords has been helpful. To return to Slicers, Scimitars and Choppers from Atlanta Cutlery Civil War Swords , click here

Buying Swords Online Can Be

DANGEROUS!



Find the Best Swords in the:
Popular & Recommended ARTICLES

---
---