Del Tin Sword Review

Del Tin used to be THE 'go to' production company for replica swords, and has been making them since the 1960s! Indeed, I recall that back in 2005 when SBG was getting started, they were considered to be the premium choice for low cost, entry level medieval swords..

But is this still true? How do they compare to the influx of affordable swords that have hit the market since the 'internet age' revolutionized the sword market?
Let's take a closer look and see...
---
Del-Tin Model #5155 Review

Review by Bill Goodwin, Roanoke, USA
---
Steel 

Weight 

Point of Balance 

Price Range


Chrome-Vanadium steel

3lbs

2.75" from guard

US$487


This is one sword that has been on my wish list for a number of years and I am very chuffed that I could actually obtain one for my collection. This beautiful sword was purchased from Kult of Athena sort of under the radar. Ever since I caught wind that KOA was starting to carry some of the Del Tin line, I've been hounding Ryan about this particular model. So on the last shipment he received only one of these came in and he put it aside for me, yet another kudos for KOA's grand customer service.
Package arrived in a timely fashion and was very well packed. (Forgot to take pictures...too excited).
First thing out of the box I noticed was how very well balanced it is. Second thing I noticed was that the guard was a wee bit loose (more on that later).
The Blade

This has a Oakeshott Type XVIIIb blade that flexes wonderfully and the finish is pretty darn spotless overall. This I did not know that it seems that Del Tin puts a lacquer coat similar to Windlass on their blades. Needless to say, this was taken right off with some "000" steel wool in about 10 minutes.
The Grip

Leather wrapped half the way with a "X" cord underneath and pin in center. The remaining part is wire wrapped that is the best I've seen in a while. Feels really good in hand (s), why it was named hand and a half not sure because there is plenty of room for 2 hands comfortably - for me anyway's.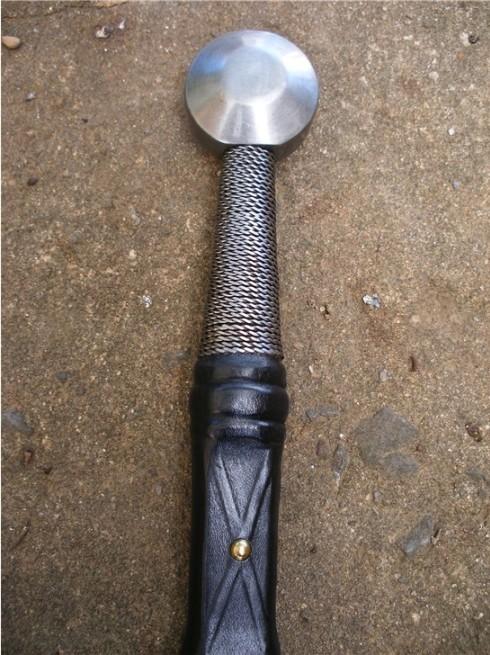 The Pommel

Type I according to Oakeshotts listing, peened on with a few marks showing but that's part of the appeal to Del Tin I like very much. They have the look of a hand forged / made piece, not overly polished or cookie cutter, stamped out of a mold aura.
The Guard

Probably the most eye catching feature of this sword is the slightly "S" curved guard and the cut-outs that are incorporated into it. The loose guard I mentioned at the beginning is / was an easy fix. Just took it to my friend, sword guilde member and blade-smith Will Goodwin (no relation oddly enough) for him to heat and tap the peen down a little which secured everything just great.
This thing is lightning fast in going through my longsword solo drills. With it's weight and size it moves so gracefully. Since Del tin does not sharpen their swords no test cutting to attempt and I am still up in the air as to whether or not to do so. May just leave it as is and see how it performs in long-sword study group work-outs. Again the balance on this DT 5155 is just bloody fantastic. This is going to rank up there with my Armour Class mortuary in terms of handle/feel.
O/A length: 47 1/2"
Blade length: 36 3/16"
Blade width: 1 9/16" tapering to 3/16"
Guard: 10 1/8"
Pommel: 2 1/8" diameter


Grip: 8"
Weight: 3lbs
P.O.B. : 2 3/4"
C.O.P. : 22"
Conclusion
I am so very pleased with it overall despite the slight guard issue, but that's part of the journey. This one has already earned a special place in my collection just in the short time I've had it
Beauty & the Beast in one.
I'm giving it a 4/5 overall (again the guard thing was a small thing but still worth noting). Del-Tin swords IMO are a brilliant choice for those that are looking for well made, durable, great looking in a rustic sort of way from a maker that's surely gained the respect of the sword community over the decades.
PROS
Exceptionally well made, hand forged blade
Attractive and historically accurate fittings
CONS

WHERE TO BUY

Del Tins previously were only really available direct from the manufacturer in Italy, and in recent years this inconvenience, plus the sheer number of more competitively priced swords has no doubt made it hard to prosper into the 21st century.
However, one of the most respected sword sellers in the industry, Kult of Athena, have recently been bringing a wide selection of their swords into their formidable stock - with (as always) extremely competitive pricing (most are around the $350 price range).
While this particular sword appears to be discontinued, check out the rest of their very large collection of unique sword types not seen anywhere else here at Kult of Athena

---
I hope this review of the Del Tin Model#5155 Sword has been helpful. To return to Affordable Replicas of Medieval Swords from Del Tin Sword Review, click here

Buying Swords Online Can Be

DANGEROUS!



Find the Best Swords in the:
Popular & Recommended ARTICLES

---
---