Ronin Katana Euro Model 7 Longsword Review
The Euro Model 7 Longsword by Ronin Katana has caused quite a stir among medieval sword enthusiasts.
Proving to be almost indestructible and capable of cutting targets that even high end Japanese swords struggle with in our original review of the prototypes here, it has also become a go to sword for many HEMA groups and organizations due to its excellent handling, solid construction and of course, price ($250).
But can it really be as good as all that? Read this first hand review and make up your own mind..

---
Ronin Katana Euro Model 7 Longsword Review
Review by SBG member Riven

---
Initial Impressions
One of my big struggles has been finding something that looks good, yet there is no information or reviews on it so I can't trust it, so today boys and girls I am here to shed some light on what looks to be a very nice piece of work.

That said, I'm not very skilled at writing reviews, so this may read a bit more straight forward and have a little less flair than some of the other excellent reviews on this site.

First of all, I picked this up on the SBG Store for a $249 USD + $60 USD shipping to Australia (editors note, it is now $284.99 - shipping remains the same).

Just a note on the price, I thought this was extraordinary, for all the advertised features of this sword including peened construction, free wood core scabbard and a belt/suspension system, it was definitely an absolute steal!

I hadn't seen anything like it for less than $500 anywhere else!
Now for some background. Basically I'm Australian that has loved European swords since I was a kid, but the martial arts I train in is very Japanese orientated, and such I've only ever owned Japanese blades (mostly Hanwei) and I've loved test cutting and all the fun that goes with destroying water bottles and other things in the backyard.

However lately I've picked up a very passionate interest in HEMA (Historical European Martial Arts), and thought it was about damn time I got myself a longsword. So the last couple of months I've been intensely searching for a not too expensive, nice entry level European longsword and had some very near catches, only to be shut down usually by gargantuan shipping costs that outdo the cost of the sword itself or in some cases not even shipping to Australia at all!
What some other sites charge (click to enlarge)
However this time was different, I was quite pleased to see SBG's $60 international shipping was actually just that, $60, and I didn't have to pay a single cent extra for some weird issue with Australian shipping that racks it up to the hundreds that other sites claim.

Customs seemed to have their fun time with it, as it happened to be delayed 3-4 days after entering the country. Much to my irritation as I only live an hour away from the airport in which it arrived, and I was very eager!

Other potential picks either didn't have the right aesthetics for me, or had some suspicious issue that turned me off.. e.g. too wobbly, common bad QC issues, too heavy, too expensive etc.

The sword arrived in a large cardboard box in decent condition that inside was another box that contained the sword itself. The sword was then encased in of bars of polystyrene, two of which (on the point and the pommel) had been broken on transit. However no damage was visible on the sword itself, which was very relieving.

Now you'll have to excuse the random objects in the background, I didn't really have any other decent spot to inspect the sword!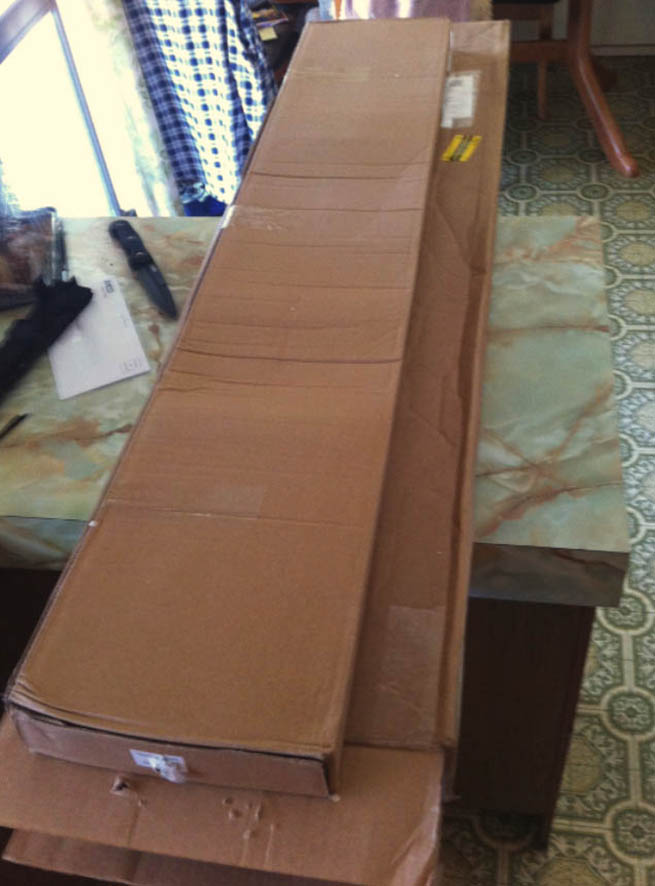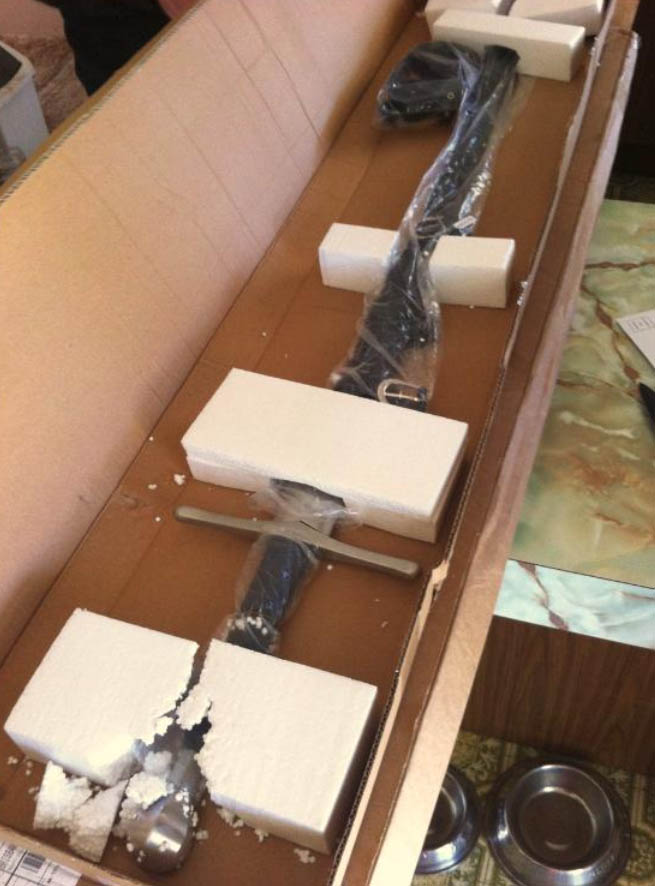 The belt and suspension system were also included in a plastic bag and placed between two of the polystyrene panels.

After a quick lookover, I unsheathed it and lo and behold, NO SCHWING! HOLY SH--
Statistics
Unfortunately guys you'll have to deal with these in inch/cm/kg as I am Australian, and they're probably off a bit as I'm not very skilled at measuring swords either.

Blade Length: 36 inches/92cm
Handle: 10 inches/25.5cm Total | 7 inches/18cm Grip Only | 3 inches/8cm Pommel
Overall Length: 49 inches/125cm In Scabbard | 47 inches/119cm Out of Scabbard
Guard Width: 8.5 inches/22cm
Point of Balance: 3.5 inches/8.5cm-ish
Center of Percussion: 22.5 inches/57cm-ish
Distal Taper: Sorry boys, I do not own the tools necessary to measure this precisely, however it's definitely there!
Weight: I can't exactly comment on this as I don't have an accurate way of weighing it unfortunately, my scales won't do it! However SBG lists it as 3 pounds 3.8 oz or around 1.45kg and that feels about right.
Components
First off, I'm going to say I don't have enough experience with European swords to comment on what Oakeshott type of blade that this is, if it even is one, however i'll try to comment on what I can.

Editors Note: The Euro Model 7 is actually a replica of a classic Oakeshott Type XVIIIb Longsword - a Longsword especially popular in Germany from the 15th to the 16th centuries.


Oakeshott Type XVIIIb
The Blade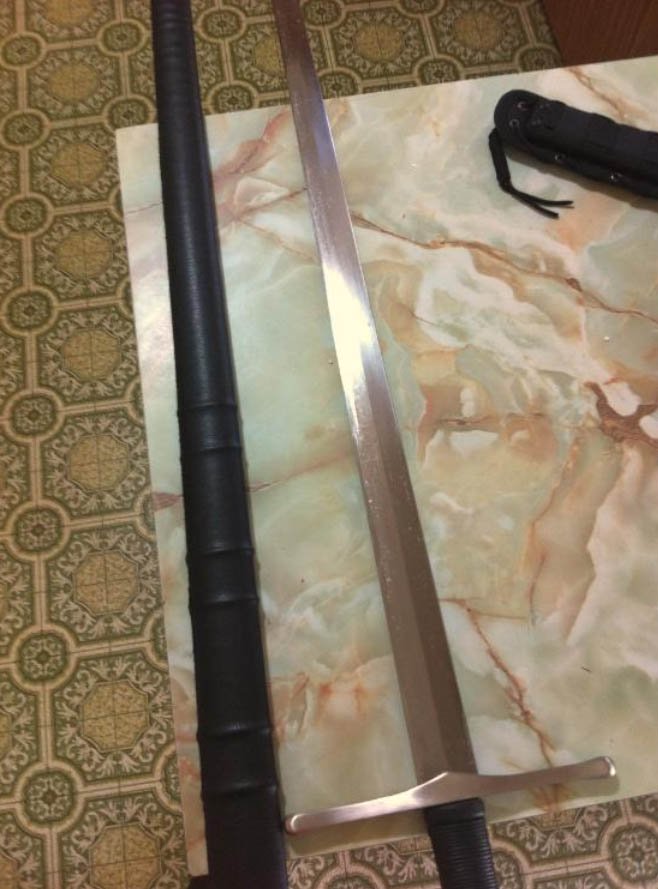 The blade on this model is Monotempered 1075 Carbon Steel. 1075 is interesting, I don't know much about steels but I have rarely seen manufacturers use anything over 1060 at this price range. 

The blade looks great, I can't see any obvious problems like hammer marks or pitting and has a very attractive polish, well, to me anyway! It came nicely coated in a thin layer of oil.

The blade does not appear to have a secondary bevel and instead tapers straight down to an edge. Out of the box it's sharp, but not razor sharp, I'll talk more about this in the Test Cutting section.
The Guard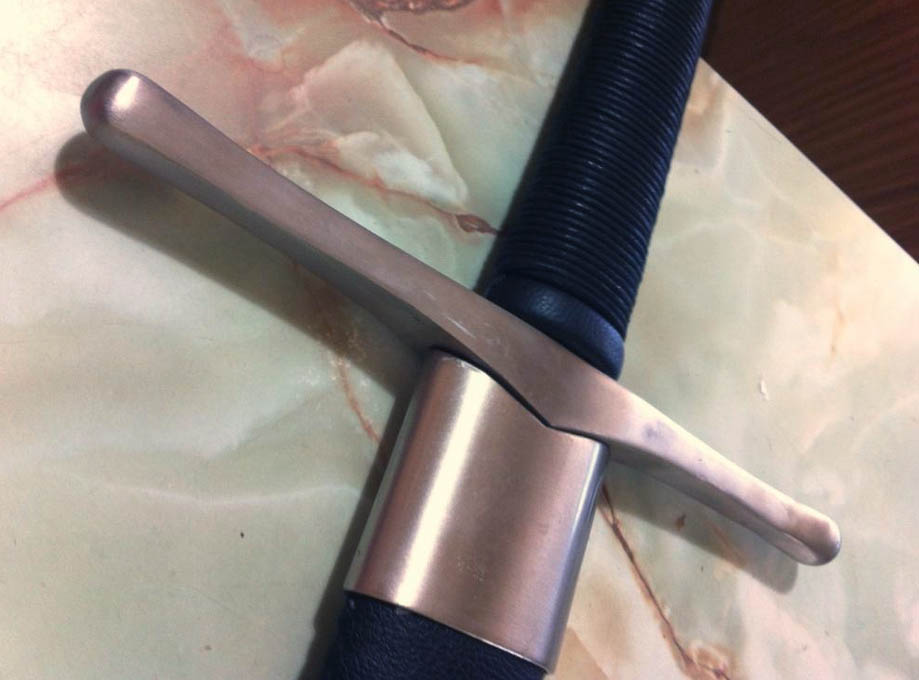 The Guard looks attractive, nicely polished and matches the scabbard and pommel perfectly. As above, I can't see any glaring marks or issues with the guard however there is some minor machining marks on one side, that said these took me quite a while to pick up so they're not very noticeable at all. There is a black spot and some smudges in the pictures but I found I could easily rub them off.

The fit and construction seems to be very good, nothing is loose or wobbly.
The Handle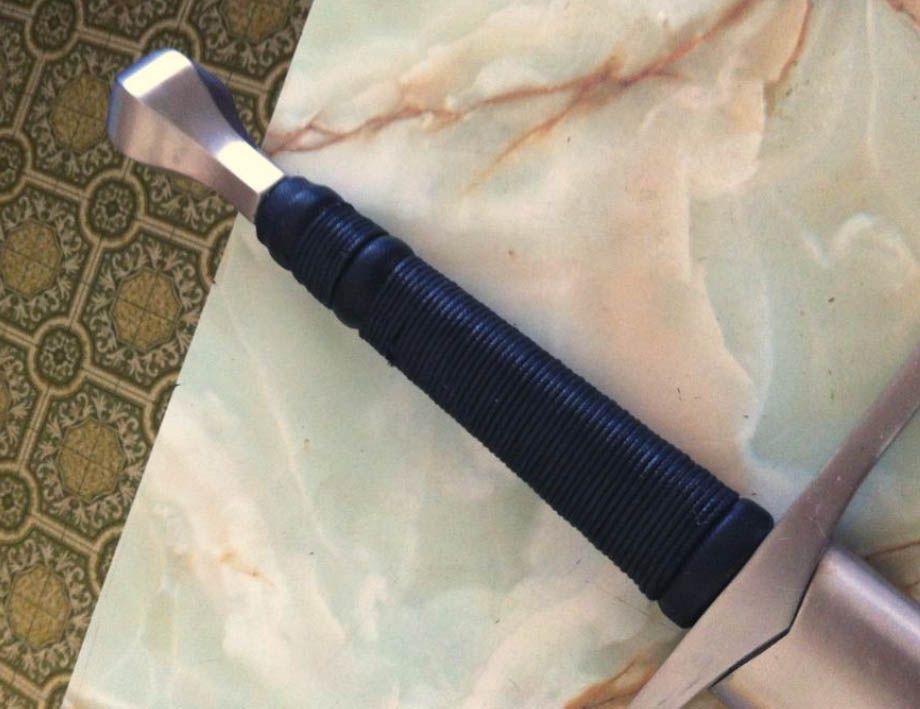 The grip is leather wrapped in cord that tapers down toward the pommel where it has a leather riser. The stitching on the risers doesn't stick out and doesn't look like it'll come undone easily.

It feels very comfortable to me as I'm used to Japanese swords and wrapped grips anyway. Definitely "grippy".

It doesn't hurt my hands or anything when I've done some brief playing around with it, even while shifting grips to different positions on the handle. The handle is long and wide enough that my rather large hands fit very comfortably. I would go as far as to say that it's the perfect size grip for my hand. The handle is oval/octagonal shaped and edge alignment with it is very easy to acquire, even wearing some light gloves that I tried.

The only thing I noticed was that there was some inconsistency in the wrap at one point, however this seems to be where the cord was tucked into itself and I assume glued in place, I can't feel it in use so it's basically a non-issue unless it somehow comes loose, at which point it could be annoying.

The Pommel
The pommel is quite attractive, provides a great grip and fits nicely in my hand. I originally wanted a sword with a Wheel pommel but after handling this one, which I believe is some variant of a Type T Scent Stopper pommel, I'm going to say I think I prefer this just from the way it fits in my hand.
Oakeshott 'T' Type Pommels







It also feels great if you hold with two hands on the grip as it gradually widens out. I will add that this model is PEENED and not threaded, something I have very rarely seen at this price. The peen looks quite flush with the pommel and doesn't stick out and I cannot feel it under my hand when in use or even with my finger when I'm trying to feel for it.
The Scabbard
For this price point I've seen a lot of swords not even get scabbards at all, or if they do they're either sloppy quality or there's something off about them.

This one is the exception. 

The scabbard is a wood core, leather wrapped handle with a steel throat and chape. The leather stitching is very neat along the edge of one side and is barely noticeable, yet looks quite strong.

The steel throat ends before the wood does and there is NO 'schwing' sound of metal on metal when the sword is drawn, and comes out quite silently.

It holds the sword nice and tightly, not too tight that if you shake it upside down it WILL come out but tight enough that if you just hold it upside down and with moderate shaking it won't budge. 

The only issue is that the scabbard and guard don't line up *exactly* but it's close enough that you won't notice at a glance, and seems to be an issue with the shaping of the scabbard and not the guard.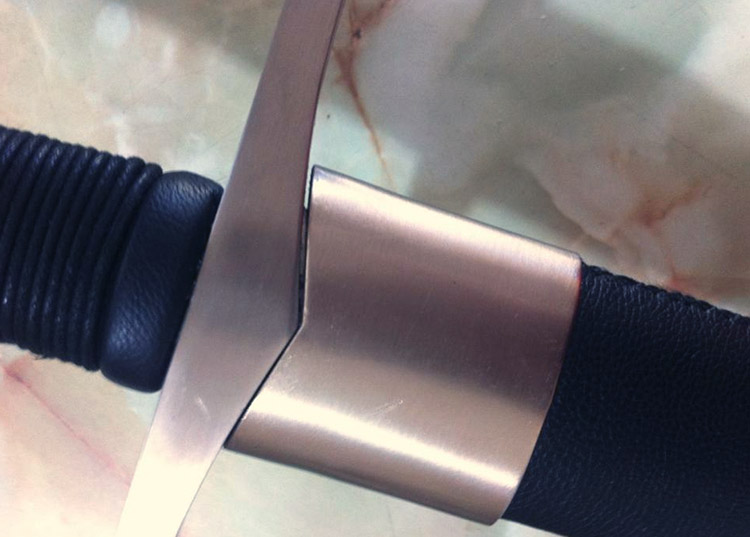 In this section I'm going to talk about the belt and suspension system that was included as well.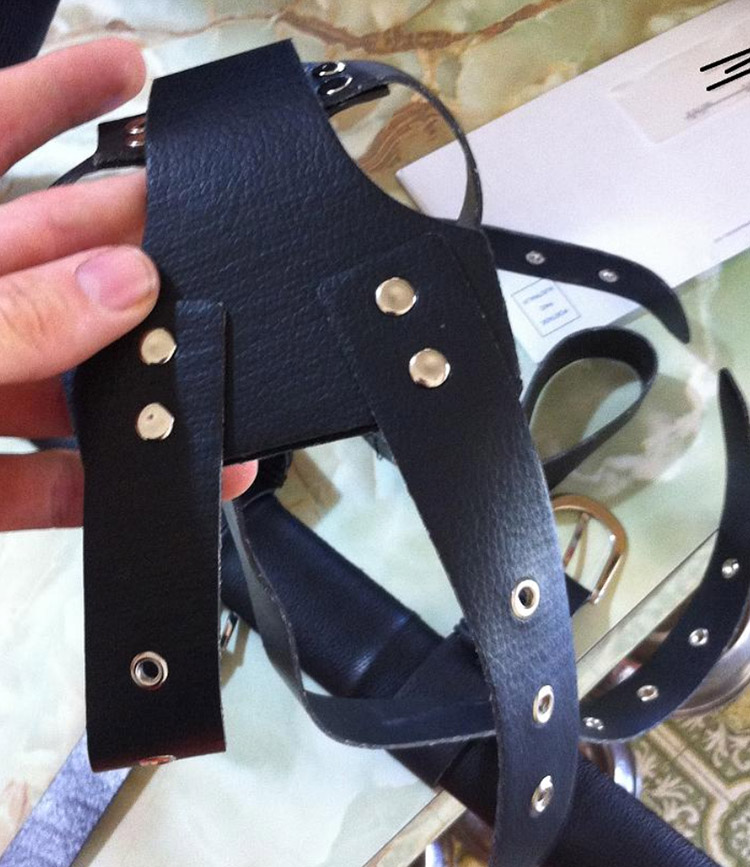 This would have to be the only downfall of the entire package to be honest.
It's very basic, the leather is very thin on the belt and this particular one was designed for a left handed person, which I am not, as either which way I tried it on, the belt loops ended up upside down or something or other was back to front and if I tried it on my left side it worked.

The loops on the scabbard itself look a little more professional and ARE detachable from the rest of the scabbard, so you can add a different suspension system/frog/whatever if you wish (I would recommend it if you want to wear this sword anywhere).  

The belt is LONG. I have a size 36 waist and this thing went around me very very easily, I had no chance of doing the buckle up properly as I ran out of holes instantly.

The suspension system seemed to be placed in the wrong spot as well as when done up on the right side, the buckle ended up way around to my right, even when done up with the holes.

When attached to the sword, the point of balance of the sword is still in front of the belt loops, making the sword droop forwards to the horizontal and sits very low down my leg even when attached to the highest loops. 

All in all the suspension system/frog/belt is not something I would consider usable on this model and I'll be using my own belt and frog which is considerably better and sits much nicer.

However I must give RK credit as it is outstanding that it was even included at this price range as it's something I've never seen with any of the rival models, with some improvements I think it could be decent.

Handling Characteristics
Okay this is the interesting part. I am not exactly skilled in HEMA/longsword techniques and only have a very basic knowledge of how a sword of this type is supposed to handle.

However, I own a quite blade weighted katana that is primarily designed for cutting and this sword handles MUCH better that that katana.

I've let other diehard katana users have a play and cut with it and they all have been extremely impressed at how responsive it is, and they were dumbfounded when they felt how light it was. (most likely due to the misconception that european swords are very heavy!)

It feels very well balanced, I can be quite nimble with it and stop the blade wherever I need to without much effort.

In one hand it is definitely usable. It will be by no means as nimble as a designated one handed sword, but in a pinch it would perform admirably.

It definitely has enough weight to cut, but is not too heavy to the point that it just becomes tiring to practice with, unless of course you are strictly fighting one handed. Keep in mind I am 6'4" 85kg and low fat, so your experience may vary. 
Thrusts are very easy to keep the point on line with, and I had no trouble with any of the cuts/stances I tried. 

This sword is definitely not wobbly/whippy or any of that. It flexes well, doesn't hold a set, and has no sag when held flat horizontally.
Test Cutting
OK, it only took me 4 months, but I've managed to do some proper cutting tests with this sword.

Unfortunately, I don't believe anyone got any footage of it and I had completely forgotten about taking any, my apologies.

First cut was on banana tree approx 13cm in diameter, not a hard target by any means but I wasn't certain as to what was going to happen.

Completely overswung, had no idea if I had even hit the target or missed. Upon looking up the banana tree was still just sitting there..

..Then the top half slowly slid off from the damn near surgical, straight cut.

Needless to say I was impressed.

Several more cuts with not even half the power yielded very similarly impressive results.

30cm approx diameter banana tree was the next challenge, and the sword cut through it like butter.  I could swing it single handed, half power and it would just glide through the entire thing. Most of the time I hardly even felt resistance. 

15cm tatami roll next, and the same results as before. Effortlessly cut through targets, both single and two handed.

We had a lot of banana tree parts left over, so we ended up throwing them at each other to test hand-eye coordination and thrusts.

The sword performed beautifully, the point went exactly where I wanted in thrusts, I even had several attempts where the banana tree chunk would slide nearly all the way up to the hilt.

All in all, I was extremely impressed.

Oh and of course, I spent the next half an hour trying to polish banana tree acid stains out of the blade.. oh well, now it has character!

Some Cutting Videos..
As Riven was not able to record any footage of the sword in action, here's a quick video of one taking on a Viking style shield - certainly a more challenging target than a banana tree, as much fun as they are to cut I'm sure..
And some water filled milk jugs just for good measure..

Four Months Later..
I've practiced with this sword several times a week for anywhere between 10-30 mins a session. 

So far there has been very little wear and tear.

The grip wrapping is holding up extremely well, not a chance of it coming undone any time soon however it is a shade lighter in color as a sign of use.
The peen poking through the pommel is significantly darker than when I first got it (See pictures above, where it is basically the same shade as the pommel, it's now VERY dark in comparison).

I've tried to have a coat of oil on it, but I randomly pick up the sword so often that i'd go through oil like crazy if I did it every time, so I have stopped bothering to oil the peen unless I leave it for an extended period. I don't mind though, doesn't even look half bad either. 

Banana trees as expected took a little toll on the blade with some minor acid scarring.

I've cleaned most of it off but it would really take a buffing wheel to get the rest out. I can barely see it though unless I'm really looking for it. On the up side, the majority of this is right in the area of the center of percussion.
Conclusion
Overall, i'm very impressed and extremely pleased with this buy. The features listed seemed almost too good to be true when I seen it on the SBG store (which is the ONLY place I've seen this model listed!) and at an absolute steal of a price for an Australian, and I definitely was not disappointed. 
I would definitely recommend this sword for anyone looking for a high quality entry level European longsword, the value for money is exceptional and the sword looks and feels great.

PROS

Overall high quality, fit and finish are very nice
Handling characteristics are great
Grip/pommel are very comfortable and there is more than enough room for my big hands
Includes a very high quality scabbard
Peened construction 
Very good bang for buck
Sharp out of the box
Cuts like an absolute dream on tatami

CONS

However FREE, which is a pro, the sword belt/suspension system felt quite poorly designed and ended up just not being usable for me, and the leather was too thin for my taste. 
Couple of minor machining marks on the guard, not incredibly noticeable.

WHERE TO BUY
The Euro Model 7 Longsword is available right here at the SBG Sword Store for just $284.99 with $20 shipping in the USA, $30 to Canada and $60 everywhere else (and as Riven noted, there are no hidden charges or fiddling with the shipping costs - what you see is what you pay).
Plus like with all the swords we stand by and sell in our store, it has a LIFETIME guarantee against breakage - though if you saw Matthew Jensen's destructive testing on the prototype review page here you will know that is probably not something you will ever actually have to worry about..

---
I hope this review of the RK Euro model 7 has been helpful. To return to Affordable Replicas of Medieval Swords from Ronin Katana Euro Model 7 Longsword Review, click here


Buying Swords Online Can Be

DANGEROUS!



Find the Best Swords in the:
Popular & Recommended ARTICLES

---
---