Hanzoswords.com--A Hate Story
by Rob
(Houston, TX)
I placed my order on Sep 6, 2014. The item was IN STOCK. My email receipt clearly stated that my item would be shipped within 5-7 business days. After the 6th day with no shipping confirmation, I sent an inquiry-- the first of many to come. Needless to say, my message was never answered. I also called and left a message--never got a reply.


I sent an inquiry about a large order bulk discount from another email address to see if that would be answered. I received a reply within 30 minutes of that message! I guess the smell of money attracted attention. I emailed again from my account address to call them out on that--again, no reply. By Sep 19, I'd had enough and filed a Paypal dispute. The funny thing is that they sent me a shipping confirmation notice on Sep 24, but it had no tracking number. After they noticed my Paypal dispute, they got a little upset and couldn't figure out why I'd do such a thing. That's when my inbox got flooded with replies. I was even told that the "previous" owner had to step down due to these concerns and the site was under new management. BUNK!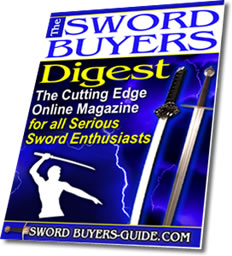 Sword Buyers Digest Newsletter!

Sword Buyers Digest Newsletter

Sign Up to Our FREE Monthly E-zine for all the latest sword news, info and much, much more! Click here for more info.