Cold Steel Warrior Review
Can Cut ANYTHING Japanese 'Samarai' Sword for Around $300?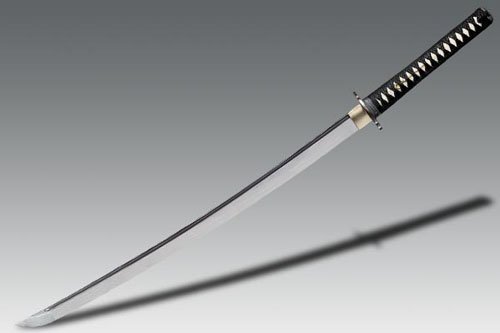 This is a real Japanese 'Samarai' sword..
Yes, it is not a misspelling, it is probably the best way to describe what kind of class the Cold Steel Warrior falls into..
It is not a Samurai sword - it is a modern interpretation of one.. But this does not necessarily make it bad if you take it for what it is..
After all, the general consensus of the sword community has been since the beginning, this Japanese Samarai sword:

"handles like a crowbar, cut's like a light saber.."
Why? Probably because they have seen THIS promotional video somewhere:
VIDEO: Clip from Official Promo

Cold Steel owner, Lynn Thompson - be careful of that triple rolled tatami mat he powers through, there's some camera angles going on there (and boneless meat)..
But is this a fair assessment? Is it that unbalanced? And does it really cut that good? How does the original proto-beater stack up to the competition, or is this Japanese Samarai Sword in a special group of it's own?
Let's try to find out..

---
Cold Steel 88BKW Warrior Katana

Review by "the Incredible Holg"

---
Steel 

Weight 

Point of Balance 

Price Range


1055 Carbon Steel

2lbs 15oz

6.75"

US$305-581
Howdy gents, today i am gonna break a lance for the often cursed and insulted CS warrior, the original "Japanese Samarai Sword"...

I like usually like picking up the side of the underdog, and as i own a few production katana i considered giving this babe a chance EXACTLY because it receives some beating. As i stumbled upon it for a reasonable price i gave it a shot!
Specifications

Steel: 1055 High Carbon
Overall Length: 40 3/4"
Sheath: Black Lacquered Wood

Weight: 2lbs 11oz
Blade Length: 29 3/8"
Handle: 11"
Japanese Samarai Sword
First Impressions

The blade is made of 1055 through-hardened carbon steel, superclean with very exact lines and curves; none of my Hanwei kat blades looks as good. It is considerably wider than than the blades of any of my other kats which makes the overall "flow" of the sword very nice; the sudden wideness difference between the grip and the blade always disturbs me. The polish is a little rough but i prefer that type of finish anyway.
VERY tight cord wrapping with very exact diamonds; look at the pictures and compare it to my Ronin!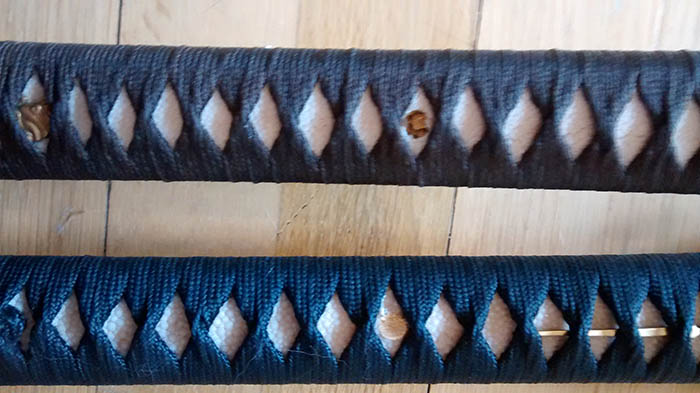 Tighter and nicer ito diamonds than the Ronin Dojo Pro (top)
VERY exact fitting mekugi; they're about 1/3 thicker than I am used to. The rayskin panels are good, but you can see a tiny twinkle of wood on top and bottom of the handle; same with my Hanweis, same with my Ronin, i suppose it is standard without a full wrap.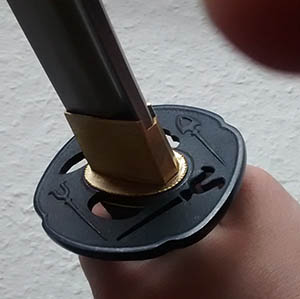 The tsuba smaller than expected, made from blackened iron like the other fittings. All share some kind of arrow theme. Tsuba has a very little bend.
What i didnt like to see was the clear evidence of glue between habaki and seppa, also between seppa and grip; shouldn't be necessary!
Habaki alignment with the blade is excellent though; none of my other kats comes near that.

The Kissaki is not traditional and roughly counterpolished.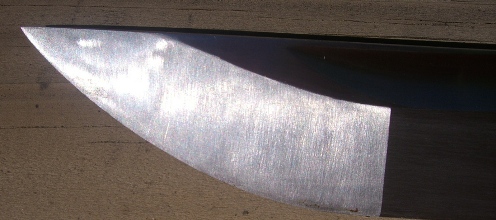 Perhaps the ugliest kissaki around..
As far as handling goes..

Yes, its blade heavy, and that's the way it is with katana, though with this one here - its a little more! ;)
I got the feeling this katana was constructed exactly with big fat strong western guys in mind; a two-handed battlesword in the shape of a katana! Is that a bad thing? I don't know but i like it!

Conclusion
If you can get your paws on that sword for lets say around 300,- to 350,- bucks i would say: grab it! The list price at Cold Steel for these things is certainly ridiculous, for around 600,- dollars you can get FAR superior Katana! But for the price I paid its the best Katana I have, especially considering fit and finish.
PROS
Durable and thick well tempered 1055 carbon steel blade
Extra weight gives it some extra punch
CONS
Relies on sharpness to cut - is not shaped like a real Katana in the cross section
Not really balanced like a Katana should be - sluggish recovery
Too expensive for what it is - decent value if you can get it at the lowest price point ($309-330) but too expensive for what it is at Cold Steel themselves ($581 at Cold Steel direct)
It's true you need to muscle your cuts, but there can be little doubt that this is a durable sword that may not suit everyone, but will suit someone perfectly if you know what I mean...

WHERE TO BUY

You do really need to hunt around to get the best price on these - $549 at Cold Steel is way to expensive for this sword. Even at the lowest price of between $309-349 it doesn't quite hold it's value compared to other new comers to the market that followed it's Japanese Samarai Sword Beater status.
That said, there is something about a durable sharp crowbar cut anything kind of sword that is appealing - and if it calls to you, the best place to pick one up is here at Kult of Athena, where it sells for just $305.95

---
I hope this review of what I refer to as the Cold Steel Japanese Samarai Sword has been helpful. :-) To return to The Best Japanese Sword for under $300 is MONOTEMPERED from 88BKW Japanese Samarai Sword Review, click here

Buying Swords Online Can Be

DANGEROUS!



Find the Best Swords in the:
Popular & Recommended ARTICLES

---
---