king of swords scammer HOW TO GET EVEN !!!
by Peter
(New Jersey)
Same as everyone else, ordered never received anything waited months cause they say its customs fault. They said they would refund but nothing, NOW HOW DO WE GET EVEN ? BECAUSE NOBODY REALLY LOOKS INTO THE SITE BEFORE BUYING. GET A DOT COM THATS CLOSE TO THIERS LIKE ( KING A SWORDS.com ) or (kingsofswordsripoff.com ) AND IT WILL COME UP ON THE SAME PAGE AND JUST WRITE THAT THEY ARE SCAMMERS AND TO LOOK INTO THEM BEFORE ORDERING and after looking into all the people scammed, YOU COULD F3CK UP THERE WHOLE GIG. Im gonna get ya !!!!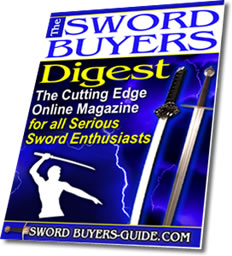 Sword Buyers Digest Newsletter!

Sword Buyers Digest Newsletter

Sign Up to Our FREE Monthly E-zine for all the latest sword news, info and much, much more! Click here for more info.