Kingofswords is crap
by Eric Winkler
(Troy NY)
Back in Febuary I ordered 3 swords. Now i had been lookin for these swords for some time(one for about 8 years)I have 2 kids and didn't want to spend a fortune getting the swords,BIG MISTAKE. I ordered the wheel of time (Heron branded) sword and the forgotten realms swords(twinkle and icingdeath, come on ya got get the pair right?)So several months later i e-mailed the company to see where m order was. I got a resonse of "we're sorry our supplier got stuck in customs, okay now i worry. A month later same thing. Another month later and their telling me that customs has to open every box (yea bullshit).It's not July 29th, i've canceled the order on the second of this month and yet no refund,go figure. i call the parent company and i get a recording say leave a messege and we'll get back to you in 24-48 hours,what no actual customer service rep? Guess what? Still haven't heard from them, got an e-mail from KoS saying if i don't have my refund within 48hrs to stop payment,yea except i used my bank card and i can't, so if i don't have it by Wed(7-30)i' contacting better Bisiness. So all in all, DON"T order from King of swords.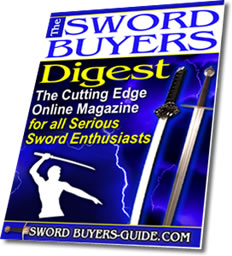 Sword Buyers Digest Newsletter!

Sword Buyers Digest Newsletter

Sign Up to Our FREE Monthly E-zine for all the latest sword news, info and much, much more! Click here for more info.