Kris Cutleries Roman Gladius Review
Reports and reviews on Kris Cutlery swords tend to be rather mixed. Many people swear by them (one forum in particular is very one sided in its appraisals), but as you''ll read on our page on Kris Cutlery –the reports are not always rosy...
But there is no arguing with the evidence that the Gladius reviewed below is both attractive and very (very) durable...
---
Kris Cutlery Roman Gladius Review
Review by Richard Williams, Evansville USA
---
Steel

Weight


Point of Balance


Price Range


5160 Spring Steel

1lb 13oz

4.25" from guard

US$250-315
I bought this sword a while back for $195 American, now goes for $225. (Editors note: actually now it's US$315!)
I had heard good things about KC and this Gladius in particular and I like these type swords.
It's been a while but seems I remember it arrived in an acceptable time and packaged well.
Some stats:
Blade Length - 20 3/4 inches
Hilt - 7 inches
Grip - 3 3/4 inches
Overall length - 27 3/4 inches

Blade width - 2 inches
Weight - 2 pounds.
POB. - 6 inches from guard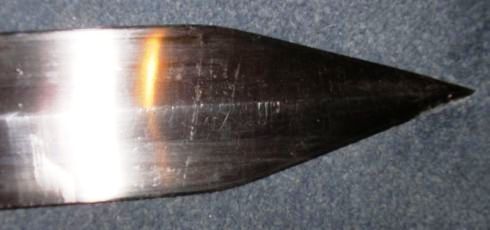 Fit and Finish

Well made and pleasing to my eye. Fairly accurate historically to my amateur Knowledge tho I know the brass plate should be inset in the guard instead of snug against it. I like it better this way myself. The original had a blond grip, I got some stain on mine accidentally so I just stained the whole grip, it kinda makes it mine.
Blade - Thick stiff blade as should be seems to be of decent steel a little flex. Seems to have held up well. I store it in its wood scabbard with a coat of Renaissance Wax on the blade no rust or discoloration.
Grip - Grip feels good in my hand and is of a squarish shape so as to be more stable to hold. The dark wood pommel and guard contrast nicely with the lighter grip.
Scabbard - The scabbard is a wood core with leather coat. Has brass rings for a baldric. It's a bit heavy for my tastes and the woods thicker than I would like. It seems to have swelled since arrival as now the blade takes a bit of effort to sheath and draw. It looks good tho and I hear fairly historically accurate.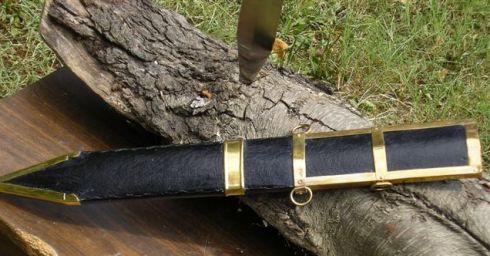 I sliced through various size plastic containers without much effort.
In my opinion this is a more than adequate cutter. I decided to try a bucket of a thicker plastic.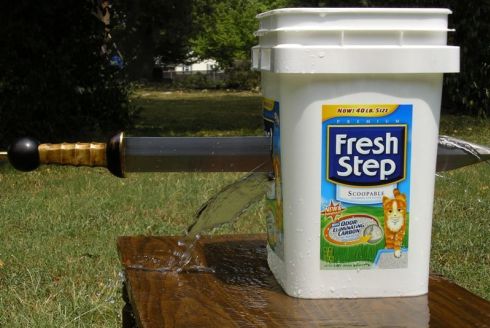 Some fire wood.
Barstool.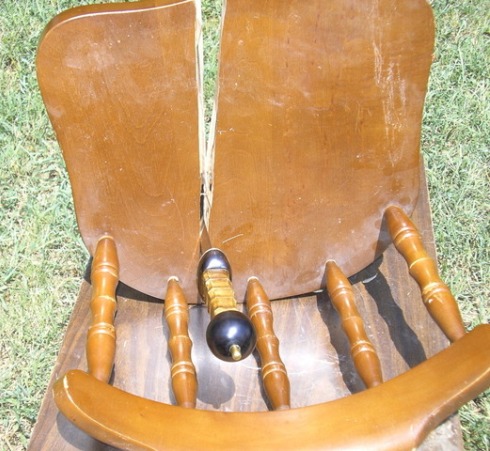 Hard hat.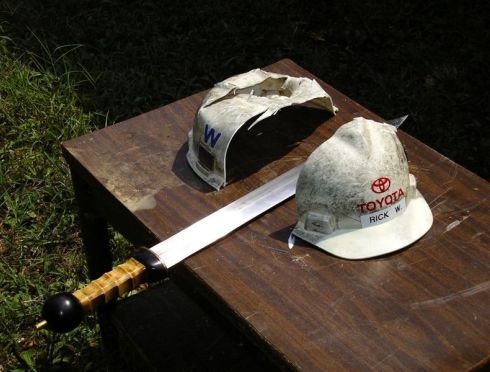 The sword is more that capable of doing what it is designed to do and it's a lot of fun doing it. Fittings remained tight after the workout except for a little looseness in the brass plate I noticed after I chopped the barstool and my hard hat in half – which is understandable after the abuse - and some slight scratches on the blade.
In conclusion I like this little sword and would recommend it, It's my favourite Gladius so far.
Buy it now!
PROS:
Very durable and well constructed overall
Nicely shaped grip designed to fit well in the hand

---
I hope this review of Kris Cutleries Roman Gladius has been helpful. To return to Modern Replicas of Ancient Swords from Kris Cutleries Roman Gladius Review, click here

Buying Swords Online Can Be

DANGEROUS!



Find the Best Swords in the:
Popular & Recommended ARTICLES

---
---