Kris Cutlery Celtic Sword Review
In business as a mail order company since the 80s, Kris Cutlery are a small but significant part of the sub US$300 sword landscape.
With blades made in the Philippines, their swords have many characteristics quite similar to Generation 2, and their products well recognized as great bang for the buck.
In this article, we will be taking a look SBG Forumites cs76cs's (not his real name!) review of the fantasy inspired, but extremely functional Celtic Sword by Kris Cutlery.
---
Kris Cutlery Celtic Sword Review

Review by SBG Forumite cs76cs (Chris), CANADA
---
Steel 

Weight 

Point of Balance

Price Range


5160 Spring Steel

2lbs 5oz

3.6" from Guard

US$229-315
---
There''s just something about a good leaf shaped blade….

Since this is a place to share our thoughts and experiences with fellow sword enthusiasts, I wanted to post a review/my thoughts on a short Celtic sword I recently purchased. This particular model is made by Kris Cutlery out of Pinole, California. I wanted to shine a bit of a spotlight on this very deserving company. In a market dominated by Windlass,Generation 2 and Hanwei , Kris Cutlery has quietly accumulated a solid reputation for offering simple, no thrills yet very tough and durable swords.
This was my first purchase (most definitely will not be the last) from them. I got this from their website (www.kriscutlery.com), regular price is $185us, mine was on sale for $125us due to a minor crack in the handle. I wasn't sure what to expect for such a low price tag, but when I opened the box , I was very pleasantly surprised. My first impressions were that this is an attractive, well made, solidly constructed and VERY sharp weapon.

The sword also came with a leather sheath, I can describe it (the sheath) as being functional rather than attractive, but for the price, I have no complaints. The sword itself is about 27 ½" long, and weighs about 2.6 lbs with the balance point being about 2" under the guard. The handle is made out of 3 round Macassar ebony wood pieces with 3 brass rings in between, simple and attractive, its 5" long, the pummel is brass, flat , round shape. The guard is brass with a u shape and is riveted to the blade. The blade is 20 ½" long, 1 ½" wide near the guard and 2 ¼" wide in it's widest point. The thickness is ¼" at the guard, 3/16" in the middle and 1/8" near the tip.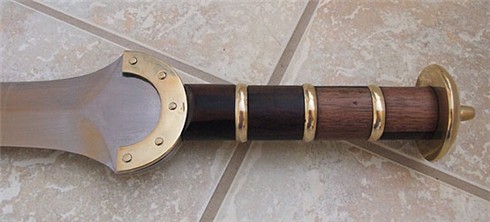 The blade is very well made, leaf shaped, clean lines and a clean, mirror polish. The three things that stand out the most about the blade are, how very, very sharp it comes from Kris cutlery with a properly defined edge (no machine edge on this one), how attractive it looks, and how stiff it is. I guess this would be typical of a weapon of this kind, being used as a thruster at close combat situations as well as a capable cutter, definitely the stiffest of all the swords in my collection.
Kris cutlery uses 5160 steel for the blades on their swords, considered to be the toughest steel for sword blades. They also offer a replacement warranty guaranteeing the sword against brakeage in proper cutting use.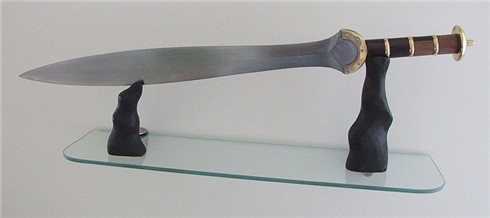 Now to the handling, I must admit that this is my first small sword, I had no previous experience with a blade of this type before but as soon as I held it in my hand, I was very happy. The sword has a really good feel, and handles with ease, even though it weighs close to 3 lbs, it's definitely not difficult to use. It's also not bulky (not to me anyway), I am not a fan of round handles, but I find this one to be pretty acceptable (somewhat odd, but acceptable). I don't know how else to describe it, so I'll just say that this little beauty feels "right" in your hand.
Cuts, so far I only cut a few plastic bottles with this and that was no challenge for the Celtic, I hate to say "like knife through butter" but yeah, just like a knife through butter the sword made very short work of the water bottle. Every review has to have something negative or something to pick at about an item, so my problem (or my complaint) would be with the guard. As you can see from the photo the guard is pretty thin and somewhat on the small side, there''s not much protection for your hand if you misjudge a cut and your hand slips. I have to point out again, how very, very sharp the blade is.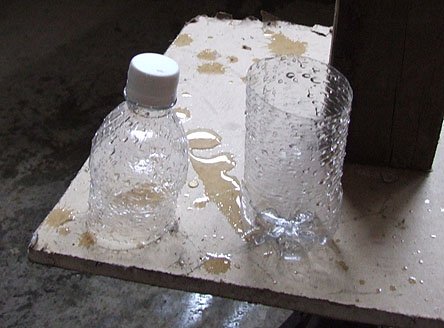 To summarize, if u are looking for well made, durable weapons with an attractive fit and finish just a tad above the $300 price tag and have not been satisfied by other makers or perhaps you just want discover a new "gem", I highly recommend stepping by Kris Cutlery's website (www.kriscutlery.com) and taking a chance on one of their items, you will not be disappointed, oh and by the way, their international customer service is top notch in my book.

Also, this is one of the few vendors whose photos on their website really do not do their products justice, you have to hold it in your hand to truly appreciate the simple beauty of their items.
PROS:
Beautifully crafted, tough, sharp and very functional
CONS:
Guard does not offer much protection to the hand in case of slippage

---
I hope this information on the Celtic Sword by Kris Cutlery has been helpful. To Return to Modern Replicas of Ancient Swords from Kris Cutlery: Celtic Sword Review, click here

Buying Swords Online Can Be

DANGEROUS!



Find the Best Swords in the:
Popular & Recommended ARTICLES

---
---