Medieval Collectables Sucks (Scam?)
by Mallory
(Fountain, CO, USA)
I wanted to get some LARPing weapons and clothing for Christmas so I went to Medieval Collectables. I know they aren't real swords, but they do sell real swords on here. I spent near to 300 dollars on items. This was on December 08, 2009. They charged the credit card information that day. I waited til next week and I emailed when my order was going to be in. They said some of my items were out of stock (Didn't specify which ones) and that they will notify me when it comes in stock. Another week goes by and still no reply. Then Christmas. Still not shipped. I chatted with someone with the website and asked what was taking so long. She was nice and decent with me. She told me which items were out of stock and if I wanted to exchange them with other items in stock. I got charged an extra four dollars for some items. I asked what time range could I expect them to ship and she said around the beginning of January. Well, it is January 10... Tempted to cancel my order. And they began ignoring my emails.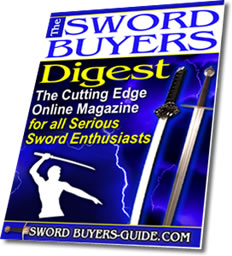 Sword Buyers Digest Newsletter!

Sword Buyers Digest Newsletter

Sign Up to Our FREE Monthly E-zine for all the latest sword news, info and much, much more! Click here for more info.