Soul of the Warrior
by Ben
I bought a roman shield from Soul of the Warrior. It was supposed to be new.


Pros;
It was the right hight and curve. The front was nicely finished with some flaws.
Cons:
It not only took 7 months to get the shield, but the owner complained that it was oversize shipping cost and he didn't want to ship it even thought the cost of shipping was added to my order. But he didn't want to give my money back either.
The shield edging is used, dented in many places, marked, faded all over due to being worn out.
A couple of small nails come through the front holding the support on the back.
Also they will never answer the phone.
Since then I have ordered from Kult of Athena and always got great service and never any problems with my product or shipping. Get costumer support.
Never again will i deal with Soul of a Warrior.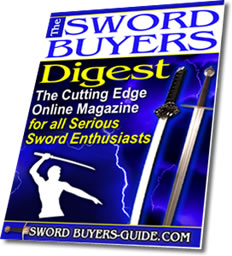 Love Swords?

If you love swords like we do, sign up to Our FREE Monthly E-zine - the only one of its kind - for all the latest sword news, info and much, much more! Click here for more info.