Swords for Sale in Canada
Swords for Sale in Canada

There aren''t that many places offering swords for sale in Canada. And while at first, you might think this is due to the fact that due to the proximity to the huge US market – GST, PST and brokerage charges (US$50 for UPS!) tend to make it cost prohibitive to import 'South of the Border'.
That said though, there is one GIANT of the sword industry that supplies swords not only to Canada but to North America, Europe and everywhere else.
I am talking of course about one of the most professional and dynamic sword retailers in the business:– Reliks.com
The Big Boys - Reliks.com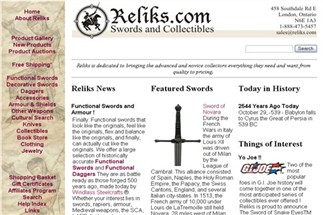 Reliks is without a doubt THE premier place to source swords for sale in Canada.
With a huge 'bricks and mortar' store in London, Ontario - their website is an extension of their physical store and has grown in leaps and bounds over the years to become one of the most respected sword sellers in the business.
Product lines include Cas Iberia/Hanwei, Dynasty Forge, and notably Windlass Steelcrafts –- for which they are the sole official authorized Canadian distributor.
Besides being the Canadian distributor for these well known brands, Reliks has also worked closely with several manufacturers to produce Reliks Exclusives. Their most recent and notable collaboration is with the Hanwei Forge, producing the Kastumushi (Dragonfly) Katana.
Highly recommended by SBG as the BEST places to find swords for sale in Canada for price, professionalism and sword knowledge. Check them out:
Other Sellers
Warriors & Wonders
Comments: Reliks main competitor in Canada, almost every sword enthusiast is familiar with them. They have literally over 10 thousand products in stock at any one time and are popular enough that, like Reliks, their customer base is the whole of North America. Prices are quite reasonable, though higher than their Southern counterparts in the USA.
---
Unfortunately, these two companies the only places that offer swords for sale in Canada that I am comfortable recommending. However, this is not the complete picture...
Canada is home to a couple of small but notable specialist sword manufacturers producing their own swords (there used to be two, though Valentine Armouries has since sold out and moved to the USA).
Darksword Armory specialize in forging their own Canadian made replica medieval and fantasy swords. Extremely tough, well balanced and popular with the Canadian ARMA (Association of Renaissance and Martial Arts) as well as numerous re-encting troupes, their swords are some of the best I have seen in this price range. Highly recommended and good friends of SBG...
A selection of their best swords can be found in the (shameless plug) SBG Sword Store

and if we have a model you like, you can get it from us at an even BETTER price and deal than from Darksword directly - with FREE SHIPPING and FREE SHARPENING service (plus NO GST or PST).

Ok, plug over... ;-)
---
I hope this information on Swords for sale in Canada has been helpful. To return to the Sword Buyers Directory from Swords for Sale in Canada, click here

Buying Swords Online Can Be

DANGEROUS!



Find the Best Swords in the:
Popular & Recommended ARTICLES

---
---