Swords Swords.....don't do it....you will regret it
by Jay
(Bayonne, NJ-USA)
I purchased El-Dorado Pirates Skull & Bones Sword and a sword frog from them, besides not having enough people to handle customer service, they jus don't care.


Sword and scabbard were rusted black, just no way someone will actually deliver this garbage.
The sword frog ordered was an actual belt, instead they sent me a frog that is to be attached to your own belt.
I would have waited for the actual item if it wasn't in stock, but no they sent anything.
My credit card must ready dum ass behind my last name, didn't they think I will cancel the charge?....too bad for them, never again.
My sugestion to everyone is pay more and get what you actually want.
Swords Swords.....OVERALL WORST EVER.....don't do it people, not worth it.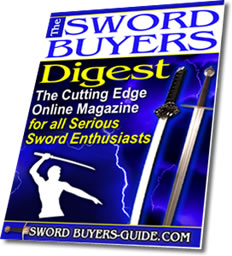 Love Swords?

If you love swords like we do, sign up to Our FREE Monthly E-zine - the only one of its kind - for all the latest sword news, info and much, much more! Click here for more info.