Tomahawk Black Dragon Samurai, NOT battle ready.
by James
(Kentucky)
This is a case of false advertising. The $70 USD price made me suspicious, but I took their word that they were battle ready. Not only were they NOT, the "mother of pearl" inlay was just a sticker. They only have quarter-tang, and are not sharpened. Decent buy for the money, if you want a wall-hanger, but not a real sword!
Join in and write your own page! It's easy to do. How? Simply click here to return to Directory Invitation.

Looking for honest, trustworthy sword sellers? Look no further than:

FEATURED ARTICLES AND REVIEWS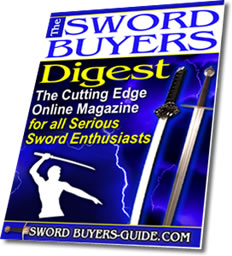 Sword Buyers Digest Newsletter!

Sword Buyers Digest Newsletter

Sign Up to Our FREE Monthly E-zine for all the latest sword news, info and much, much more! Click here for more info.