What Should i buy?
This is my very first sword I'm hoping to cut water bottles at most with it. I'm just so new to all the 1060 1095 CS ETC. for example I'm looking at this one and i was wondering if I could get professional input on this swords quality.


Description says Full tang
A) Overall Length: 40"
B) Blade Length: 27.5"
C) Blade Steel: Handmade Folded Carbon Steel
D) Blade: Factory Sharpened
E) Handle Material: Hardwood
Price : 130 Australian Dollars
sorry if this an incorrect use of the question system. thank you :)
-michael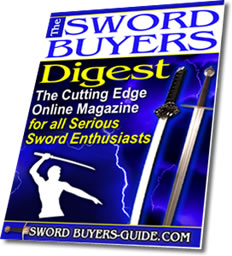 Sword Buyers Digest Newsletter!

Sword Buyers Digest Newsletter

Sign Up to Our FREE Monthly E-zine for all the latest sword news, info and much, much more! Click here for more info.