worst customer service experience ever had
by Ray
(Phoenix AZ)
I had purchased a masharo ninja dragon sword in 2012 and called back to ask questiom about my purchase the owner jason moore told me not to call on a monday's that they were too busy. A few months later Iordered another sword due to they were only ones who carried it. To make a long story short swords of might never told me the sword was on back order until I had emailed them more than once and calling several times with unanswered phone messages finally after calling my bank they emailed me and told me the sword was on hold they lied about sending me email's telling me anything! I would recommend swords of amory, true swords twiggey's treasure and sbg although haven't purchased anything from them paul is one of the few people who has answered my emails. My experience with swords of might has been one of the worst I have ever had!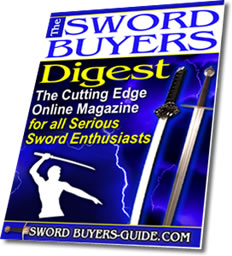 Sword Buyers Digest Newsletter!

Sword Buyers Digest Newsletter

Sign Up to Our FREE Monthly E-zine for all the latest sword news, info and much, much more! Click here for more info.