300 Movie Replica Swords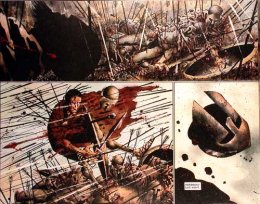 Like the Movie, the basic design of the 300 Movie Replica Sword is a great fantasy piece, and a faithful adaptation of Frank Millers Graphic (and I mean GRAPHIC) novels.
Of course the design bears no resemblance to an actual historical Spartan swords which were leaf shaped, quite plain and very utilitarian, much like the Spartan warriors themselves (click here for information on an actual functional replica based on the historical design). But as a fantasy piece, it certainly looks mean - and in theory - being something like a rather viscous looking machete, should be quite an effective little chopper if made right..
Even though the movie is hardly new anymore, there is something about this design that is keeping it in circulation and there are several replicas of 300 movie swords currently on the market.
The officially licensed sword, which was made by respected sword makers Windlass Steelcrafts was actually a functional piece made of 1095 high carbon steel. It release was a bit controversial however, as there was some confusion about what it looked like..
The original pictures of the prototype that was released to most distributors looked like this..

However, the actual product ended up looking like this...


Now don't get me wrong, there was nothing wrong with the official sword - it's very sturdy and well constructed, but was is VERY different than the prototype picture - i.e the prototype has a raised central ridge and weather worn looking leather wrap on the handle, while the actual 300 movie swords have an indented partial fuller and the handle is smooth wood (plus it comes with a leather scabbard).
Anyway, doesn't really matter much now as the officially licensed version was long discontinued and is not particularly collectible or valuable.
But as I noted at the start, quite a few sword makers continue to make an unofficial replica, and some of them aren't half bad. 

My personal favorite is the 5160 Spring Steel version by Darksword Armory, pictured below.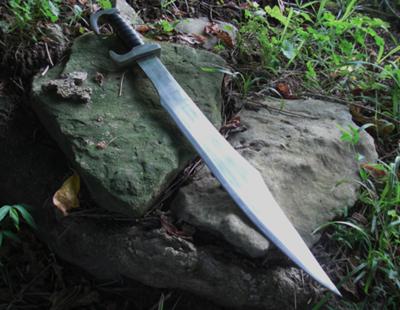 It is a bit more than the official version, but you get your money's worth as it is made from more durable 5160 spring steel, has a leather wrapped handle and is overall in keeping with the increased price in terms of delivering value for money. Check it out in the Darksword section of our store if you are interested.

---
I hope this information on the 300 movie replica swords has been helpful. To return to Movie Replica Swords - Don't Believe the Hype from The lowdown on 300 movie replica swords, click here

Buying Swords Online Can Be

DANGEROUS!



Find the Best Swords in the:
Popular & Recommended ARTICLES

---
---