Darksword Armory

Darksword Armory (DSA) was founded in 1996 by Eyal Azerad, who has been studying Medieval and Renaissance sword making his entire life.
Manufactured in:  Hand Forged in Canada
Steels Used: 1060 and 5160 Spring Steel
Price Range: US$340 to $1,600
Official Website:  https://darksword-armory.com/
Using a specialized team of 6 smiths, they craft swords based on museum relics, swords in private collections and also based on medieval art.
Their swords have a reputation for being nearly indestructible, suitable for stage combat, re-enactment, or cutting if they have been sharpened and the blades are easily among the toughest on the market.
Their warranty is a guarantee for one year under normal (re-enactment) use, although this warranty is voided if the blade is sharpened after market.
MAIN PRODUCT LINES

MEDIEVAL SWORDS

Darksword Armory has 3 galleries of swords covering a wide variety of culture and history. From the Roman spatha and dark ages swords to 15th century 2-handers, fantasy swords  and everything in between. Prices are typically from $350 to $600 depending on the model (the most expensive ones have solid bronze cast fittings).
A sharpening service is available for a nominal additional fee, and most of the swords have a scabbard upgrade option for $70 with a high quality leather sword belt and suspension system.
ELITE SERIES

Limited to 100pcs for each model, the Elite Series are a mix of 1095, 5160, L-6 and O1 steel, pattern welded versions of some of their most popular standard series swords. Prices are typically around the $1,500 per model.
HOW THEY ARE MADE

Located in the industrial sector of Dorval (Montreal), Eyal and his team of Smiths individually hand craft each sword using the same techniques as those used in the middle ages, hence hammer and anvil.
Swords are made from either 1060 or 5160 High Carbon Steel, with the 5160 steel swords dual hardened to produce with a Rockwell of 60 at the edge, and 48-50 at the core.
Fittings are mild steel, wood and leather with some of their more ornate and expensive designs featuring cast in solid bronze, and the vast majority are peened for extra strength and durability.
KNOWN ISSUES

Some years ago Darksword Armory was embroiled in a controversy on the Sword Forum International. Complaints were brought up by a few individuals, words were exchanged, and DSA and Eyal left the table with an injured reputation that lasted for a few years. Recently with their partnership with SBG more light has been shone on this situation.
Here is a statement from DSA about the incidents:
"We started getting bad reviews from SFI forum by two members, one of them who purchased a 35$ apprentice made dagger, and from another user who had never purchased a sword from our company. Their comments resulted in a "snowball" effect on the SFI, resulting in about 20 different posts. We obviously took the reviews very seriously and took appropriate steps to find the source of the reviews, the reason behind them, and to correct the problem. After several days of research we found that the second author was actually a competitor of ours, also located in Montreal. The review was written after we received our first order from ARMA, who had initially ordered their swords from our competitor, but after an ARMA member purchased one of our swords, the group decided to switch over. His reviews were specifically intended to curb our activities (but failed)."
Since then, some controversy has raged on internet sword forums challenging the claim that the swords are actually hand made in Canada. While initially reluctant due to a break in and theft of all materials from the forge many years ago, Darksword eventually responded to this claim releasing several videos documenting the shop and it's equipment, yet still some protagonists are not satisfied.
All controversies aside, the swords themselves may have some grind marks, hammer marks, blade misalignment or other cosmetic defects that do not truly effect performance – however the most common complaint currently is to do with their sharpening service.
By default, Darksword Armory swords come unsharpened, however the in-house sharpening service is considered by many sword enthusiasts as rudimentary at best to totally ineffective at its worst and often requires additional sharpening to be able to cut standard lightweight targets such as water filled bottles, tatami, etc.
WHERE TO BUY DARKSWORD ARMORY

A selection of Darkswords best are available at manufacturer direct prices right HERE at the SBG Sword Store
Not only do you get the best price possible, but in addition to our generous return policies and exclusive lifetime warranty against blade breakage, you also get FREE SHIPPING in the USA and Canada - AND, just for reading this page, a special coupon code you can use to save an ADDITIONAL $25..!
Click to add the coupon to your cart
---
I hope this information on Darksword Armory has been helpful. To return to the Sword Manufactures Dossier from Darksword Armory, click here


Looking for honest, trustworthy sword sellers? Look no further than:

FEATURED ARTICLES AND REVIEWS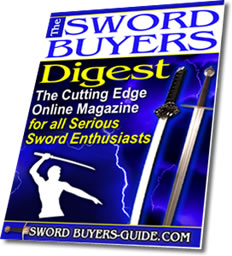 Sword Buyers Digest Newsletter!

Sword Buyers Digest Newsletter

Sign Up to Our FREE Monthly E-zine for all the latest sword news, info and much, much more! Click here for more info.