My Visit To Museum Replicas Limited
---
A Journey Through History and the Imagination
Marc Kaden Ridgeway
31 December 2011
---
NOTE FROM THE EDITOR
In this special 8 part special feature article, Marc Ridgeway takes us on a behind the scenes look at MRL - Museum replicas limited.

MRL was started in the 1970s as a mail order business by the late great Hank Reinhardt, and aimed to provide the most historically authentic swords possible. As Hank got older it was eventually sold to Windlass Steelcrafts Limited - a sophisticated and full scale operation that to this day makes swords for militaries around the world.

So it is heartening to see that even some 40 years later, they are alive, well and very, very busy...

MUSEUM REPLICAS LIMITED
ADDRESS: 2147 Gees Mill Road
Conyers, Georgia 30013 USA
Tel: 1-800-883-8838

OFFICIAL WEBSITE: Museum Replicas Limited (MRL)
DISCOUNT COUPONS - ONLINE STORE: 10% off EVERYTHING - SBGVIP click for info

On the outskirts of Conyers GA, on the outskirts of an industrial area, on the outskirts of nowhere really, standing on a hill like the castle its facade represents, is the corporate headquarters of Museum Replicas Limited.
Corporate headquarters is a bit nondescript, however. It's a corporate headquarters, it's a retail showroom, it's a workshop/forge, it's a creative design center, it's a warehouse, it's a distribution center, it's a recreation facility, it's testing ground... and it's a world of marvels you wouldn't believe.
Before you even pull into the parking lot , there are signs that your destination is going to be no ordinary store or office.
Literally.
Driving past the battlement that serves as their sign, one gets a glimpse of the building , with its castle facade; the merlons and crenels rising to meet the sky. This provides a hint, but only a hint , of what lies on the other side of the doors.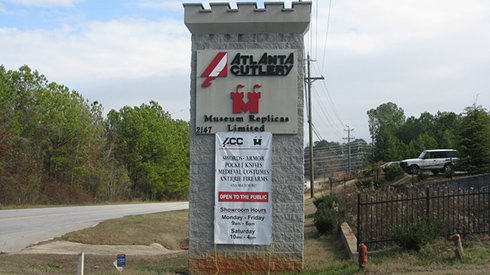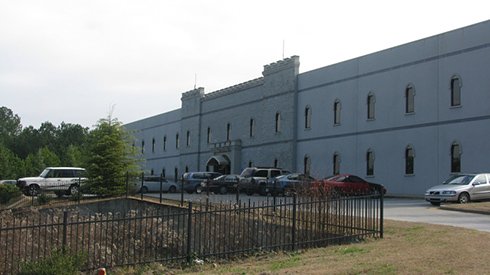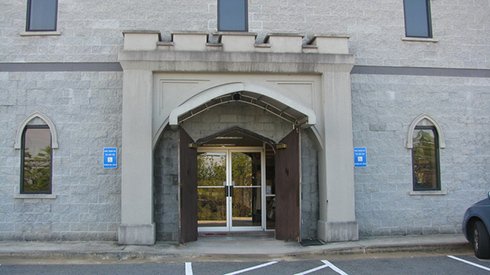 Stepping through the doors leads you into Museum Replica's retail showroom, which for the unprepared , can leave one a bit awestricken. Depending on which way you turn , it's a historic hop back in time... no , its a magical wonderland of make-believe.
It is both, and the showroom can't help but wake the child within us all... but this isn't a place for children. It's a place that touches the sense of wonder and imagination which we are so much more in tune with as children.
No matter which way you turn , there is something to make even the coolest cynical curdmudgeon stop and say, "Wow!" Recreations of ancient weapons are displayed next to genuine antique weapons . Recreations of armor, are displayed next to recreations of movie props, next to actual armor worn by the Queen's Guard in the Royal Wedding.
If your into swords, knives, militaria, cosplay, LARP, history, Steampunk , or are a fan of movies or video games, there is something here to excite you ... guaranteed.
An armory of antique firearms. (Right)
A wall of weapons behind fanciful costumes
A congregation of kukris
As I walked in the door, I was greeted by the friendly showroom staff , who seemed genuinely happy to see and help me. I announced who I was , they were expecting me and offered to call my MRL emissary Ally Barnes, to begin my tour... but I just couldn't resist wandering(and wondering) about the showroom first.
Honestly, words come too quickly and jumbled to try to describe the many and varied wonders contained within the showroom, so I'll take the easy way out and leave it to a series of pictures to describe.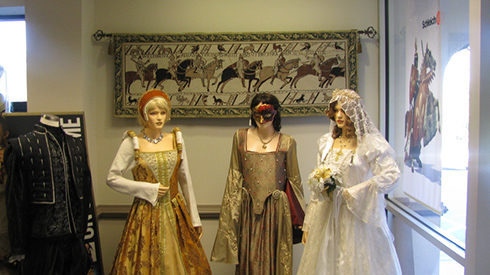 Period garb that are really more clothes than costume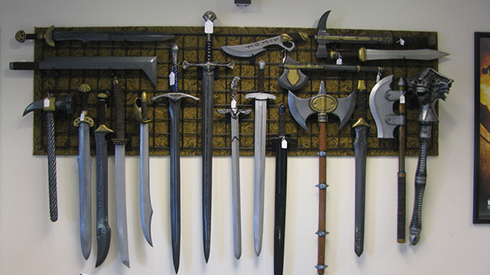 The land of latex LARP weapons.
The Claymore from Braveheart and other assorted weapons.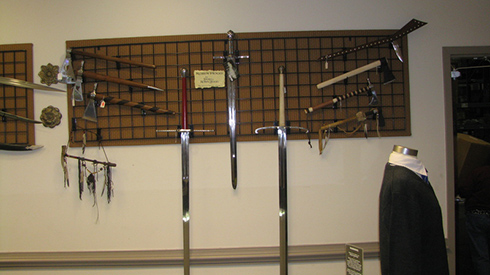 Robin Hood movie sword and other assorted weaponry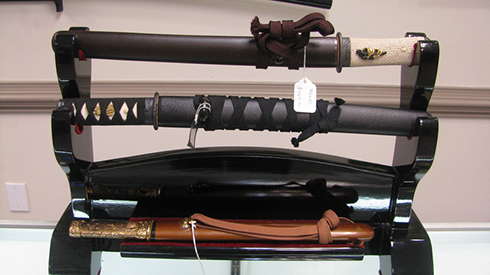 An assortment of Japanese weapons. Museum Replicas isn't afraid to defer to others when a weapon is outside their area of expertise.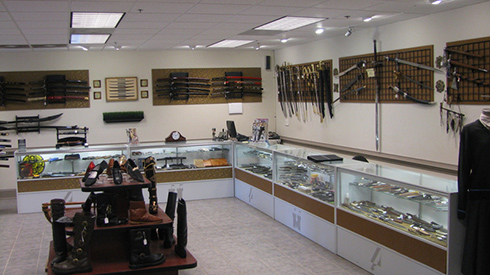 So, finally I was able to to tear myself away from my ramblings about the showroom, and asked to take photos of a couple of Windlass favorites. I tried to photograph the Ulfberht and the European sword, but as another testament to the demand for these models, they were out of stock at the moment. I did take some snaps of the Atlantean (we'll come back to that later) and a rapier that caught my eye... the beautiful Florentine, which also happens to be on closeout.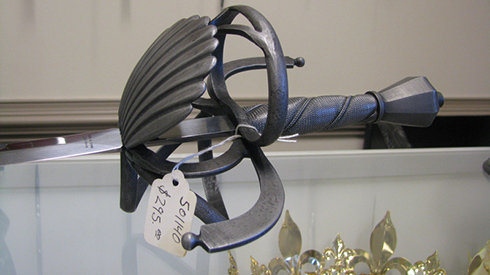 After oohing and aahing over the showroom again (it was by no means my first visit) I was finally ready to step behind the scenes. I was met by Ally Barnes who led me to the conference room where we were joined by Bobby Milanese and Robin Chaudhuri. I don't know everyone's titles and job functions, I know that Bobby is a sword designer , a blacksmith, an assembler and sharpener ,the shop manager and a sword lover. Ally is just as passionate about MRL and her work, and though we didn't discuss her function there, I get the idea that she is in PR and management and so much more. Robin seemed to be a Director/General Manager or the like , whose background includes being a Martial Arts instructor, and working with museums. At any rate, he was very knowledgeable about weapons, history and all the aspects of Museum Replicas.
---

Buying Swords Online Can Be

DANGEROUS!



Find the Best Swords in the:
Popular & Recommended ARTICLES

---
---