My Visit To Museum Replicas Limited
---
A Quick Verbal Snapshot of The Building and Grounds
Marc Kaden Ridgeway
31 December 2011
---
As they began to give me the tour, the amount of information I was getting was mind boggling, and rather than give it all here, I am just going to try to provide a quick verbal snapshot of the grounds. The rest of the information I will try to impart as we discuss the various aspects of the business interests of Museum Replicas.
A Corporate Culture
You can't take a tour of the building without taking a tour of their corporate culture and philosophy as well. Beginning with the conference room, the conference room is the exact center of the building, and as such the room stretches all the way up to the top of the building, where its ceiling meets the sky .
"The building is astrologically alligned to enhance creativity"
Next we made our way into the distribution center. To the northwest corner , behind rows of shelves full of weaponry , lies the shipping department. As a former UPS driver who made the pick-up there many times I am very familiar with this area . It is bustling and active , with many orders being packed and shipped.
We made our way from there to the returns area... which I was happy to see was empty and deserted. This isn't to say that MRL doesn't provide good customer service should an item need returning, they do, its just that so few items were being returned.
When passing through this area you walk across a lined area on the floor. It is a regulation sized badmitton court. The Windlass family believes that exercise and recreation is everybit as important to health, creativity and productivity as work is.
I'm liking this company already.
We now walk out the back door, across some docks to a grassy expanse. As we do, Robin explains to me , " The building is built in alignment with the 4 points of the compass. " He goes on to explain the grassy field here helps the building stay in harmony with the element Earth... at the far corner is a fountain...hey, Water. Take the lofty heights of the conference room that reach heavenward, throw in Bobby's small forge and we've got Air and Fire. The four elements .
Balance.
Robin tells me "The building is astrologically aligned to enhance creativity."
Don't get me wrong, he didn't say it with a zealot's fervor in his eyes... just a casual comment of what I think was a really cool concept for them to incorporate into the design of the building.
I am REALLY liking this company.
At one end of the field is the test area. A pit with targets , where they test their bows, spears , throwing knives , axes etc. They don't just throw things together and try to sell them as quickly and for as much as possible. They research and design, and testing function is apparently a very big part of that.
Did I mention that I am liking this company?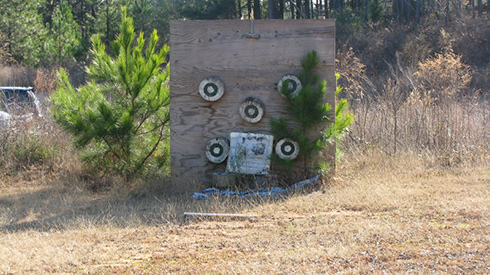 As we go back into the building, we take a right turn into what for me is the beating heart of this building. Bobby's workshop.

It contains Bobby's forge, and a variety of wood and metal working tools. This is where swords get assembled , sharpened, prototypes get built , and a variety of other tasks get accomplished that I'm sure would be impossible to completely list.
Bobby showed me a knife he had forged for fun a few days before , and his small coke - fueled forge.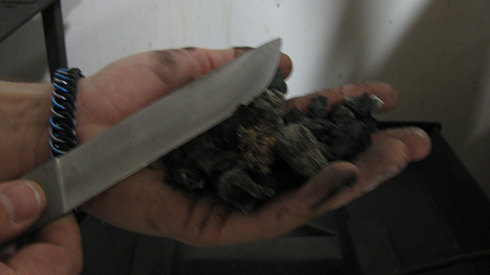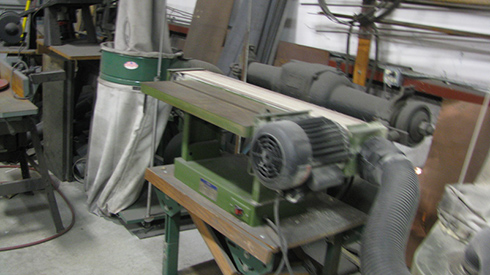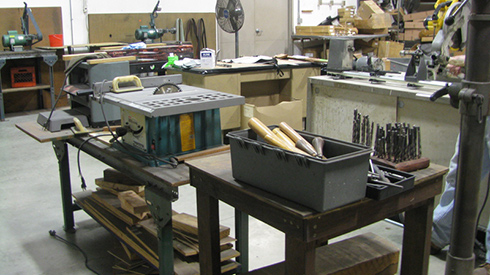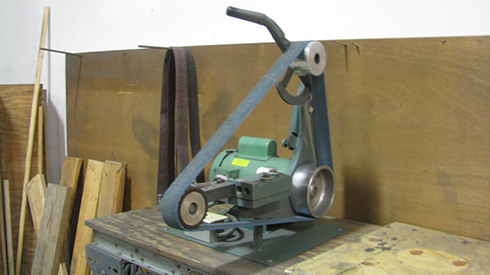 Bobby was nice enough to sharpen a sword, and let me video it. Bobby has been at MRL well over a decade , and reckons he has sharpened well over 30,000 swords. If you've bought a sword from MRL, and chose the sharpen option, it's likely Bobby sharpened your sword, and it's likely you know just how sharp he gets them. In fact, I once lay two fingers open to the bone by carelessly laying my MRL Outworld Katana in my hand.
Bobby at work sharpening a Conan Sword

"We are manufacturers first..."
Leaving the workshop , heading back into the office area we pass through the design room. Here is literally the canvas upon which the new designs are planned and modeled.
Here also is where I have to start being a bit more reserved with my camera. This is top secret stuff!
Robin mentions how it is vogue to do a lot of modeling on computers, but that is not the way MRL develops their designs. They like to have a tactile , 3D , representation that really imparts the feel and the look of the finished thing.
The prototypes are built in a variety of mediums , sent to India to become realized in steel, and sent back to Conyers for approval before production.
This room is the drawing table where MRL's new swords are designed , as well as products for other companies that MRL is the official manufacturer for.
"We are manufacturers first," explains Robin.
Sorry, no photographs from this room , though I have some teasers for you coming up.
We continue up the stairs to a long hallway with a series of offices on either side. The smell of incense and tobacco smoke drifts down the hall. I find it intoxicating.
In the rooms along this corridor, magic happens. Here the licensed merchandise and movie replicas are designed and created. Here the release of new models is approved and plotted.

Here the designs for all of the costumes, clothes and LARP props are conceived, designed and implemented into prototypes. Here is a room full of multi-thousand dollar presentation swords, and here are the offices of key MRL staff, including the owners of the company.
Everywhere is the kind of organized clutter that artists and avid collectors truly understand and love. Licensed merchandise and edged weapons are propped in every corner, laid out on the floor, and piled on every surface.
It's like heaven.
Dress dummies line the hall , draped with costumes that have been licensed and approved and are ready for production.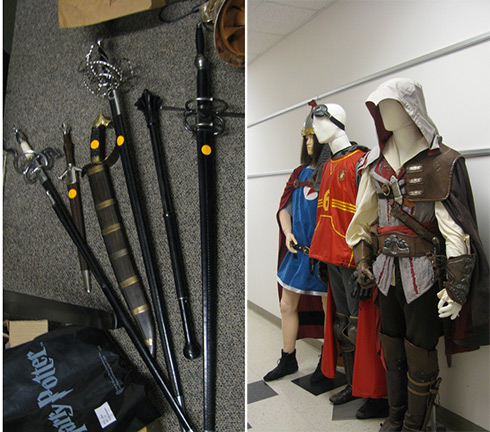 Soon to be released models, most of which, if not all have intregal daggers (Left). A masterfully done Assassins Creed costume (Right).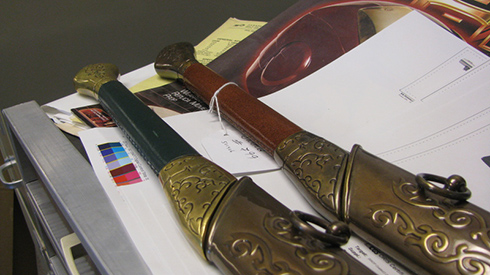 Two prototypes, of which the green one made it to production, the brown, not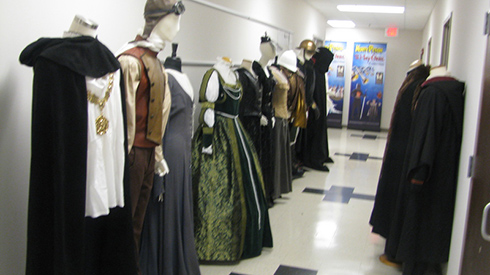 A hallway full of imagination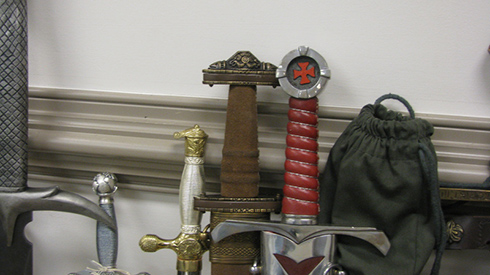 Some more early prototypes that might see production, I WANT that migration period sword
Also in this corridor is the studio where all of the photographs for the catalogues and websites are produced, and the office where all the coding is done for the website.
Except for the manufacturing facilities in India , everything is truly done in-house right here.
Near the end of this corridor is the office of one of the companies co-owners, Pradeep Windlass, who welcomed me in, invited me to sit, and we spoke of many things; the least of which was his business. I very much enjoyed his company, he was a true gentleman, with a vast knowledge of edged weaponry and the world in general. Never did I feel rushed by this important man, he made me feel at my ease, until I worried I was taking up too much time, made my excuses and left. He never once was impatient or dismissive , and indeed seemed regretful to see me go.
Mr. Pradeep Windlass is a class act.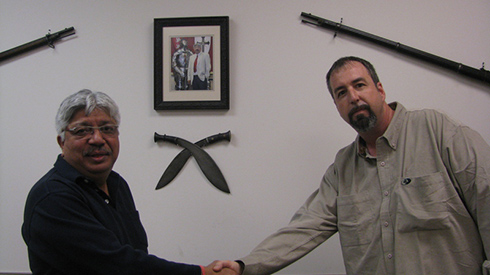 Company owner Mr. Pradeep Windlass (left) with author Marc Ridgeway
Leaving his office we saw two more design rooms... full of marvelous items , before descending the stairs back to the center of the building.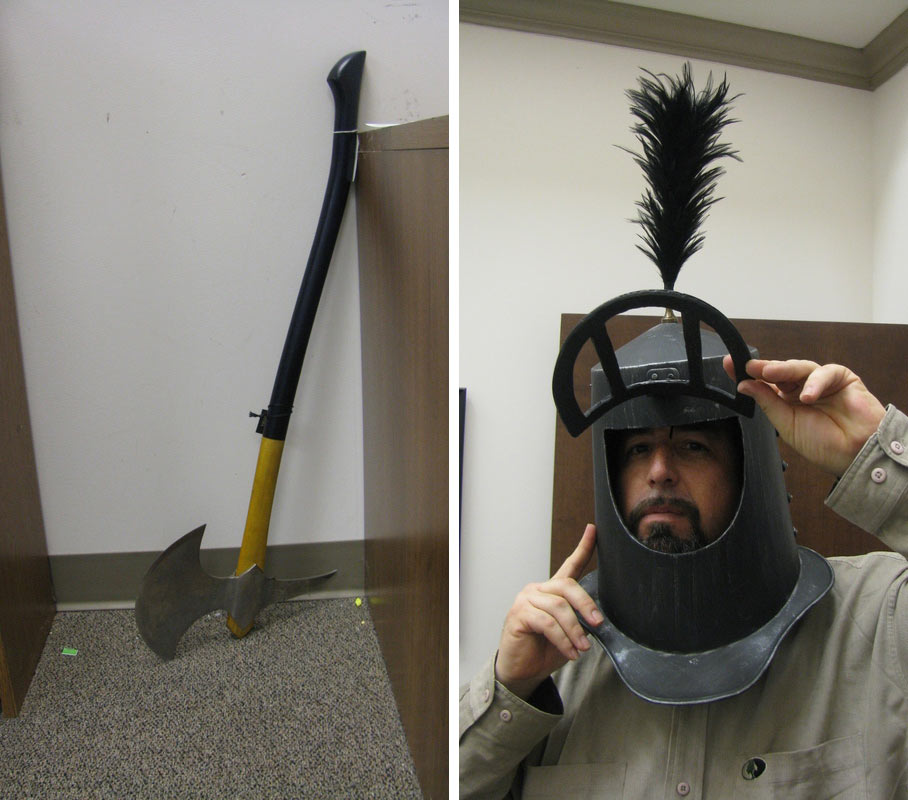 A fireman's ax from another century... (Left). Marc: A good Bedevere? (Right).
Original Thompson submachine gun parts
Upon descending the stairs, after a brief detour by the state of the art call center that was bustling with activity, we were back to the exact center of the building, the vaulted ceilings of the conference room, and this part of the tour was done.
---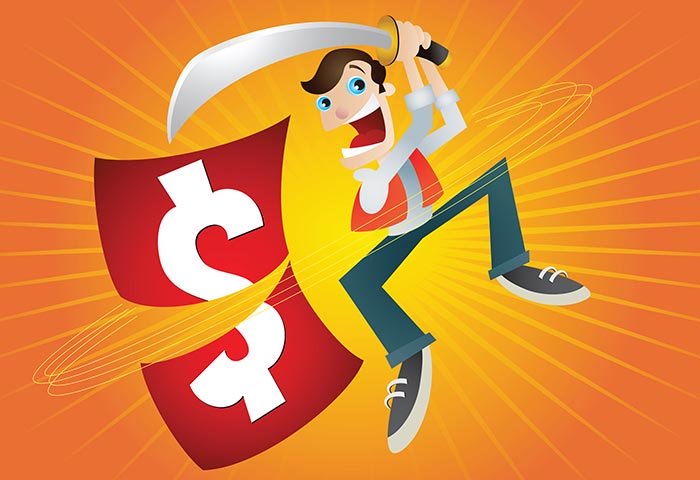 Save 10% off all orders at Museum Replicas with the Coupon Code: SBG2023

Buying Swords Online Can Be

DANGEROUS!



Find the Best Swords in the:
Popular & Recommended ARTICLES

---
---