My Visit To Museum Replicas Limited
---
A Tradition of Dedication and Heritage
Marc Kaden Ridgeway
31 December 2011
---
It's nigh on impossible to speak on the history of Museum Replicas without speaking also of the History of Windlass.
Museum Replicas is a wholly owned subsidiary of Atlanta Cutlery, but for the sake of simplicity, in this article we will refer to them both as MRL.
Atlanta Cutlery Corporation was founded in 1971 by Bill Adams and Hank Reinhardt. It was a mail order business to supply hard to acquire military surplus items, and edged weapons. As the business grew, Hank had the idea in 1985 to add swords to the mix and eventually Windlass Steelcrafts from India became one of MRLs major suppliers.
As time went on , Windlass eventually bought Atlanta Cutlery, and has expanded it to what it is today, and the scope of that is not so well known as many think.
Windlass Steelcrafts was founded in 1943. Its founder, Mr. V. P. Windlass set up this manufacturing plant to supply the British Gurkha regiments with Kukris, their main sidearm weapon. It is very important to note that since obtaining that contract in 1943 , Windlass has held it without interruption to present day.
In addition to the kukris, Windlass supplied many of the world's militaries with edged weapons that saw real combat with real warriors, as well as supplying ceremonial and presentation swords.
"We are not as big as some people think we are , but we are a lot bigger than a lot of people think we are."
Today Windlass Steelcrafts still supplies edged weapons that will see active service to clients including the British military and the US Marine Corp. In addition to this Windlass is in the replica business . Then there is knives, cutlery, LARP, costumes, antique weaponry, licensed merchandise, movie props, as well as pharmaceuticals, petroleum and real estate development.
Says Robin Chaudhuri , "We are not as big as some people think we are , but we are a lot bigger than a lot of people think we are."
So with Windlass having holdings in so many other lucrative businesses, why bother making replica weaponry at all any more? After all we all know no one is getting rich fast selling replica swords. So why?
It's all about roots, dedication, and a deep corporate pride in their heritage.
Today MRL offers a wider variety of functional replica edged weaponry than anyone in the business , backed by design based on extensive research all at a price-point that is consistently one of the lowest in the industry.
With 70 years of blade making experience , a vast database of historical original research, and some of the most talented design people in the industry one wonders why MRL doesn't make swords that parallel the quality of some of the bigger names in the business.
"If I wanted to make a sword that would sell for even $600 I could make one to equal anything anyone else is making," says Pradeep Windlass.
Robin explains MRL's place in the scheme of the market. "We wanted to carve out a niche for ourselves in the American Market. There were plenty of custom smiths making beautiful, expensive high-end pieces, and we thought the area that really needed attention was the lower, more affordable price-point. Over much of the world we are known as premiere high-end makers , but this just isn't the market that we wanted to be in in the US."
And fulfill this market they have. No one else puts out the sheer variety of items , built to a functional quality standard as MRL. No one even comes close. For the collector who would like to have examples of many different historic weapons, but doesn't have the budget of ,say the Wallace family, MRL is the most tremendous resource available.
However , they have the skills and knowledge to turn out breathtaking designs of both arms and armor, and they do this around the world , making high-end presentation swords and even making the armor for the Queen's Guards to wear in the royal wedding.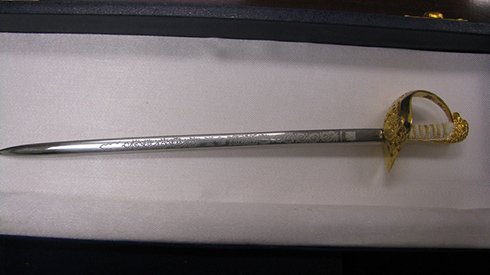 A presentation sword with a twist... it's 3 inches long
And the full size counterpart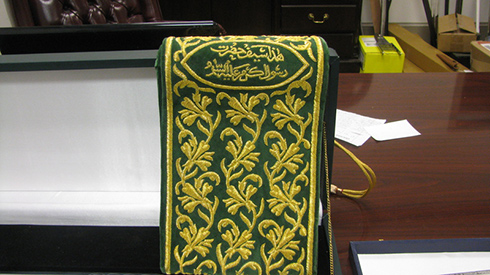 A presentation sword in gold with gold wire in the sword bag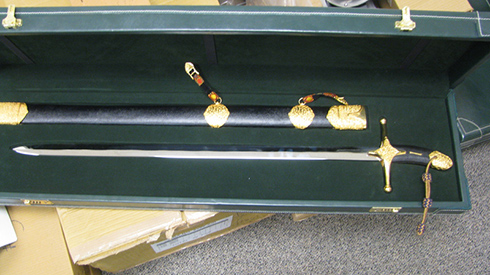 A presentation sword in gold with gold wire in the sword bag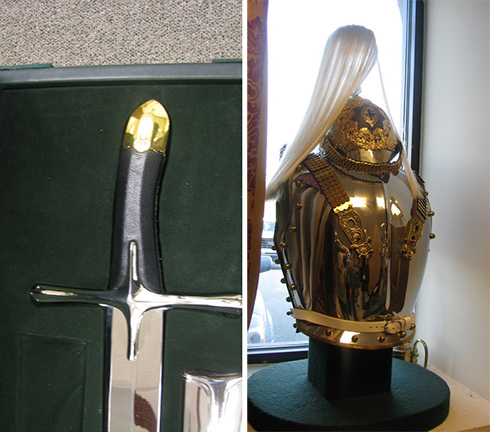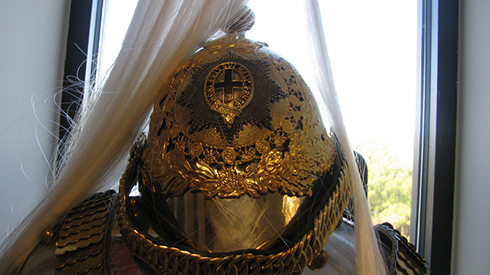 The original MRL manufactured armor for the Queens Guard
---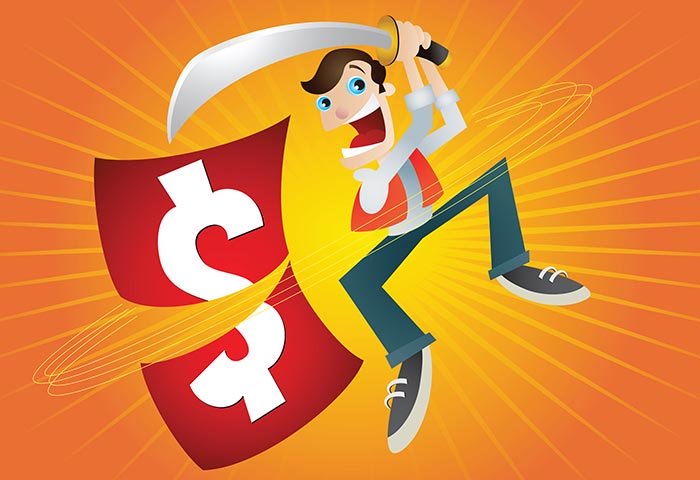 Save 10% off all orders at Museum Replicas with the Coupon Code: SBG2023

Buying Swords Online Can Be

DANGEROUS!



Find the Best Swords in the:
Popular & Recommended ARTICLES

---
---