Authentic Japanese Swords
Windlass Damascus Steel
Viking Sword Review
The Windlass Steelcrafts Damascus Steel Viking sword is a little on the expensive side of the swords we usually try to recommend on SBG, but it has been around for years and is a steady, dependable kind of product - though more as a 'functional art sword' than a cutter (but it is fully functional)...
So without any further ado, let''s take a good look at what this sword has to offer...
---
Windlass Damascus Steel Viking Sword

Review by MJC, California, USA
---
Steel                      

Weight

Point of Balance

Price Range

Damascus

2lbs 0.5oz

6.5"                    

US$449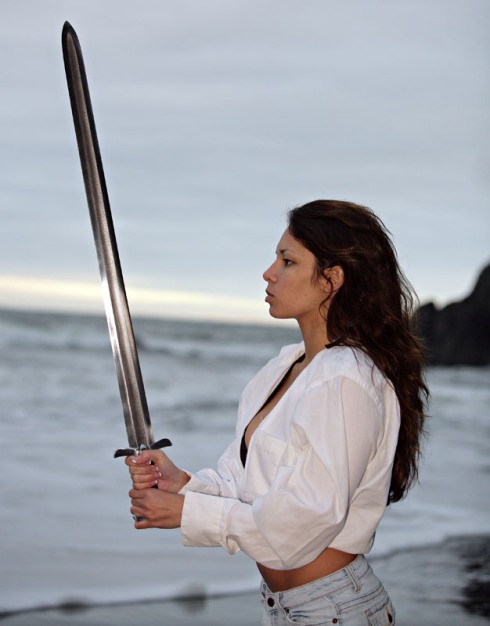 I am very new to sword collecting, so this will be very basic. It is not my intent to fully evaluate this sword as that is beyond my knowledge. My photos are probably gonna be better than the review, so hope they help someone!


I wanted a Viking sword and was interested in the look of Damascus Steel, so I was pleased to give this one a shot.
Here are the vitals:

Blade Length - 30.5"
Hilt - 6"
Weight - 2lbs 0.5 oz
POB - about 6.5" from hilt
Blade width at base 1.885"
Blade thickness at base - 0.166"
Blade thickness at end of fuller - 0.150"
Handle - Black Leather.

The scabbard is wood, lined with black leather. I like it, much nicer than my Darksword Knight scabbard. The sword in no way sits tightly in it however and will fall out at about 20 degree angle.

HANDLE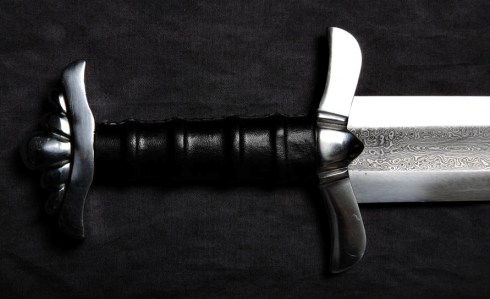 The handle is fairly narrow with black leather. The leather is well stitched and comfortable. The overall impression is positive, well made and secure.
Holding the sword is a bit different than my other sword, the wide pommel is not to invasive. I am using the handshake grip on it as I learn to wield it.

THE BLADE
This seems to be a very light sword (2lbs, about 8oz lighter than the Windlass Sticklestad) and the blade seems pretty thin (only comparison is my Darksword Armory Knight blade). I don't mean this in a negative way at all however, just trying to relay information.
I really like the look of the Damascus steel fuller. The blade came unsharpened and I have not sharpened it yet, so I can't tell you about holding an edge or cutting with the blade. It is fairly flexible, but again my comparison is the Darksword which is very stiff. I am guess most vikings are more flexible than the Knight sword.
The POB is about 6.5" from the hilt. My first impression was that this makes the sword feel a bit blade heavy, again not in a bad way, just an observation.

My limited testing of the temper appears that it is fine, again, something I am still learning about, so my word is not gospel!
Overall, the fit and finish is pretty good. Some scuffs and gind marks here and there, but nothing too bad. This is about the worst one: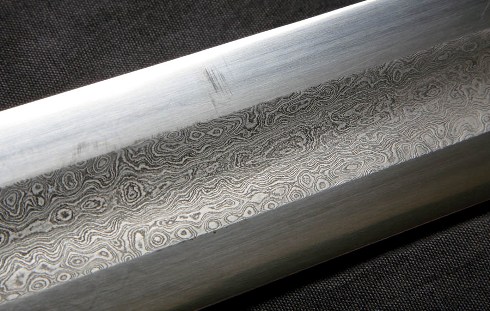 As I said, I like the look of the sword and the handling is nice as it is such a light blade. It feels pretty solids, but I have not hit anything with it yet. Don't know anything about how the tang is attached, but the Sticklestad is peened, so I am guessing this is as well. If I look very close, squint my eyes and drink 3 beers before I look, I can almost see what looks like a peen may be, but if so, it is well ground and polished.
I am glad I took a chance and picked this sword up, seemed like a good price and I very much like the look of the sword.

PROS:
Extremely Attractive and Unique Viking Sword
Surprisingly fast and lightweight in the hand

CONS:
Very minor scuff marks here and there on the blade


WHERE TO BUY
Quite a few sellers take advantage of the beauty of this blade to sell it for much more than it can be had elsewhere. Our top recommendation is to buy it HERE from Kult of Athena - not only do they sell it at just $449.95, which is the lowest price around for this model, but they have one of the best reputations for fast shipping and real customer service in the whole industry. Highly recommended.

---
I hope this review of the Windlass Damascus Steel Viking Sword has been helpful. To return to Modern Replicas of Viking Swords from Windlass Damascus Steel Viking Sword Review, click here.


Buying Swords Online Can Be

DANGEROUS!



Find the Best Swords in the:
Popular & Recommended ARTICLES

---
---