Greek Swords
Reasonably Historically Accurate Replicas of the Hoplite Sword

Essentially, there are two types of Replica Greek Swords in our price range - those that look historically accurate, and those that are functional.
Obviously, which one you are looking for is determined by what you want them for - which in this case is either reenactment and display or functionality and exceptional handling.
If you are looking for replica Greek swords for reenactment and/or display purposes, most people in the know would recommend one of two swords produced by Deepeeka of India - either the "Spartan Infantry Hoplite Sword" and the "Trojan Sword".
Of the two Deepeeka's "Spartan Infantry Hoplite Sword" is the most accurate, with a traditionally "sandwiched" tang and hilt construction, but it is let down a little in the handling department from being overweight and somewhat blade heavy (and therefore quite unwieldy).
Unfortunately, these replica Greek swords can be a bit difficult to source in the USA, especially the Trojan sword which I've only seen here at Hellenic-art.com where it goes for US$189.
However without a doubt, the most commonly available and truly functional replica of a Greek Hoplite sword is the "Classic Hoplite" Sword by Windlass Steelcrafts.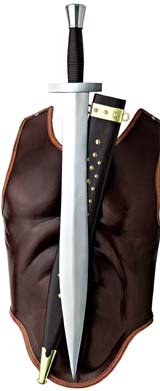 With a leaf shaped blade around 22" long, widening at around two thirds the way down and tapering to sharp thrusting point, the blade itself is historically pretty much spot on. Indeed, most people who own or have handled this particular piece report it to be of a good weight, excellent balance and very lively in the hand.
Unfortunately, where this sword falls down is in the extremely contemporary construction of the hilt...
For the record, the handles of Greek swords were typically wood or bone covered totally or partially by a thin sheet of metal – but in this case, with no rhyme or reason, Windlass has opted for a synthetic leather covering.
While this doesn't make this sword any less functional, it does detract from what otherwise would be an almost perfect replica...
So exactly what should you expect from this sword?  Check out the 10 minute video review below to find out.

Video Review
WHERE TO BUY
The Windlass Steelcrafts Hoplite sword is exclusively available here at Museum Replicas where they sell it for just $165.00. You can save an extra 10% with the SBG/Museum Replicas discount coupon code: SBGVIP and get it for a mere $148.50!

---
I hope this information on Greek swords has been helpful. To return to Modern Replicas of Ancient Swords from Reasonably Historically Accurate Replicas of Ancient Greek Swords, click here.

Buying Swords Online Can Be

DANGEROUS!



Find the Best Swords in the:
Popular & Recommended ARTICLES

---
---