Deepeeka Swords

Deepeeka Swords are an Indian-based company that was founded over 30 years ago. They originally were producers of gun parts, eventually moving into manufacturing colonial furniture, jewellery, nautical instruments, clothing, pet accessories, and eventually swords and armor.

Manufactured in:  Hand Forged in India  
Steels Used: EN45 Carbon Steel
Price Range:  US$60 – $150  
Official Website: http://www.deepeeka.in/
Their swords are unique in that they are one of the only producers of certain "functional" types of ancient weaponry, such as the Egyptian Khopesh.
Here is a statement from their website about their products:
"We are committed to provide the best quality products at the most competitive prices. We have earned a reputed place in the exporting market because, all of its weapons and amours are supplied in standard wire finish. It means that a simple polish with a protective coating of oil / lacquer / grease is applied in order to avoid rust. Each item at Deepeeka Exports is handmade with a traditional skill handed down from centuries of experience & reliability. The weapons, jewelery, accessories and attire are authentic in appearance and reliable in utility."
However, they will not give any guarantees or warranty information in writing.
The price range for their products can range anywhere from under 50 for their daggers, 50-160 for their swords, and upwards of 250 for period armors.
MAIN PRODUCT LINES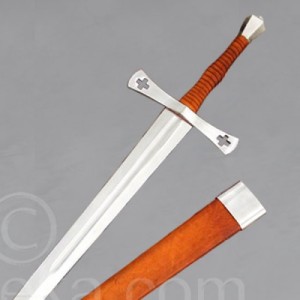 Deepeeka has literally dozens of swords and armors in production, divided up into categories by culture, and cover ancient bronze ages swords and roman swords, medieval swords, and renaissance rapiers and 20th century swords. While most of these swords are considered for decorative purposes only, Deepeeka will make them 'battle-ready' on request.
KNOWN ISSUES

Deepeeka's website is very vague on prices and purposes of their products. In fact, unless you contact their customer service department directly it is unlikely you will know much about the sword you are looking at. The upside of this is that they are very prompt with responses for the most mundane of questions – this author has never waited more than a day to hear back from them. However, some websites sell their swords and label them as battle-ready when they are definitely not – and while Deepeeka has requested that they stop doing so some still are, so if you are not buying directly from Deepeeka's site (and there are minimum order requirements as they are primarily geared towards the wholesale market) there is no guarantee that the description is accurate.
The main issue that owners seem to have is that the quality control is a little iffy. One sword will be good, the next will have some issues. This is common in large manufacturers, and with Deepeeka's warranty not in writing anywhere you will pretty much be relying on the warranty extended from whatever vendor you purchased your sword from. At least one person has purchased a Deepeeka sword labelled battle-ready that experienced catastrophic structural failure upon cutting a coke bottle.
WHERE TO BUY DEEPEEKA SWORDS

There are actually not that many websites selling Deepeeka Swords, and few that offer anything close to their whole range. However, one website that tends to stock only their better models, at excellent prices is Kult of Athena (click the link for their Deepeeka Swords selection).

OFFICIAL SBG REVIEWS
Deepeeka Spadona
Buying medieval swords at this kind of price point is a big gamble. But sometimes, it pays off.. $115 to 164.95


Deepeeka Pompeii Gladius
Very historically accurate, even down to the rather soft steel.. Still, a good buy for the price. $149


Deepeeka Maintz Gladius
Oh so promising, and quite historically accurate - but with a few disappointments. $214


Deepeeka Charlemagne Sword

We never intentionally buy a one star sword you know.. Looks okay at first glance. But.. $147

---
I hope this page on Deepeeka Swords has been helpful. To return to the Sword Manufacturers Dossier from Deepeeka Swords, click here


Buying Swords Online Can Be

DANGEROUS!



Find the Best Swords in the:
Popular & Recommended ARTICLES

---
---