Ronin Katana Review - Dojo Pro Series

This Ronin Katana Review is of the 29" Nagasa (blade length) Dojo Pro Model # 8, a blade best suited to taller practitioners - or anyone who likes a bit of extra reach with their blade.This is a bit of an exception, as the vast majority of the Dojo Pro series have identical blades - just different colored fittings and tsubas.
But a few, like the one in this review, have slightly longer blades, others have shorter blades, one has 'extreme sori' (curvature) and then of course there are Ko Katana and Wakizashi.
However every single sword in the dojo pro series has one thing in common - they are all Dotanuki style blades, a blade type renowned for it's fearsome cutting ability. However the focus in this particular Ronin Katana review is not its proven cutting power, but instead our reviewer concentrates on the big picture, and helps you decide if this is the sword that you have been looking for to add to or start your Katana collection..

---
Ronin Katana Review - Dojo Pro Model # 8
Review by SBG member Bulvoy

---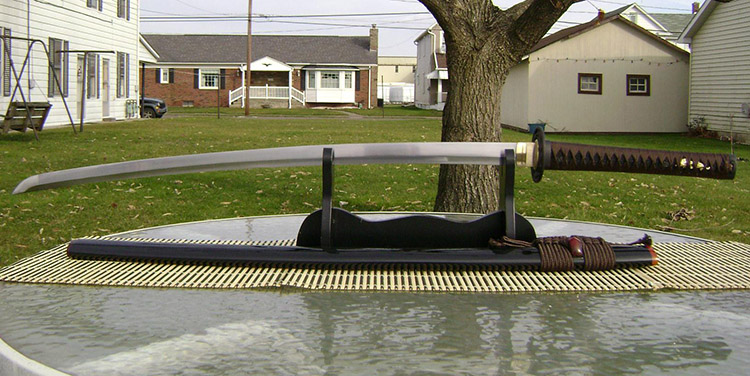 To start off This is my FIRST actual review with my personal interpretation (outside of my friends and my Dojo). My main background is Euro- arms & armor for the past 2 decades: light cutting, bottles, mats etc. My only Katana training is in martial Arts training with using my Dojo's Kats cutting tatami mats.
On a side note i am 6'1, 244 lbs average hands. To start, I am NO WAY an expert or have any ties To Ronin or SBG etc. what-so-ever. I Happily paid Full price $294.99. I missed out on a batch of the SBG Custom Katana so I went on the Hunt for my 1st Personally owned Kat. After days of reading and questions from a few forum members I knew what i wanted to add to my Personal Passion....

My sword arrived 12-23 at end of the day (UPS had issues in my area). Package was simple but Effective,solid package, no stand or presentation box, girly bag etc, which to me meant the the maximum $ was spent on the sword itself.
My very first impression as I unsheathed the blade was the feel. To me, the ergonomic shape of the tsuka was incredible as I felt and stared at the contour that perfectly followed the natural curvature of the blade in my hands, unlike anything I've ever held at my Dojo..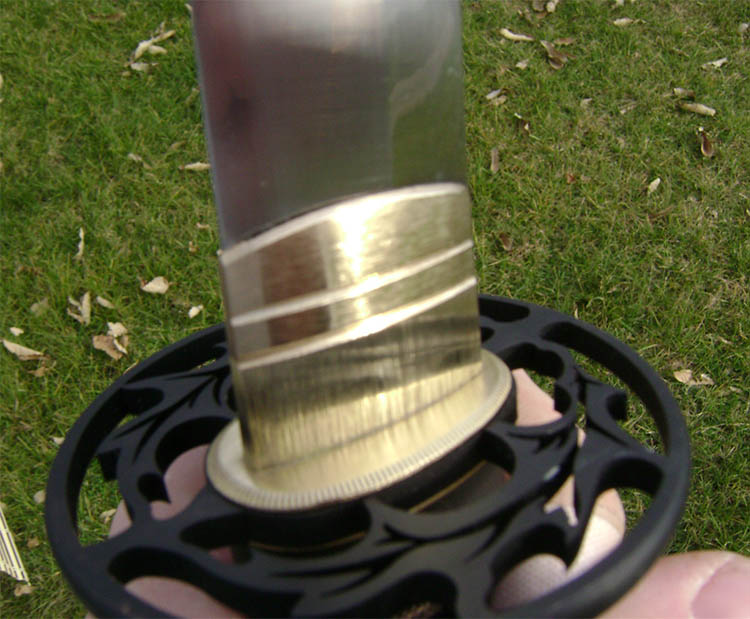 Specifications
Nagasa : 29." inches ( Dead on )
Tsuka : 11" inches ( Dead-on)
Overall in Saya : 42.8" inches
Tsuba Width : 3 1/4" inches Horizontal left - right
Weight : 2.64 lbs
POB : 4.78" inches ( figured to the best of my ability )
Components : Blackened SOLID iron Tsuba / Fuchi / Kashira
Same : Panels, black
Ito : Brown Silk
Sageo : Brown Synthetic Silk ( I am assuming it is Synthetic )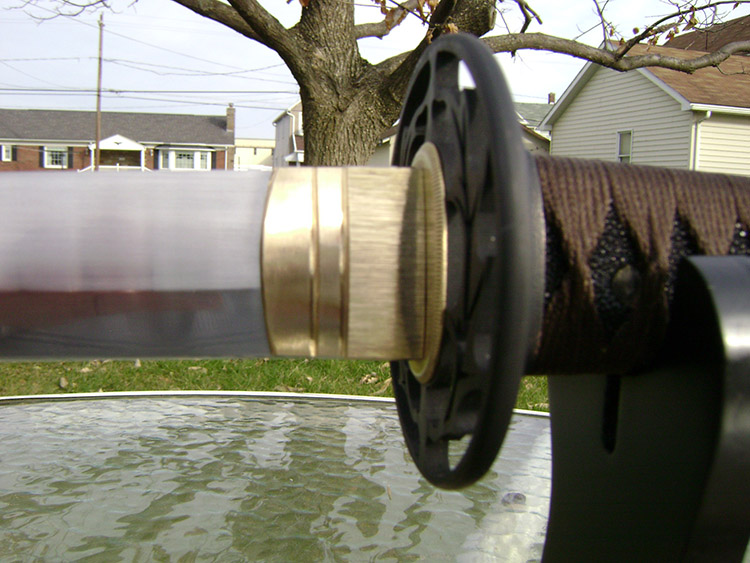 After handling friend's, Cheness and Hanwei's Kats (not taking anything away from those reputable manufacturers) I must say at this point I am VERY impressed by the High quality Brass Habaki and Seppa.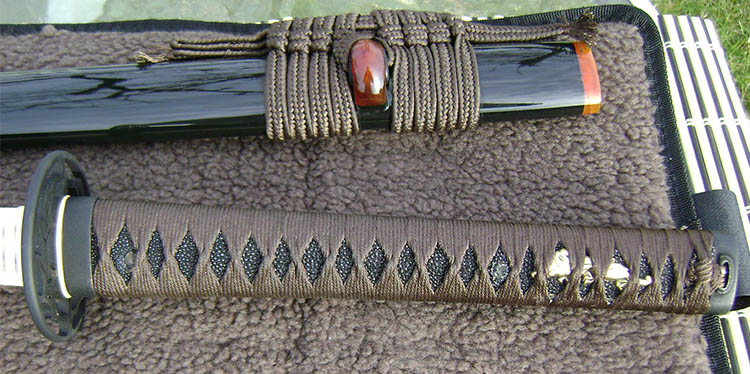 Everything is Super Tight, Snug, no play what-so-ever. The Ito itself to me is extremely tight (Even After 45 mins of use when i had a skirmish with some 20 oz bottles and 3 mats), the diamonds via the wrap are nicely shaped.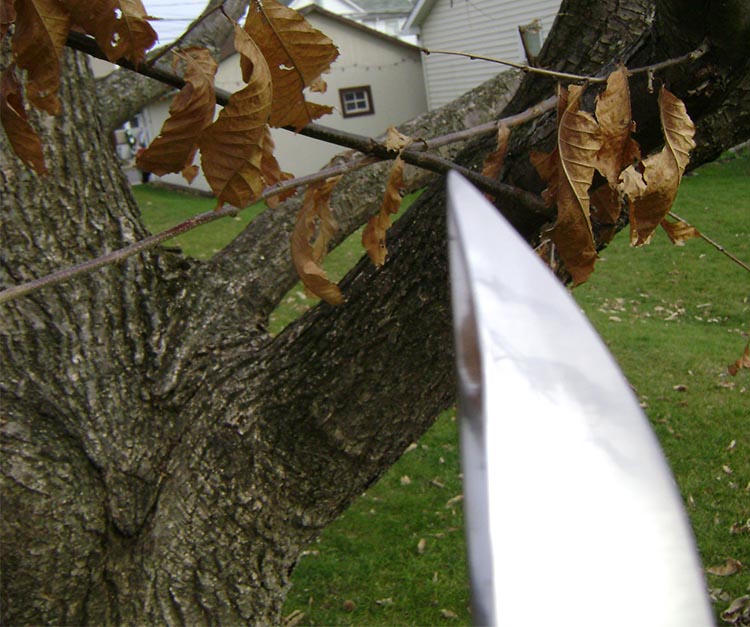 TH (through hardened) blade no hamon, as expected NO so- called 'ghost hamon line ' that I read about in a different Ronin Katana review (here), Just normal forge/sharpening lines that I expected to see.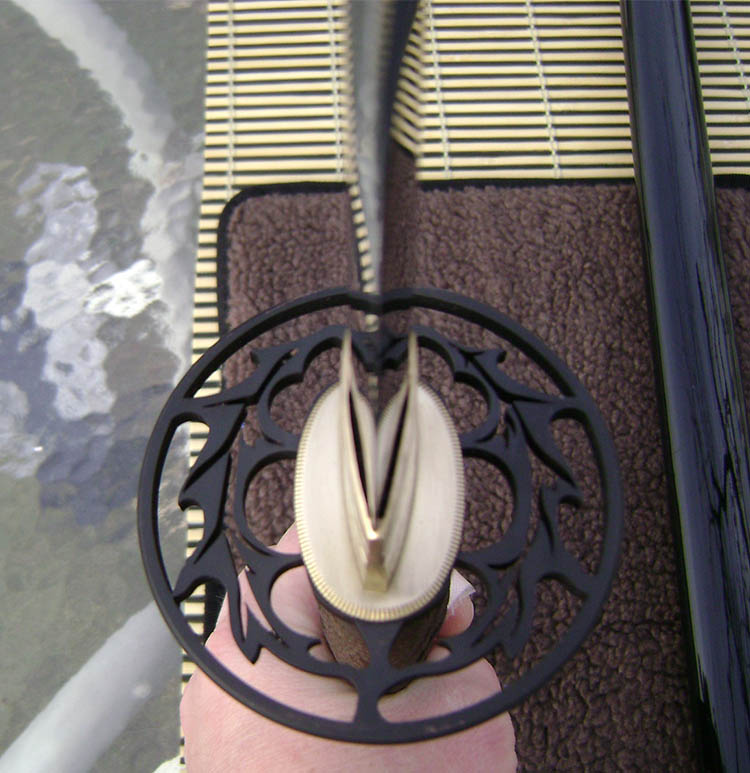 Nicely fitted habaki with only a minimal gap
The fit of the Habaki was great, snug lines, it does to appear to have spaces on each side however the picture shadows makes them look like a bigger gap than they actually are. I couldn't even get a toothpick wedged in there.
The Kissaki had a nice cross section and the diamond shape on the tip for added strength was excellent done.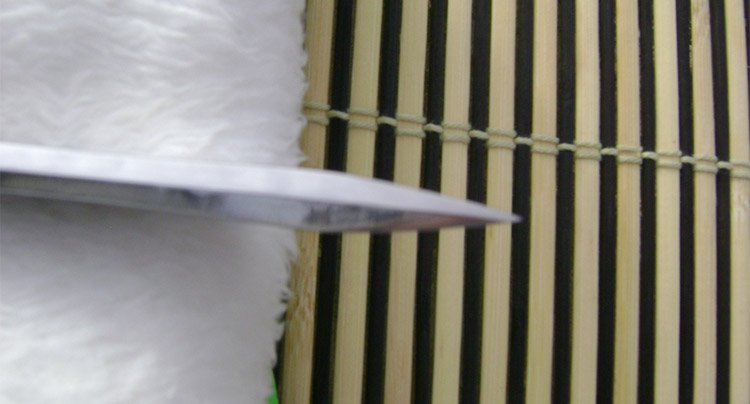 The reinforced armor piercing Dotanuki tip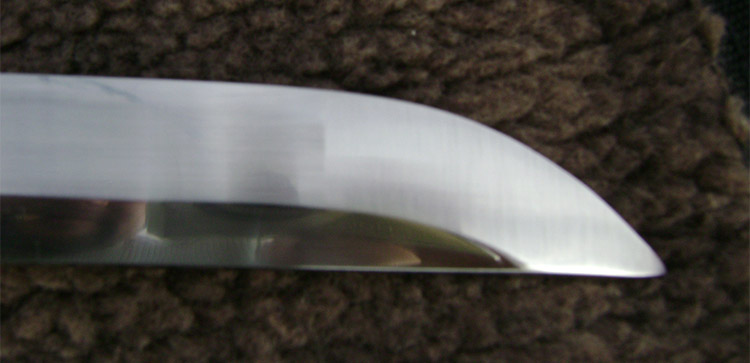 Nicely polished kissaki
The Tsuba design and the Brown on Black Tsuka is what drew me to this sword, I really liked the Tsuba design the second i saw it, I think its really unique and just plain cool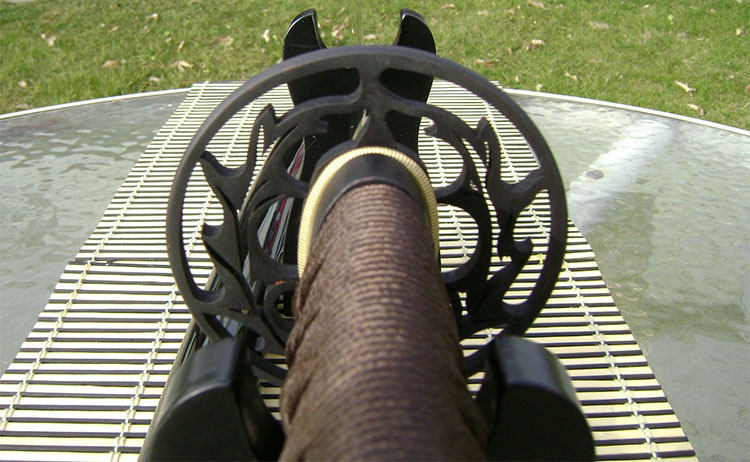 Blackened iron finish of the Tsuba, as well the fittings Fuchi/collar & kashira/buttcap solid blackened iron they are plain but really compliment the sword well verses some elaborate designs that question if this sword would have really been used as a primary weapon instead of a ceremonial piece.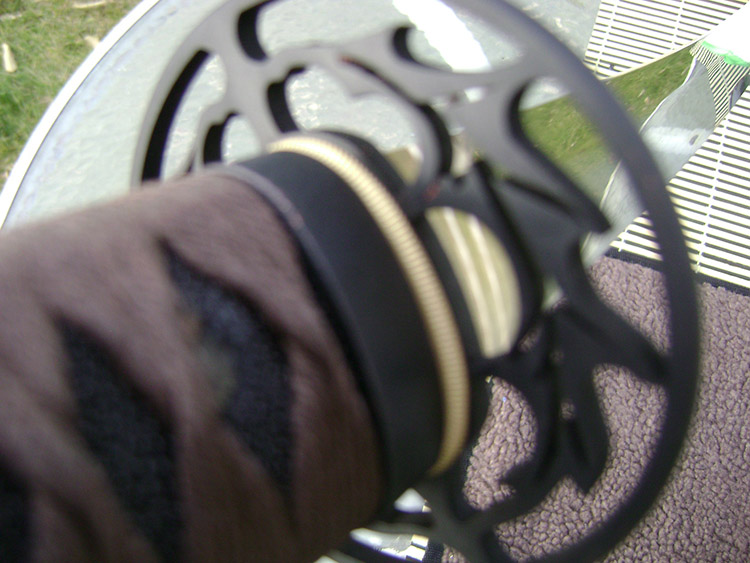 I checked the Mekugi pins, i gave them a little tap, for curiosity, they were very snug so, I didn't bother to dis- assemble the sword as to not to disturb the really tight fit for now. The Menuki design ornament, I'm not sure what it is, but it looks somewhat like a lion-dog, or some sort of water dragon, couldn't tell, but I liked it. I did really like the fact that the menuki's themselves were placed opposite each other left side Tsuka near the the Fuchi, then right side near the Kashira end, it gave the grip a better feel like finger grooves on a pistol grip.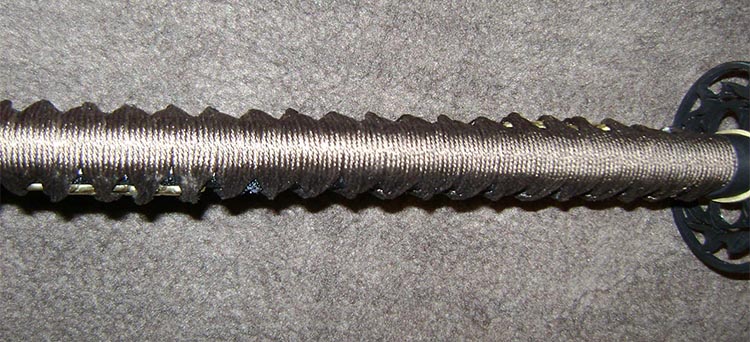 The saya was very pleasing lighter and better quality than I had thought it would be, the polish work with the buffalo horn was extremely nice, when sheathed the fit was tight no slip when held upside down, a little lateral movement not much to even really to speak of.the only thing that I have encountered was the Never ending wax that seems to be in the saya itself, as an idea I took my rifle cleaning kit using the rods with cloth and spent 1/2 hr skimming and cleaning out the wax inside so no biggie.
For what I have paid I personally feel that with the High quality fittings, wrap, feel & apparent durability, I got a steal of a deal, I would have expected to pay alot more for the quality of this sword.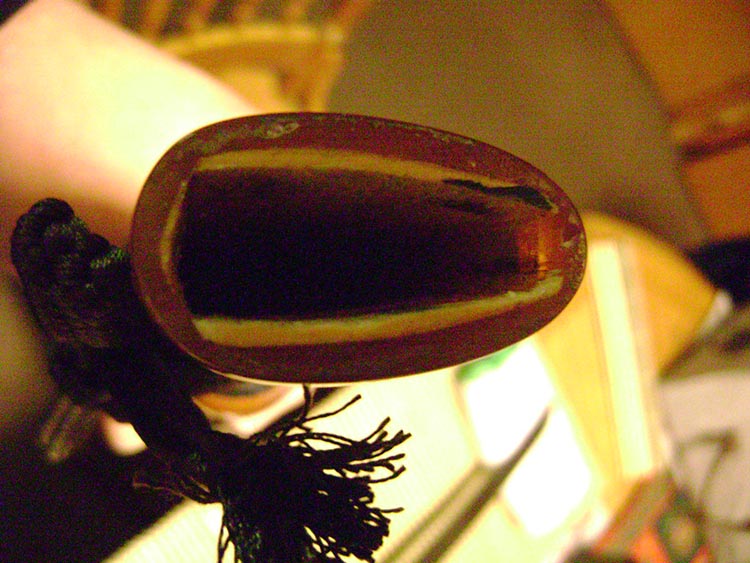 Buffalo horn saya is a nice touch at this price point
Handling & Cutting
I have to say The blade itself was Mad sharp right out of the box (I did nothing to the edge), even after 45 mins of cutting 20 oz bottles and 3 mats, this blade was like a LASER.....
It feels like and moves unlike other Kats I have handled. It felt light in my hands and responded very well (Even to some bad follow-ups of mine). The Blade itself was tough, didn't seem too brittle and at the same time it didn't show any characteristics of the softer 1045 steels. to sum it up in 1 word: SMOOTH!
There was the typical light scuff's after cutting, nothing unusual after a work out (As you can Plainly see in the pic by the Christmas tree). After about 30 mins or so with finger working Mother's polish in short then long strokes it was back & beyond to what it was when I first cleaned it.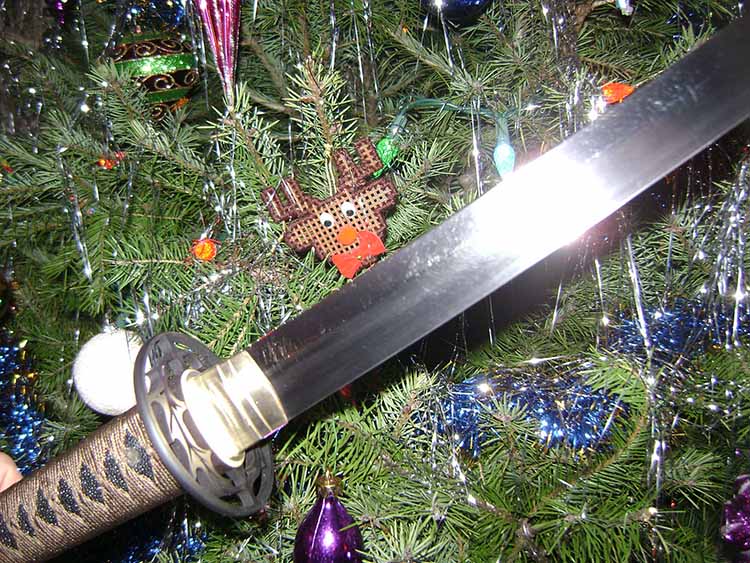 A few minor scuff marks after a 45 minute cutting session
Conclusion
 I was surprised at the high quality for the price as well on the High end Fittings. On a side note I had purchased a bamboo mat Kat a few weeks ago (almost three times the price), that I gave to my brother for x-mas, and this Ronin is mine.
I'm very glad i purchased this, I am already thinking about buying another model in the series, and when friends ask me my opinion well..... it would be Ronin Dojo Pro's, if nothing else for the simple fact that the high quality, and the effortless cutting power, True Work Horse Meaty Blade & fittings for this price range are OUTSTANDING.
I would Absolutely recommend this sword or any of the Dojo pro lines to anyone for the modest Price of $294- $314 - for mine, the 29") you just can't go wrong with its cutting capabilities, fit, & aesthetics,
You won't be disappointed, and as many feel for a beginner to use a lesser quality sword to learn I dis-agree, for that if you want to learn the correct way, you should use a sword that is designed to act in the way it should

PROS: Excellent ergonomic shaped tsuka, Iron fittings, Real work horse utilitarian blade, everything is Tight, no play after cutting, Very eye pleasing aesthetics, extremely sharp.

CONS: Less Wax in saya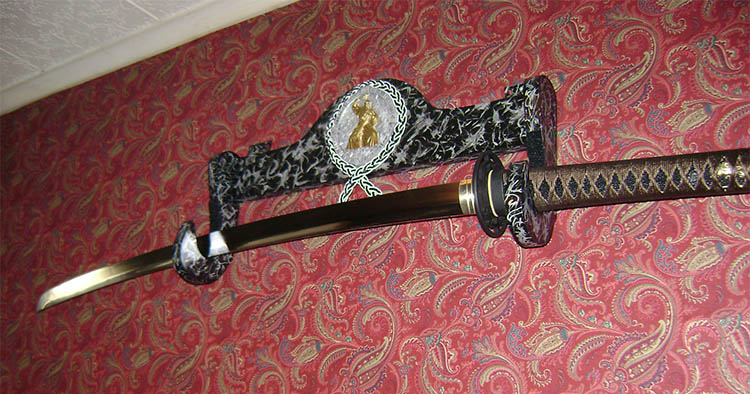 Disassembly
So curiosity got the better of me last night and i just had to fully breakdown this Ronin Dojo Pro '29. Vincent Dolan was kind enough to translate the symbols ,Mei/ maker's mark on the Nakago/ Tang for me.
Due to this being my first Ronin katana purchase I didn't know what the symbols read, in hind-sight i shoulda known it translated "Ronin Doutanuki" - the blade description in a production katana, but i wanted confirmation. On the reverse side it was etched "11" as i assume this stands for 2011 production year. A side note i couldn't get the Tsuka loose in the traditional "palm jarring strike" way, so I made a grooved block of wood that i picked up in a link around here.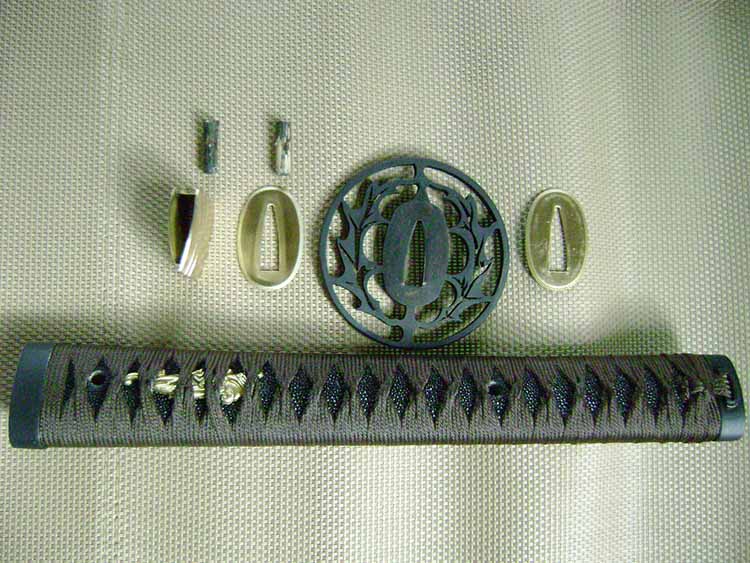 A short video on how to disassemble a stubborn tsuka

In addition i used a small grooved block of wood on the blade side and tied it together with a rag worked extremely well only took about 6 medium force hammer strikes on the wood and she came free.
* Note - As always make sure the blade is facing away from you and be mindful of your finger placement as well as your surroundings when doing anything with a katana or sword for safety reasons *
I put it back together, and its still Super Tight like it was never disturbed.

WHERE TO BUY
The Ronin Katana review sword, model # 8 - is available right HERE at the SBG Sword Store for $314.99 while you can find the rest of the series here at prices ranging from $285 for the smaller blades all the way up to the O-Katana at a mere $344 - which considering what you get, is a bargain price indeed..

---
I hope this Ronin Katana review has been helpful. To return to The Ultimate Guide to Authentic Japanese Swords from Ronin Katana Review - Dojo Pro Series, click here


Buying Swords Online Can Be

DANGEROUS!



Find the Best Swords in the:
Popular & Recommended ARTICLES

---
---