Scorpion Swords


Scorpion Swords and Knives LLC was started in 2008 and is a small family owned business operated by Chris Palmer, who you may know from the History Channels "Top Shot" series 1,3 and 5.

Manufactured In: Hand made in Missouri, USA
Steels Used: 1095 Carbon Steel
Price Range: $190-$350
Official Website: http://traditionalarcherybows.com/


Originally making hand made bows (hence the website name) Chris branched out to make knives and short-swords as based on and inspired by ancient history, video games and movies as requested by his customers with a theme that could be described as battle ready fantasy.

Their swords and knives have a reputation for extreme durability (essentially almost indestructible) and are made from tempered and hardened 1095 carbon steel with no blade and handle over 31" in total length.

Scorpion Swords state that their products will last a lifetime if properly taken care of and have an official warranty which states:
Warrantied for one year from the date of purchase. The sales slip is the warranty and must be presented before the warranty can be honored. This warranty protects the purchaser against defects in materials and workmanship that effect the structural integrity of the product. If upon inspection the product is found to be defective, it will be repaired or replaced whichever we deem suitable free of charge. Owner must pay all shipping charges. Claimant must be the original purchaser. (Warranty is not transferable)
Scorpion Swords are made to order and take around 6-8 weeks from ordering to completion depending on their workload.

MAIN PRODUCT LINES
---
VERY BIG KNIVES..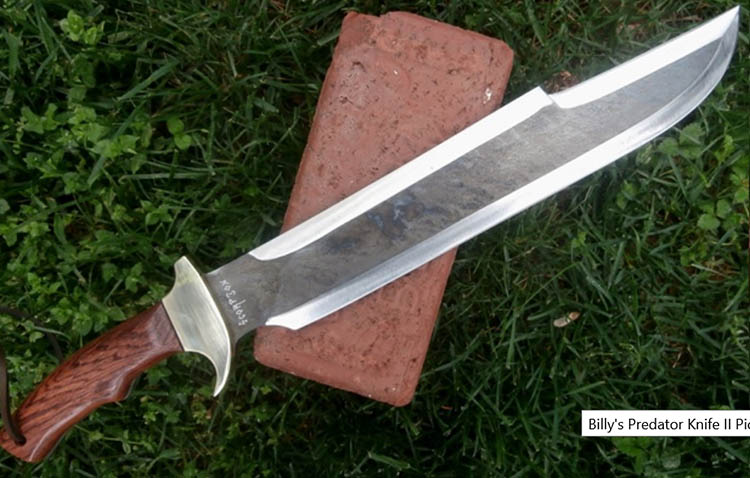 Bowie Knives and the oversized monstrosities seen in movie such as Predator, Resident Evil, Counterstrike, Dishonored and even the Crocodile Hunter. Prices typically around $200-250.

---
ANCIENT HISTORICAL

Used as props by professors to appearances on TV shows and of course, backyard cutters. Hard to find ancient world replicas can all be found here and all are under $300.
---
BATTLE READY FANTASY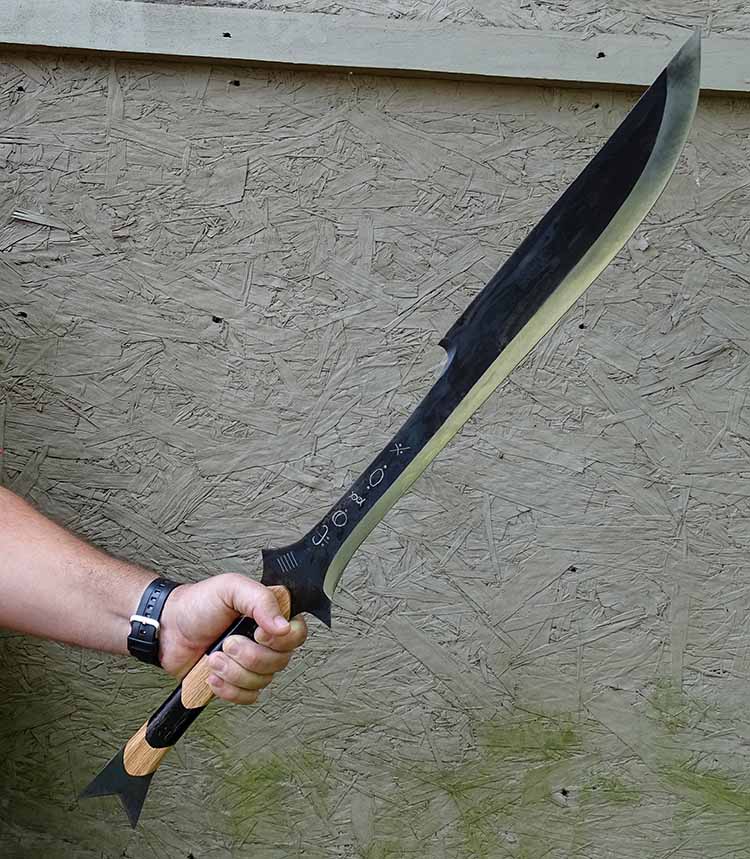 Battle ready fantasy swords that did not exist in history but are based loosely on historical blade designs that WORK.
Recently has produced several SBG member designs as part of Legendary Swords: Project Eletreus including the Goblin King Sword (pictured), the Orc Kings War Cleaver, early Aelutian Gladius and the dusk winds goad.

---
DOOMSDAY LINE BY JASON WOODARD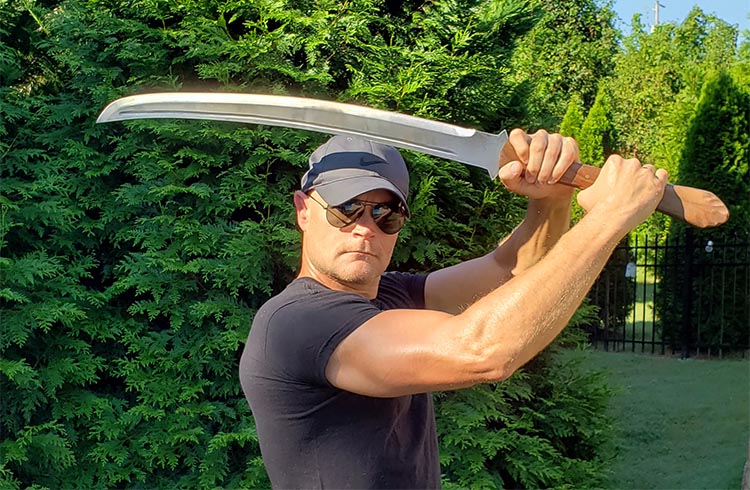 Jason Woodard - Sword Designer and Official Tester for SBG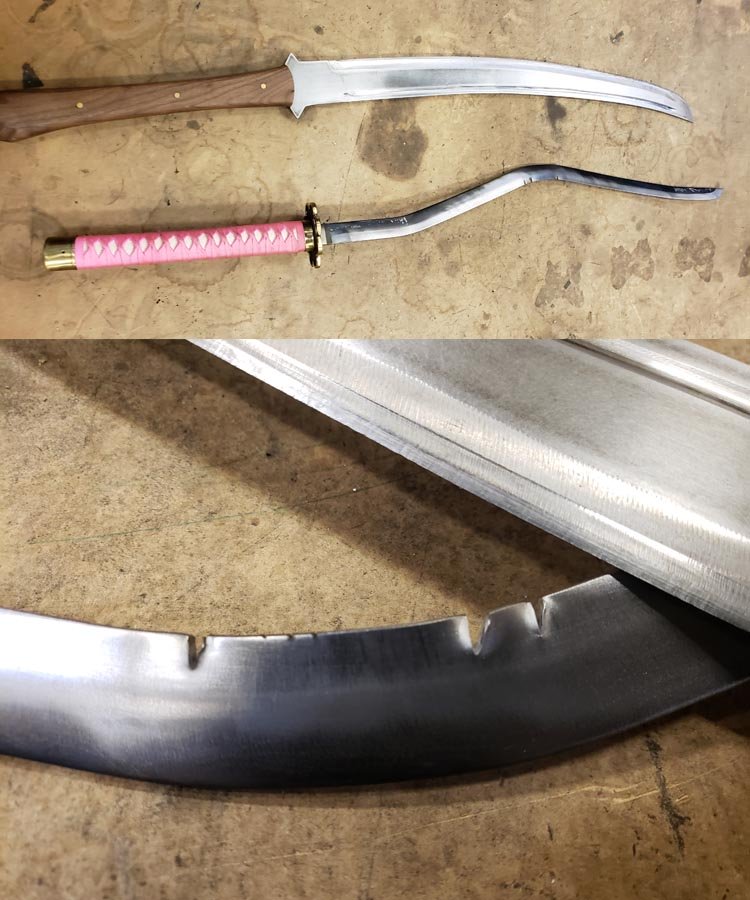 Started in early 2019, Jason Woodard - who has handled and brutally tested more swords than most collectors will ever even own has created his own line of swords called the Doomsday line - incredibly strong and designed based on all the experience gained testing swords since the early 2000s. More designs coming soon,

---
HOW THEY ARE MADE
Scorpion Swords are all hand made using the stock removal method at their Missouri based family owned workshop. Almost all of the blades are done by Chris Palmer though he does have some staff to help out in the busier times of year.
Blades are cut and hand ground to shape from sheets of 1095 carbon steel.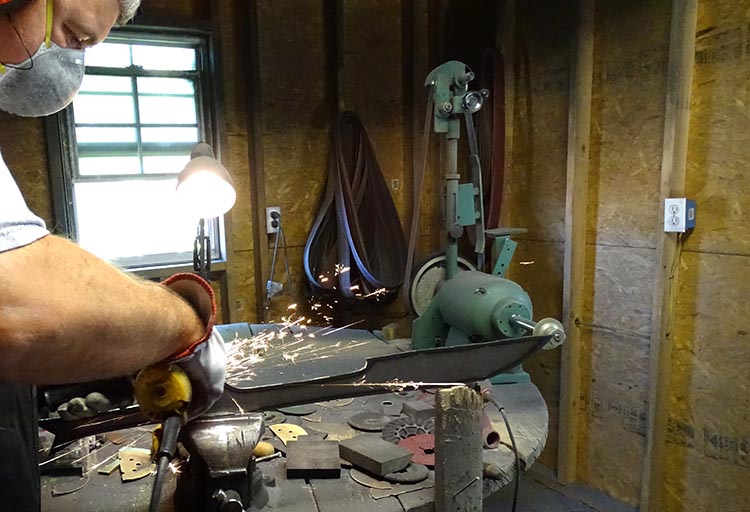 The blanks are then heat hardened by heating the steel to 1500 degrees until it becomes non magnetic and then oil quenched. They are then heat tempered by heating the blade to 500 degrees for 2 hours and letting it air cool. Due to the size of the equipment used in the hardening and tempering process, no blade can exceed a total length (including the tang) of over 31".
Hilts are full tang in the truest sense of the word with a sandwich tang and scales of high quality linen mircarta or various hardwoods - pinned and gorilla glued in place so that there are no moving parts and it essentially becomes a one piece construction.


The blade out of heat treat with tang exposed and drilled with holes for internal pinning

Hidden pins and copious amounts of Gorilla glue, clamped overnight
The overall construction makes these swords exceptional strong and have been extensively tested - so far no target has been able to actually damage them..

KNOWN ISSUES
The most common issue with Scorpion Swords is that every now and again when they are exceptionally busy, a sword sneaks through quality control that is slightly warped by the heat treatment and only really found after spending a lot of time handling it. In such cases, Chris is quick to fix and issues that arise and has a reputation for standing behind his products.
The only other complaint is that some people expect a razor sharp edge - Scorpion put on a serviceable edge, but if you require it to be sharp enough to shave with, it is suggested to further touch up the edge if so desired.

WHERE TO BUY SCORPION SWORDS
In addition to their website and here at Kult of Athena you can pick up a wide range of their swords right here at the SBG Sword Store, which includes several exclusive models and free customization on each and every sword sold.

OFFICIAL SBG REVIEWS
Scorpion Tactical Ko-Katana
An SBG design hand made by Chris Palmer in the USA. Turned out even better than expected. $284.99


Scorpion Swords Goblin Sword
Designed by an SBG member and capable of shattering cinder blocks. Need we say more? $274.99


---
I hope this information on Scorpion Swords has been helpful. To return to Sword Manufacturers Dossier from Scorpion Swords, click here


Buying Swords Online Can Be

DANGEROUS!



Find the Best Swords in the:
Popular & Recommended ARTICLES

---
---