Sword of Strider Review

The Sword of Strider from Kingdom of Arms was designed by Clyde Hollis and made by the good people at BCI as a faithful recreation of a sword Clyde has been involved with for many years.
In this hands on review, we take a closer pictorial look at this sword to see what all the fuss is about.

---
Kingdom of Arms Sword of Strider
Review by SBG member rschuch

---
I'm a huge fan of the Lord of the Rings and was wanting to get some sort of sword that reminded me of the books, but there are so many different versions, all with their own problems. The UC version is 420 stainless and rat tail tang and I have a strict "no wall hangers allowed" in my armory. The Darksword Armory version is 5 lbs., so unless I'm planning on fighting a tank with this weapon, I think I'll pass. So when I saw this one go up for sale on the Forum 2nd hand, it looked to be the better choice of the bunch, so I jumped on it.


Oakeshott Type XIIA
As a fantasy sword based on Lord of the Rings, the historical context of this blade is fuzzy at best, but it is very similar to the Oakeshott Type XIIa. It's a big, yet agile two handed weapon and whether you're cleaving orcs or a more historically accurate opponent, this'll do the job, though I dare say most purchasing this blade will be getting it for the literary significance.
Initial Impressions
My immediate impression was how light it was for the size, or perhaps more accurately how balanced. The other impression was, "Wow. That's really GREEN!"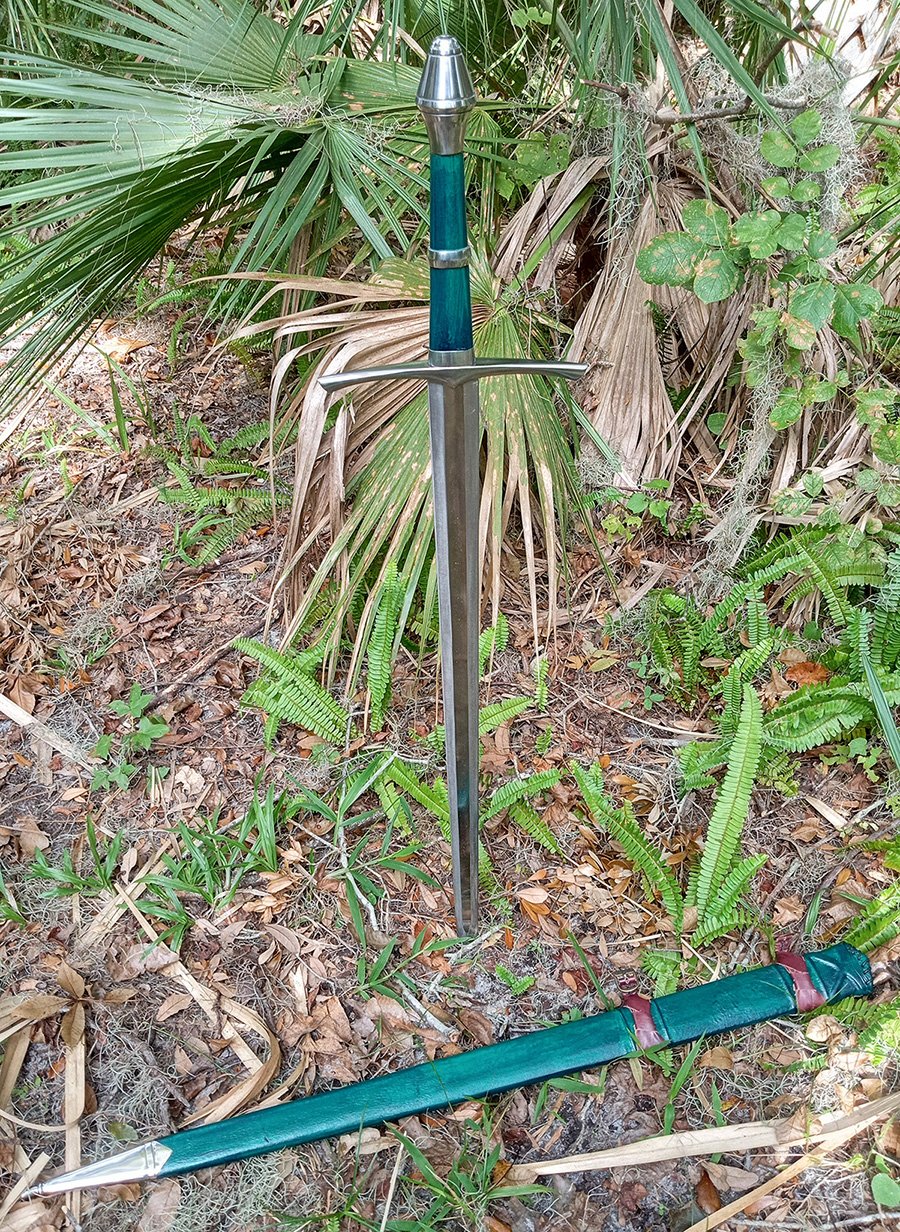 Statistics
Blade Length: 35.5"
Blade Width: 1.875" at guard
Handle Length: 7" from cross guard to top of pommel, 10" including pommel
Overall Length: 46.5"
POB (Point of Balance): 3" from guard
COP (Center of Percussion): about 10" down from the tip
Weight: 3.7 lbs, 4.7 with scabbard
Components
The Blade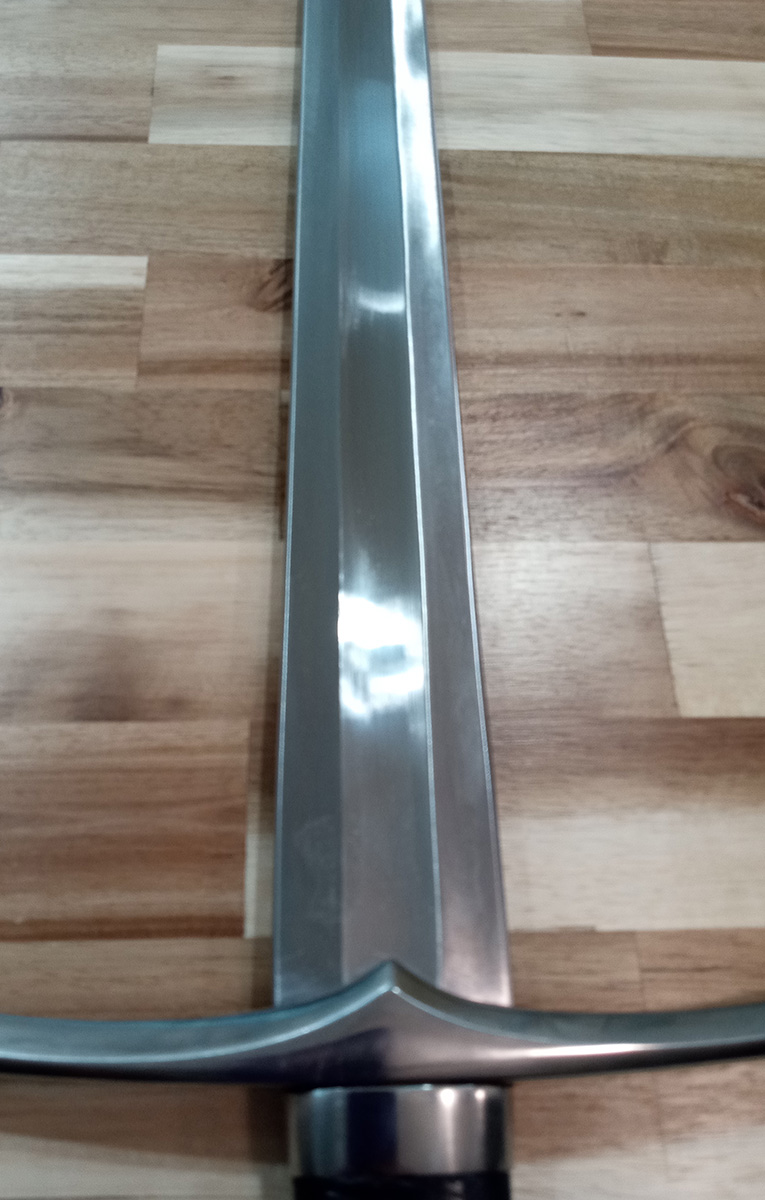 It's a 5160 tempered carbon steel blade. My first impression was that it had a lot of flex to it, but it seems very well tempered and certainly isn't "whippy", though it isn't as stiff as, say, a Kingston Arms XIV or Viking migration type single handed sword. It's a longer thinner blade and returns to true after flexing it and certainly doesn't sag when holding it out or swinging it. The blade is straight and even.
I did some distal taper measurements. Since there's a fuller, I measured from the bottom of the fuller and also from the apex at the guard, middle and where the fuller ends:
Guard: 4.33 mm (apex) 3.63 mm (fuller)
Center: 3.39 mm (apex) 2.73 mm (fuller)
Tip: 3 mm (apex) 2.97 mm (fuller)
So there is distal taper…not a WHOLE bunch, but certainly enough to make the blade more agile and comfortable to wield one handed as well as two.
The finish I'd describe as a satin finish. Another point to note is it's certainly all the same color steel. The photos on the website seem to show the fuller as being darker in color, but it's all the same.
It does have a secondary bevel, but it's even and it came very sharp to me, though like I said, I got it second hand.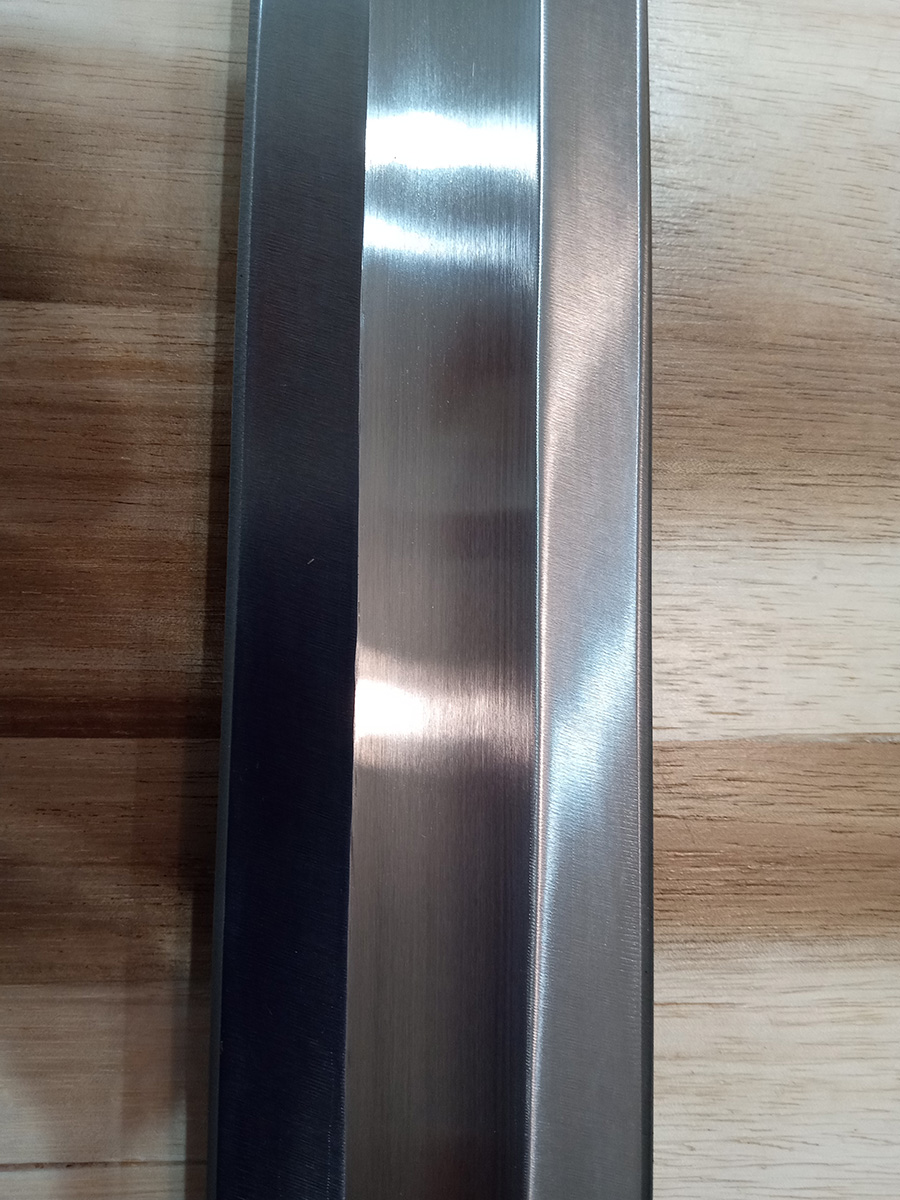 Not quite hair shaving sharp, but I wouldn't enjoy running my hand down the edge and have to be careful when dusting or applying oil that I wipe away from the edge, not towards.
The Handle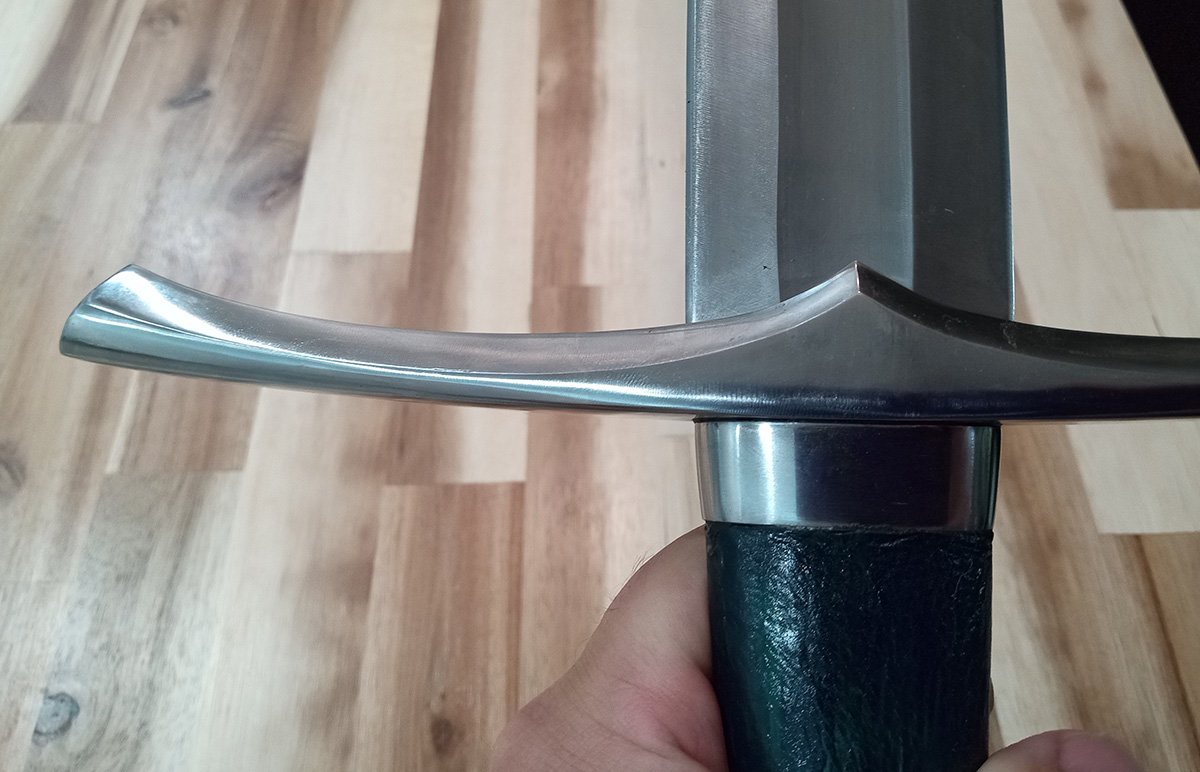 The hilt is nicely done. One thing that stands out is there's no stitching - the leather grip is smooth all the way around. The grip starts out a bit more narrow towards the cross guard and widens towards the pommel.
The Guard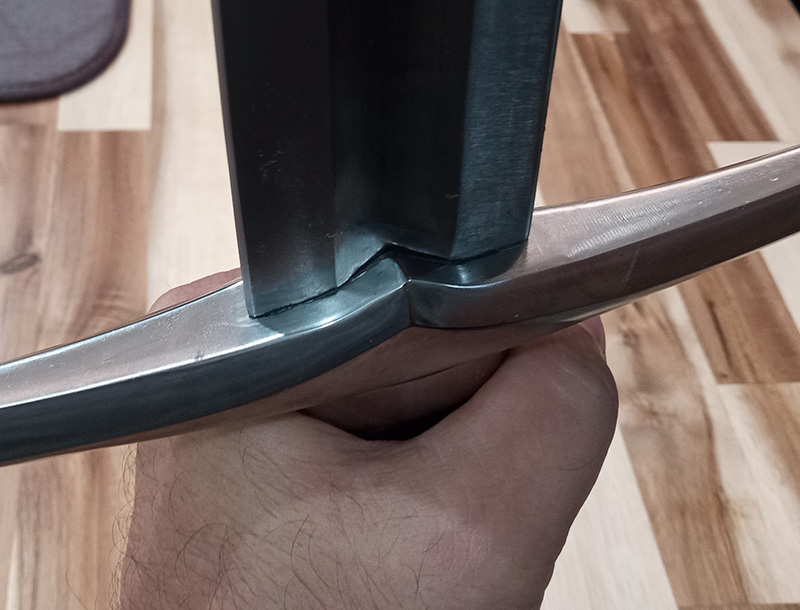 Very tight and solidly fit guard
The guard has some really nice contours to it, definitely more going on than your typical Windlass or Ronin Katana basic guards. Everything is round and smooth, no hot spots. One of the things I really like about the guard is the lack of blade gap, which is basically non-existent. Excellent fit! Everything is very tight and solid.
The Pommel

Peened Pommel for maximum tightness and durability of the fitting assembly
Guard and pommel are made from a quality low carbon steel to lower the possibility of rust from handling. The pommel is very round, smooth and large, scent stopper style, possibly why the handling is more agile than you'd expect. The peen is also very nice and clean and inset with a little button.
The Scabbard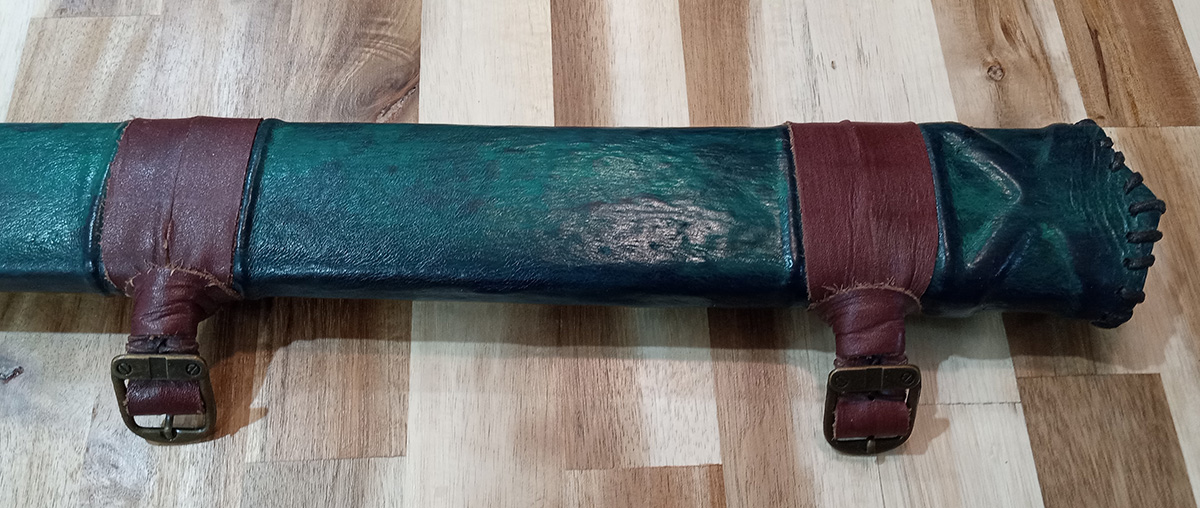 Did I mention the GREEN?!? The grip is a darker green on the teal side and looks nice, but the scabbard is VERY green and brighter and not an even shade (brush marks?). It's a wood core with leather over top. The top has a stitched subtle rain guard (not as large and prominent as a DSA scabbard) which I like, and there's a very nice metal chape at the bottom.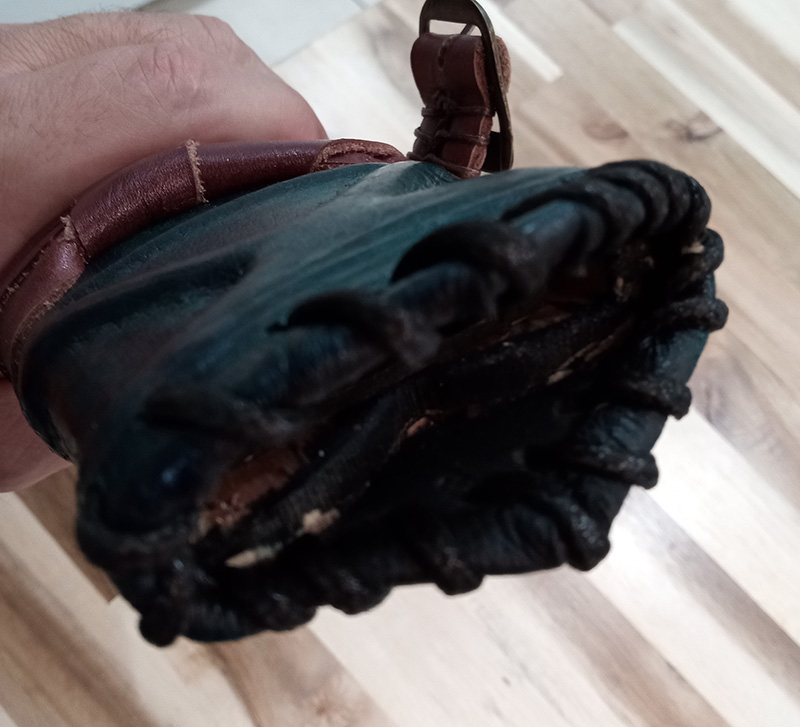 The scabbards mouth and rain guard

The attractive steel chape completes the scabbard
There is rattle and it doesn't retain the blade when held upside down, but overall the fit is decent and it doesn't fall out unimpeded and I'd rather have it a bit loose than struggle withdrawing it (editors note: apparently our ancestors all felt much the same way, as it was generally preferable a sword be easy and quick to draw than a little tight, because if the weather changes it might end up suddenly much tighter than you might like).
Handling Characteristics

The sword feels VERY agile and can easily be handled as a one handed weapon because of the balance.

Test Cutting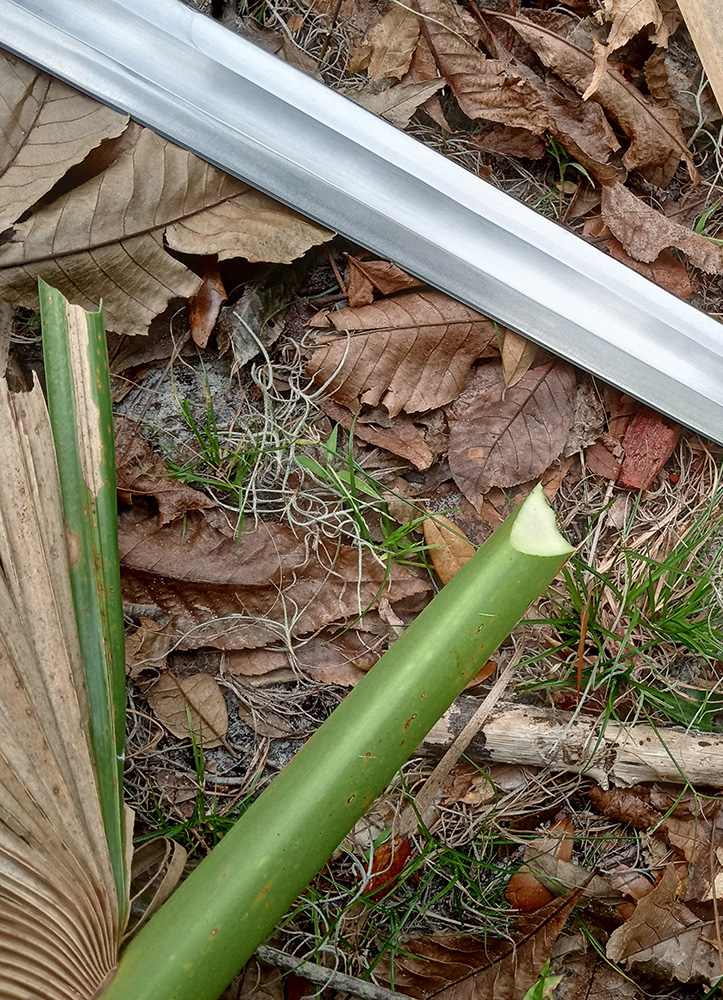 I'm not a HEMA practitioner or even one to go out often and do test cutting, but while taking the initial photos (and getting eaten alive by mosquitoes!) there was a couple of offending palm fronds that were just begging to be whacked, so whack I did. Palm fronds are very tough and fibrous, but this went through them like they weren't even there. I can only imagine what this would do to some nefarious water bottles or insidious tatami mats.

Conclusion
Overall, I'm VERY happy I got this version instead of one of the others! Could the green be less bright, more camouflagey and less "HEY! Orcs! Come and get me!!!"? Yeah, but I guess I can go over it with some darker dye, though I display my swords out in the open without the scabbards, so it really isn't an issue.

PROS


Very agile two handed sword. Very sharp blade, no stitching on the grip.
Clean and smooth, not a rough edge or questionable QC area to speak of.

CONS


GREEN. Like the Hulk.
Does have a secondary bevel, but I think just about all of mine do and this one is done better than most, but it's not an apple seed Albion.

The Bottom Line

I'd definitely recommend this sword, especially any fan of The Lord of the Rings. Why get some United Cutlery 420 stainless rat tail tang when you can get something built with quality materials that is attractive and functional and you can proudly display.

WHERE TO BUY
The Kingdom of Arms Sword of Strider is available right HERE at the SBG Sword Store for $738.00. A matching companion dagger is also available HERE to make a set of premium hand made from start to finish blades

---
I hope this review of the Kingdom of Arms Sword of Strider has been helpful. To return to Decorative and Functional Fantasy Swords from Sword of Strider Review, click here


Buying Swords Online Can Be

DANGEROUS!



Find the Best Swords in the:
Popular & Recommended ARTICLES

---
---