Fable Blades Master Sword Review

Please note - Brendan from Fable Blades is currently booked solid for the next few years, so this is not a review of a product you can buy, but simply a showcase of what Brendan can and has made in the past.

Links Master Sword is a unique fantasy sword design from the Legend of Zelda video game. So why are there no solidly made replicas being produced?
The main reason has to do to licensing. Due to licensing issues no major manufacturer of production swords has been able to recreate a replica of it - at least not a decent, functional version..
However, many fans want to own one - and here we see a hands on review of what may well be the ULTIMATE replica of the Master Sword.
Because occasionally, you get lucky and can get one custom made.. Here is one such example.


A typical $40 'sword like object' replica - the only version available commercially
Hand made by one of our SBG members who started off modifying production swords such as he did with the Hanwei Practical Viking Sword, then making his own - as shown in our guide 'Make Your Own Battle Ready Swords' and finally culminating starting his own sword making enterprise called Fable Blades with swords like the one in our review..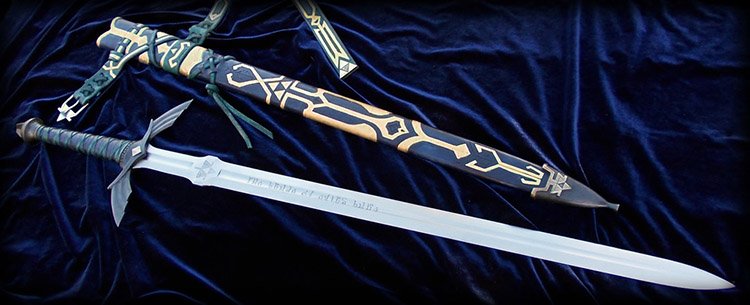 The sword in our review
Indeed, this stunning Master Sword replica is not his most recent work. It just keeps on getting better and better. And while each is a one off, it is not the only sword he has made that is inspired by the Master Sword.
Here's another couple of stunning fully functional art swords.


As can be expected such individually made swords (there is only one of each design in existence) that are also functional (they are made from 9260 Spring Steel - 100% battle ready) - they are not cheap - typically around the $3,000 mark.
But most people who have bought one of his Fable Blades tend to agree that despite the cost, they are worth every penny..
So let's take a first hand look at what to expect from Fable Blades with a first and review by a customer who was lucky enough to get their hands on the first Master Sword, 'Blade of Evil's Bane'..

---
Fable Blades Master Sword Inspired Sword
"Blade of Evil's Bane"
Review by SBG member verity

---
I have loved "The Legend of Zelda" since I first played it. The first time was on December 25th, 1987 (Yes, the first Christmas day subsequent the series' first United States release). I'm pretty sure it was one of the factors in my love of swords (that, and the "Masters of the Universe" cartoon). The first item I bought during adolescence with my initial summer job was (you guessed it) a sword.
As the Zelda series progressed through the years, we players got exposed to the legendary "Blade of Evil's Bane," more commonly known as the "Master Sword." Of course, with a fandom as large as the Zelda franchise, many reproductions have been made. As many ornamental productions tend to be, most are really terrible swords with flimsy rat-tail tangs, stainless steel blades, pot metal guards and atrocious balance. In short, they make terrible real swords and are, at most, a sword-like object.
A select few smiths have produced more sturdy versions, but even these make the trade-off between pixel-perfect game versions and real-world practicality in favor of truer game versions. The "Man at Arms" version done by Tony Swatton comes to mind at the forefront of this class of reproduction.

I wanted something different. I wanted something that only existed in my mind's eye. I wanted a sword unmistakable as the Master Sword, but truly stepping into the realm of plausible in reality.

I began my journey with Christian Fletcher, exchanging emails back and forth with him and refining some of the elements and requirements of what I wanted. Ultimately, this didn't work out. Through no fault of Christian (in fact, I LOVE his work and own a Winter Warden and will someday own a Borderwatch proving this), we could not find availability of a blade that would match what I desired. The style of blade I wanted was simply better suited for Brendan Olszowy at Fable Blades.
After some discussion with him and Christian, Brendan agreed to take on the commission. With that, the journey to one of my most treasured childhood whimsical dreams began.
Historical Overview
This sword is not a historical reproduction. It is a sword of fantasy. If I had to attribute to a historical aspect, I guess I would state the sword is based loosely upon a Type XIIa or a XIIIa, and seemingly closer to a XIIa.

Oakeshott Type XIIa

Oakeshott Type XIIIa
As a result of this sword, I have received accolades from a number of Zelda fan communities and game forums such as Kotaku. The sword has been highlighted in a few articles and blogs since its completion. Brendan has also indicated increased traffic to his website and elevated inquiries, resulting in his posting specific notes on the Master Sword page to minimize dead-end inquires. He has subsequently made a number of other Master Sword designs (the 2nd of which I also own having purchased it from its commissioner).

I am familiar with the process of making a sword, but have never made one of my own. I have made knives and am familiar with other types of metalsmithing, but have yet to fully embark on steel forging and heat treatment. I am partially trained in the usage of swords but not an expert practitioner. I own a total of 29-30 swords, ranging in value from hundreds to thousands as well as ranging from production to custom and antique.
How the design came to be was by taking elements of the Master Sword from The Legend of Zelda series (specifically, the winged cross-guard, the flared ricasso with the symbolic three triangle design, called a "Triforce," and elements of blue in the sword). Then, to produce a more delicate and lively feel, I wanted it blended with another great fantasy series (The Lord of the Rings) to give it an "elven" feel.
In short, what I wanted was a sword unmistakably the Master Sword, but envisioned as if it were forged by the same elven smiths who crafted Sting or Glamdring. Working with Brendan we iterated on a number of sketches until we settled on a design. If memory serves, it was my fourth sketch we ultimately moved forward with. I wanted this sword to be a true bastard sword, allowing for single-handed use as well as having enough grip length to wield with two hands. I was pretty stringent on a weight and size requirement, forcing Brendan to think creatively on how he would craft this sword.
I think he mentioned a headache or two on that one. I wanted around a 32" (and nice and wide) blade, but easily wieldable with a single hand, and superbly balanced with a target of as close to 3 lbs. as possible. The blade is patterned (at my request) similarly to his "Truth" sword, which fit pretty closely to how I wanted the blade to look on my Master Sword.

Given those guidelines, Brendan did a fantastic job at reproducing what I wanted. The hilt components (made of bronze) were done by brotherbanzai (Jeffrey J. Robinson), who works with Brendan frequently on components for his swords.
They both took the concept sketches and produced them in real life very accurately. For the scabbard, I gave Brendan nearly complete latitude. I simply had but two requirements. First, the "Hylian Crest" (a phoenix-like bird stylized with a Triforce above it) needed to be on the scabbard in a prominent location. Second, I wanted blue and gold more closely aligning with the colors in the game version. The design, shape, suspension configuration and fittings were all elements with which Brendan had full artistic license.
Initial Impressions
I'm going off some distant memory here given it's around 3-4 years ago. But here we go. The sword arrived in approximately 10 business days from shipping date. Brendan was awesome about keeping me posted as he prepared it for shipping, providing a tracking number and giving me an estimate on when he expected it would arrive. It came from Australia to the United States. It arrived in heavy, brown parcel paper taped securely. To protect the sword during transit, the sword was plastic zip-tied to ¾" particle-board/MDF type material. The sword and scabbard were individually wrapped in parcel paper and taped. The blade was in a cardboard sleeve and coated in a generous coating of grease for transit. The scabbard was securely sandwiched between the sword and board to help protect it as well.

Opening this package was anti-climactic, requiring significant effort to unwrap the components. This was ultimately a good thing, given it ensured that transit was extremely safe and secure. I even banged a knuckle working to open it, causing my new sword (well, the packaging) to draw first blood. After about ten minutes, the sword and scabbard were ultimately free and the packaging was discarded (we'll come back to that).

Dry-handling the sword was a joy. The heft was easy, and the initial perceived balance was superb. The blade had a beautiful satin finish, and the etchings for the Triforce as well as the script down the fuller were crisp. I was actually pleasantly surprised at the stiffness of the blade, given Brendan had cautioned me that in order to achieve the weight requirement he went thinner and used a more aggressive distal taper than he normally does. I think his normal swords must be incredibly beefy. In comparison to my Malatesta (by Valiant Armory), the blade is much stiffer while weighing only about 8oz. more. Brendan had indicated this blade would not be a good thrusting sword, but I think I would contest that statement given the stiffness. It is in fact stiffer than my Angus Trim swords. The blade does still have good flex and spring to it, though. A cursory swing demonstrated it could be easily managed with a single hand, though a forced stop puts a small amount of strain on the forearm and wrist. With two hands, the sword is effortless. The grip length is a good bastard length, introducing minimal interference when swinging with one hand while having enough length to easily get a second hand purchased without overflowing over the pommel. There is just enough space between my hands to prevent binding on a swing, but not much excess. I think it's a really good compromise between a single and double handed sword.

The patina on the bronze and the inscription on the pommel are nicely done. The lines in the guard, the triangles in the spacer and each corner, bevel and ridge on the pommel are all well-defined, though not as crisp and clean had they been gone over more after the investment casting in finer detail. There were no mould marks from the casting however so clearly some final finishing had been done. Brendan had even heat colored the hot-peened part of the tang and tip of the pommel to better hide the bronze to steel transition where the peen was. The transition from bronze to peen was smooth.

My initial impressions overall were that it was a great capture of what I had envisioned. It looked recognizable as the Master Sword, but also distinctly elven in appearance. I could easily have seen this in a Peter Jackson LotR film. My instinctive immediate reaction was one of awe in how perfectly Brendan took my vision and produced it in steel and bronze. The sword swings wonderfully and immediately took a place near the top of my collection in terms of aesthetics, craftsmanship and balance.
Statistics
Grip length (from the pommel ring to the top of the diamond on the guard): 207mm (8.15")

Blade length: 811mm (31.93")

Overall Length: 1052mm (41.41")

Blade Width:

Waist: 35mm (1.377")

Flare: 52mm (2.047")

End of Fuller: 31mm (1.22")

Point of balance: 83mm (3.26") from the blade shoulder where it sits in the guard.

Center of Percussion: 515mm (20.2") from that same point.

Hilt node of percussion: 52mm (2.05") back from top of the diamond in the guard. (It's a fraction forward of the center of the fore grip.)

Weight: 1490g (3.284 lbs. – 3 lbs. 4.5 oz.)
Components
The Blade
The blade of the master sword is a satin/semi-shiny finish. (Not quite Albion satin, but definitely not mirror) with a relatively smooth grind and polish. There are some visible grind/polish marks but not particularly noticeable, unless you are turning the blade in just the right light. There is a smooth bevel to edge transition with a minimal secondary bevel on the main part of the blade. The bevel is a tad more noticeable at the curve into the point, but this helps reinforce the tip.
One of the areas in which FableBlades shine is in their geometry. Brendan makes geometries that are incredibly durable but will effectively cut, even though the blade is not the sharpest I own or have used. With a keener edge this sword would be INSANE. Maybe at some point I will gain the courage to put a keener edge on it, but want to be very careful to not create a more prominent secondary bevel as this blade has nearly a zero-bevel on the primary cutting area.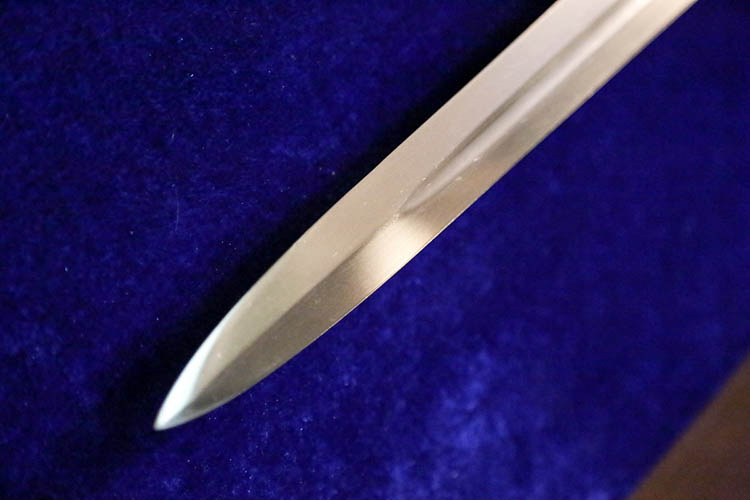 The fuller and inscription are executed flawlessly, and the etching is crisp and sufficiently deep. I am not sure how Brendan manages to get inscriptions that crisp, but he does. (Actually I know he uses decal with vinyl, but it's still very impressive. I hope to produce similar etch quality in some of my work.)
Some minor nits here which I suspect happened during grind and subsequent heat treatment. There are a couple small areas of "ripple" in the surface in a couple of spots, which stand out against the remaining super smooth bevel surface. Additionally there are two points of asymmetry in the blade which is to be expected in hand work, and I don't think it detracts, but it is worth noting.
The point itself is off-center probably 2.5mm and one side of the flare at the waist of the blade is a couple millimeters lower than the other. This is most likely due to the nature of hand grinding in the bevels. CnC would yield a more uniform cut, but also this definitely has hallmarks of a hand crafted blade. These items do not detract from the handling or beauty of the piece whatsoever in my mind.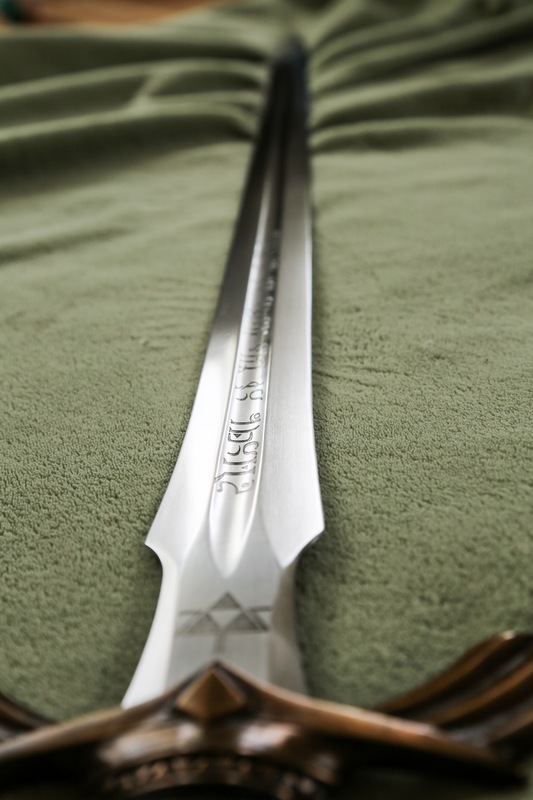 The tang is wide and thick, and is fullered to assist in weight and balance. Brendan had sent me some progress photos prior to assembly so including that to show the tang construction.
The Grip
The grip is hardwood, separated by a bronze ferrule/spacer with Triforce designs and covered in a single contiguous piece of leather which was cord wrapped when glued, then veg tanned / dyed to be a dark blue. In most light this looks very dark midnight or black, but in fact this is a dark royal blue in color. Another area that I'd given Brendan guidance on, that in retrospect, I'd probably have given him guidance to go a shade or two lighter, given how dark this photographs. It isn't quite as dark in person, but it IS very dark and can be easily mistaken for black.
The grip shape is very comfortable and the waisted grip allows for great purchase and indexing the blade for edge alignment. Overall the sword has a very comfortable grip. The stem of the Pommel continues the scallop for the bottom of the grip allowing purchase of a second hand, while not making the overall grip too long for single-handed use. Again, this is a fantastic representation of the hybrid between a single and two handed sword. The leather seam is very well done and there is no raised area where the seam joins. You have to look pretty closely to see it.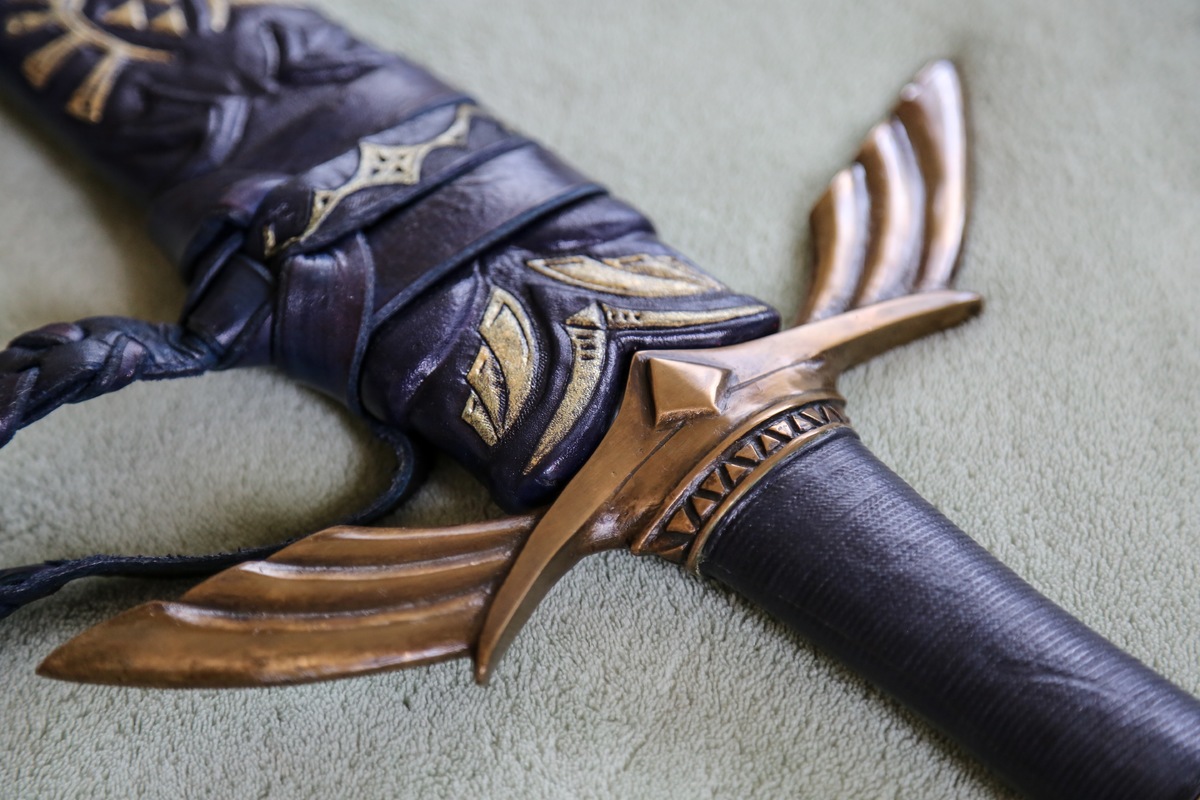 The Guard
This was one of the trickiest elements of the design, given the size of the original game design. Investment cast in bronze, the guard is well-detailed and no discernible casting marks can be seen. A couple small (well tiny) air holes appear in the cast, and I think this could have been refined with fine filing a bit more, however, the overall rustic look lends well to the aesthetic of the sword. Jeffrey did a great job of translating my sketches into a functional guard that did not throw the weight of the whole sword off.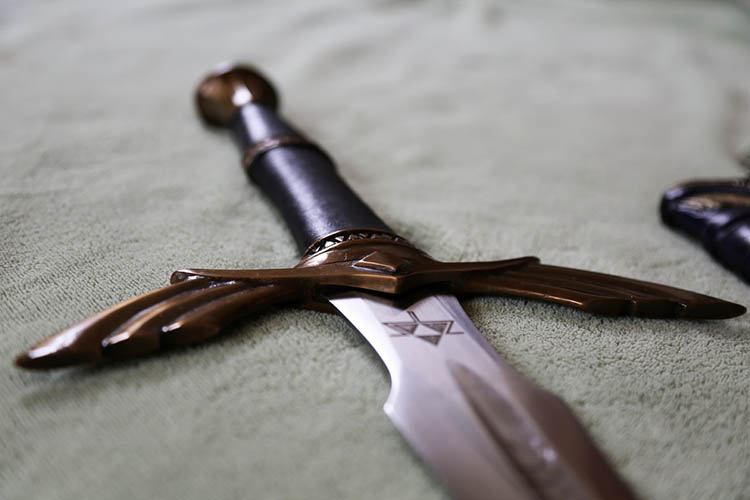 The Pommel
Also cast from bronze, the design allows for the stem of the pommel to "finish off" the bottom part of the grip creating a purchase for the second hand. This however also keeps the grip short enough that for single handed use the grip and pommel do not get in the way and bind the hand. This is one of my favorite features of the overall design of the sword, and Brendan executed this flawlessly in conjunction with Jeffrey.

Brendan added (at my request) some delicate engraving on the rim of the pommel in tiny Hylian script (the language of the Legend of Zelda). This part was a little rough but there wasn't a whole lot of room for Brendan to work with and as the patina set in it looks very nice. The peen itself was well done, shaped and heat colored to match the bronze of the pommel. Over time the peen itself has darkened and is more blackish now but when I first got the sword, it was indistinguishable from the pommel.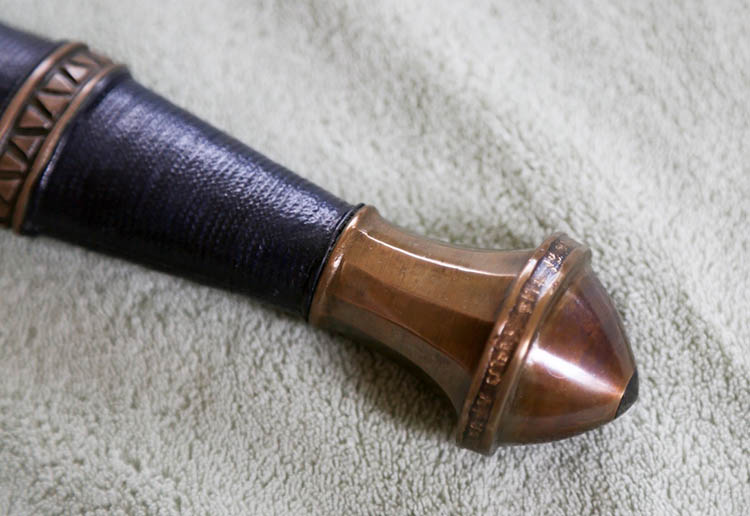 Scabbard & Suspension System
Beautifully executed, the scabbard is a hardwood core, covered in leather and tooled then painted to match the design. Brendan did an amazing job. The fit is snug and the sword can be turned upside down without falling out, but still draws easily without major resistance. Brendan did an excellent job on this. His leatherwork is finely detailed, though not as "precise" as some other tooled scabbards I have or have seen. That said, the scabbard is beautiful and fits the overall sword amazingly well.
The belt system is downright superb and this is an area Brendan shines. The interwoven cords of leather that weave through the scabbard and into itself are just downright exquisite. Brendan topped it off with a Triforce etched chape and fantastically matched buckles for the overall package.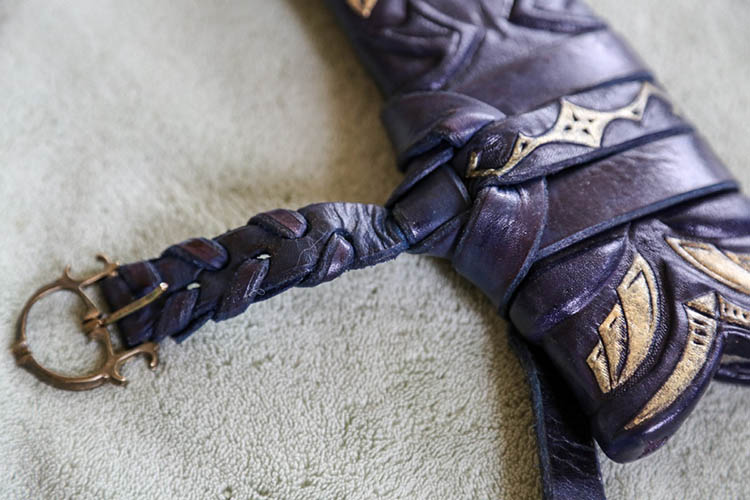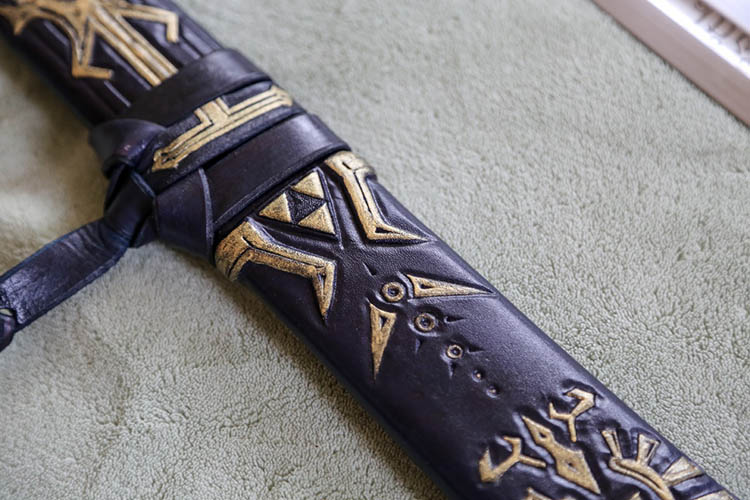 Handling Characteristics
The sword's balance defies its weight. Weighing in at 3.28lbs with a balance of 3.26", the sword feels more like a 2lb sword than over a 1/3rd more than that. The PoB is forward enough that the sword's cut is still authoritative and the blade width makes it a great cutter, but not as much as a full 5" PoB arming sword might. The sword handles exceedingly well single-handed and even better with a second hand on the grip. The focus on this sword is agility and balance and I intentionally sacrificed some power as a result. This sword, hands down, is one of the best balanced swords I have ever had the pleasure of handling. The balance and handling dynamics of an Angus Trim sword MIGHT be a contender, but this definitely gives any Angus Trim blade a run for its money, and when you consider the durability and sheer tank-like construction of Fable Blades, that's a scary combination. Given the size (specifically thickness) of the blade and durability/stiffness of it, I am quite shocked that the weight and balance this sword has was achieved.

The sword has a bit of trouble making a quick stop when used with one hand, but gives me a good excuse to work out a bit more as I'm sure that is more my thin-frame than the sword. When wielded with two hands, the blade can stop and turn direction very deftly. In an expert's hands I'd hate to deal with the sheer speed and agility this blade could have. Pretty sure it would be a whirlwind of sharp steel and I can't think of too many longswords that could rival its agility and speed, let alone its durability.
Test Cutting
I've used this blade now a couple of times, and it has proven the edge geometry is quite well. The edge could be sharper, as it's got a "working edge" but not a "razor edge". It definitely cuts well, but not quite silent cuts that some of my katana can do. Cutting through soaked newspaper (2-3" diameter) and plastic bottles ranging from 20oz. to 2L bottles and 1-gallon milk jugs work quite well, and the blade slices cleanly through with good edge alignment. I even had a second opinion from fellow SBG member, SanMarc Forge and we both enjoyed a cutting session a couple years ago with this blade immensely. I only had one failed cut on a lateral and that was completely due to my own poor form and edge alignment. Even still, the blade sliced through 3/4s of the target before careening off. That was the only target of the day that was not cleanly sliced by either of us.

I did not capture photos of the event, and the video we took is pretty poor quality with even worse sound, but I will grab some photos and/or video if I cut with the blade again soon.
Conclusion
If you've ever considered a Fable Blade, I STRONGLY encourage you to go for it. They are worth every penny. If ever I were to redesign the blade, I'd probably go wider at the base and do a more aggressive profile taper, basically creating a waisted version of the blade he did for PeaceLily (which I'll cover in a separate review). This probably would put the PoB a bit more forward but that may be okay as long as it still is in the general ballpark. The blade really should have been a bit longer with a wider base like PeaceLily in retrospect, but overall this blade handles INSANELY well, and I feel Brendan did my design and intentions complete justice in this beautiful sword. He brought the Legend of Zelda into reality quite remarkably.

This truly is a special sword to me and I'm grateful that Brendan made my dream a reality.
PROS

• Extremely durable, one of the most solid blades I've ever held/used. Feels extremely solid in hand and just exudes "indestructible".
• Balance is exquisite. It certainly belies the weight.
• Edge geometry is good, etchings are crisp and overall construction is extremely well done

CONS

• Slight asymmetry along the vertical plane of the tip. More variance here than I would like, but you have to be pretty OCD to notice.
• Slight asymmetry in the flared portion of the blade.
• Couple of "rippled" areas in the grind/polish. This could easily be taken out with another polish, but overall the sword is finished well.


WHERE TO BUY
Each sword at Fable Blades is a one off, not a production piece and is made to each customers specific requirements. They are not cheap, but Brendan can usually complete most custom swords in only a few months time and the attention to detail and overall quality is in a league of its own.
While Brendan is not currently accepting new commissions, you can check out his work over on his website here.

---
I hope this review of Fable Blades Master Sword inspired blade has been helpful. To return to Decorative and Functional Fantasy Swords from Fable Blades Master Sword Review, click here


Buying Swords Online Can Be

DANGEROUS!



Find the Best Swords in the:
Popular & Recommended ARTICLES

---
---